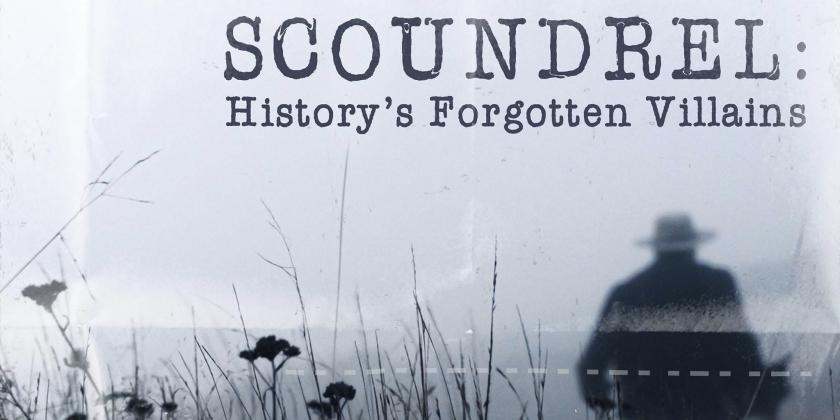 Kast Media and the Creators of 'Myths and Legends' Partner for New True Crime and History Podcast
Press Release · Los Angeles, CA, USA ·
Kast Media and Jason and Carissa Weiser, the creators and hosts of the award winning podcast Myths and Legends, have announced a new Kast Original podcast called Scoundrel: History's Forgotten Villains. Officially released on February 23rd, it launched to #1 on the History charts (where it's still sitting) and is in the top 20 of all podcasts. This bi-weekly anthology series covers history's greatest villains – both unknown and those whom you think you know. The intricate storytelling not only tells the story of one character every other week, but opens a window allowing the listener to be fully immersed in a time period in history.
"Scoundrel was a fun show for Kast to develop in our partnership with Nextpod. We wanted to build on Kast's successful partnership with Myths & Legends, but it took some time to find the right corner of storytelling to which we could apply Jason & Carissa's unique talents," says Colin Thomson, CEO of Kast Media and executive producer of Scoundrel. "I believe we found it in Scoundrel: History's Forgotten Villains. We're telling the stories of history's forgotten wrongdoers; the folks often left out of the history books, but whose offenses rival and sometimes even surpass the unholy acts of their more famous counterparts. It's playful yet serious, sarcastic but emotional and compelling. Strap in every other Wednesday to learn something new about the untold corners of history and their reprobate miscreants."
In Scoundrel, each episode acts as a time portal that transports the listener not only into the brain of our scoundrel-du-jour, but smack dab into the moment in which they lived, giving listeners a visceral taste of the moment. Scoundrel's first two episodes are now available on all podcast platforms, and new episodes will be released bi-weekly thereafter.
Future villains profiled will include George Remus and his Cincinnati-based Prohibition-era bootlegging empire, Sister Virginia Maria (The Nun of Monza) whose sordid murder plot and cover-up caused a scandal that shook the Catholic Church to its core in the 17th century, and Sidney Gottlieb, the CIA's "Poisoner-in-Chief" who led a mind-control program during the Cold War so barbaric, it would have been redacted forever in a total US governmental coverup were it not for a minor filing error. History, true crime and narrative storytelling come together in this genre-bending new podcast from Kast.
Listen
This is a press release which we link to from our daily newsletter about podcasting and on-demand. This is reprinted verbatim; we may rewrite headlines and descriptions.
This page contains automated links to Apple Podcasts. We may receive a commission for any purchases made.