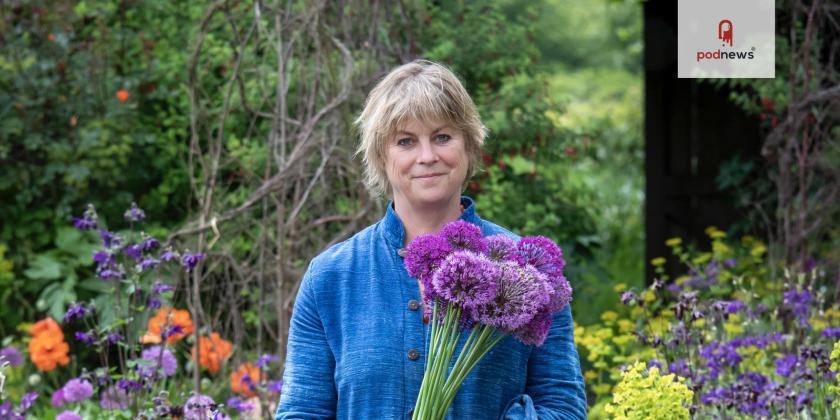 Sarah Raven launches new podcast series to inspire beginner gardeners
Press Release ·
Sarah Raven has released a seven-episode miniseries of her chart-topping gardening podcast grow, cook, eat, arrange, providing specific advice for novice gardeners looking to create their own kitchen garden at home.
The series of 10-minute-long episodes will talk listeners through the process of curating a kitchen garden, with Sarah explaining where to begin, her must-have vegetables, salad, and herbs, and how to deter pests.
Commenting on the podcast miniseries launch, Sarah said: "We all dream of having freshly picked herbs and home-grown vegetables to cook with at dinnertime, but I know that having a kitchen garden feels unachievable for some. I've been growing veg for three decades, and so I've learned quite a lot, and I really want to share my knowledge of the kitchen garden as far and wide as I can. This series is the distillation of everything I've learned over that time. I'm going to start with the real basics and talk you through the most important things I think you need to know when getting started."
In little over an hour of listening, novice gardeners will be equipped with important gardening knowledge to curate a kitchen garden from scratch. Sarah explains common garden terminology, including demystifying the difference between hardy and half-hardy annuals, while also providing simple information surrounding common garden pests and diseases, and top tips for small-space gardening.
Listeners will benefit from Sarah's expert advice on growing popular and beginner-friendly salads, herbs, and vegetables including parsley, rosemary, runner beans, tomatoes, chives, and courgettes.
"I have designed this series to be a go-to source of information and education that is accessible for those who are new to gardening. I hope the series inspires new gardeners and that homes across the globe enjoy fresh herbs as a result very soon!"
Sarah Raven's podcast, 'grow, cook, eat, arrange' has released over 130 episodes covering varying gardening topics and has recently hit three million downloads. The podcast, which consistently holds its place in the gardening charts, has featured esteemed guests including Alan Titchmarsh, Emma Bridgewater, Prue Leith, and Anna Jones.
Listen
This is a press release which we link to from Podnews, our daily newsletter about podcasting and on-demand. We may make small edits for editorial reasons.
This page contains automated links to Apple Podcasts. We may receive a commission for any purchases made.