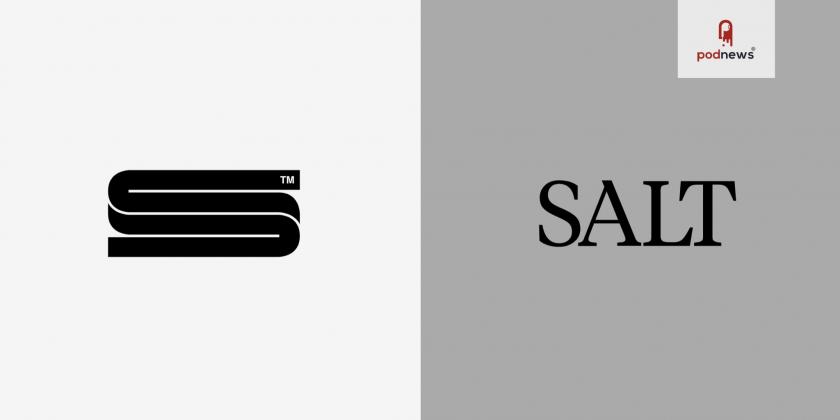 SALT and SomeFriends partner for podcast slate elevating BIPOC stories and talent in entertainment
Press Release · Los Angeles, CA, USA ·
Leading audio-first media company SALT and BIPOC-focused podcast company SomeFriends, today unveiled a new slate of podcasts with the goal of entertaining broad audiences while tackling the lack of diversity in podcasting and entertainment. The initial slate includes five new original podcasts covering narrative, fiction and unscripted genres with writers James Kim (Moonface, Vermont Ave.) and Abdullah Saeed (High Maintenance) and features guests Sydnee Washington and Marie Faustin (The Unofficial Expert), Ramy Youssef (Hulu's Ramy), Nimesh Patel (Saturday Night Live) and Martin Urbano (Hulu's This Fool).
The slate announcement comes on the heels of Lemonada Media partnering with SALT and SomeFriends to launch FIRST, an unscripted, comedy podcast premiering November 1st. Creator and host Kareem Rahma sits down with a fellow comedian to share the story of a groundbreaking 'first,' a trailblazing person who was the first to break down a racial barrier in their respective field. With 'firsts' across business, politics, entertainment, sports, fashion and everything in between -- the show will bring the fascinating true stories of these heroes to life, and celebrate their achievements and broader impact on American culture while also acknowledging the struggles, setbacks and subjugation that they faced.
"Kareem and I launched SomeFriends with the conviction that BIPOC perspectives are universal stories. We started with audio since it's such a fast growing and vibrant media vertical, that unfortunately has the same underrepresentation we've seen elsewhere in entertainment. Of the top 100 podcasts, less than 15 shows have a BIPOC host and we know that's not for a lack of talent or audience," said Andrew Kuo, SomeFriends CEO and Co-founder. "As a mission-led company, we're excited to invest in BIPOC talent and stories and turn them into the next household names and iconic franchises that span across all entertainment."
As part of the slate, SALT and SomeFriends also announced WALKS OF LIFE, a new experimental, first-of-its-kind podcast launching on September 20th on all major platforms. WALKS OF LIFE features anonymous Gen Zers from around the country sharing deeply personal stories, hardships and goals as they walk around their neighborhood. The ten-episode series includes authentic stories from all backgrounds, genders, sexualities, ethnicities and religions from rural America to New York City.
"The American experience is vast and complex and our slate is reflective of that dynamism. Audiences today are craving authentic, rich and diverse stories because there isn't "one-size-fits-all" when it comes to the American experience. Historically, entertainment projects have tended to flatten BIPOC perspectives into stereotypical caricatures," said Kareem Rahma, SomeFriends Co-founder, comedian, screenwriter and actor. "We're excited to work with such a talented group of creatives who are truly committed to creating entertainment that captures the texture and vibrancy of what they have to offer and what audiences now expect and our partnership with SALT helps bring these projects to life in the best possible way."
What began with award winning and genre-defining work in audio fiction has quickly grown into SALT becoming the pre-eminent one stop partner for creating outstanding audio storytelling and brands. SALT is the company behind some of the biggest breakout podcasts including Dave Chappelle's The Midnight Miracle, and most recently Become, a new health and wellness podcast series on Amazon Music produced and developed by SALT, signifying the company's ongoing expansion beyond talent-led fiction and continuing to explore new ways to break boundaries in audio. The podcast slate from SALT and SomeFriends is just the beginning of the partnership between the two companies as the slate has plans for expansion beyond audio to TV, film, music, live events, and publishing franchises.
"Diversity has been a critical issue not just in the audio-first industry, but also the greater entertainment landscape. SomeFriends and their mission could not be more important to the growth of uplifting new talent and voice. We are grateful to have an amazing group of networks and brand partners who share the same mission and have partnered with the slate" said Nick Panama, SALT CEO and Co-founder. "This is just the beginning – we are actively seeking more projects, ideas, and pitches to grow the slate, as well as quickly expanding into film and television."
WALKS OF LIFE: In every episode, one anonymous Gen Zer from around the country is the subject, host and star of this podcast, telling a story to the world as they take a walk through their neighborhood. No script, no interviewer, no filter - this is the youth of America, honest and raw, speaking directly into the microphone sharing personal stories, hardships and goals. From rural to urban America, the subjects encompass all genders, sexualities, ethnicities and religions. Created by Kareem Rahma, this anonymous audio time capsule will give listeners a first hand account into the minds of this generation.
FIRST: They made history, but not the history books – let's fix that and have some fun along the way. This comedic unscripted podcast highlights the amazing trailblazing Americans who were first to break down a racial barrier. Created and hosted by Kareem Rahma, each episode features true stories that become larger-than-life tales as listeners are introduced to an overlooked hero who should be a household name such as Connie Chung, the first Asian American to anchor a major network newscast and Zaha Hadid, the first Arab architect to design a major American art museum.
HOW I GOT HERE (Working Title): In every episode, a true story of the immigrant experience is told through the textured lens of cinema. Character-driven to its core, the listener is placed directly in the story's center as we find entertainment in the humor, heartbreak, adventure and triumph. Co-created by Kareem Rahma and Andrew Kuo, this show demonstrates the range of what it means to be an immigrant, with stories ranging from the rags to riches journey of an Asian immigrant to a tale of two people falling in love across the seas and making a new life together in America.
TRACKS: Alice, a freelance sound designer and Korean millennial living in Los Angeles, starts hearing unnerving noises that lead her on a downward spiral into madness on a journey to uncover a dark, decades-old family secret. Created and written by James Kim and Julian Park.
NOUR'S DARK LIGHT: A troubled twenty-something Arab American man named Nour struggles to control a Jinn that's been tormenting him since childhood. This emotional horror thriller from creator and writer Abdullah Saeed takes us from New York to Egypt as Nour desperately seeks help from family, friends and professionals - ultimately revealing a shocking secret that explains his unbreakable bond with this demonic entity.
This is a press release which we link to from Podnews, our daily newsletter about podcasting and on-demand. This is reprinted verbatim; we may rewrite headlines and descriptions.