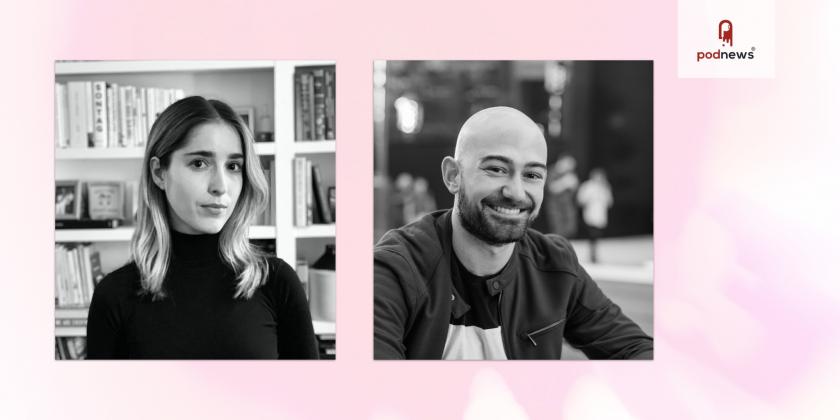 SALT boosts development and production team with new hires
Press Release · Los Angeles, CA, USA ·
SALT, the leading audio-first media company behind some of the biggest breakout podcasts including Dave Chappelle's The Midnight Miracle, today announced Kenzi Wilbur joins the team as VP of Partnerships and Development and Robert Adler as Head of Post Production. Wilbur and Adler's appointments signify a pivotal moment for SALT as the company continues to build out its slate of originals and scale production infrastructure while continuing to marry the best-in-market talent to best-in-class creative.
Wilbur joins SALT from Luminary, where she co-led the founding content team at Luminary to build and produce the company's founding podcast slate including The Midnight Miracle, Russell Brand's meditation podcast, Above The Noise; New York Magazine's Tabloid; and Lies We Tell from Alex Gibney and Jigsaw Productions. Wilbur is a James Beard Award-nominated podcast host and producer who started her career in audio at Food52, where she was head of editorial and oversaw all editorial content, strategy and production. Under Wilbur's leadership, SALT is in production on a slate of new podcasts featuring top-talent, narrative and nonfiction stories including Become, a new first-of-its-kind health and wellness podcast series; the premiere Web3 native interactive audio experience in partnership with Jenkins the Valet; and a new show celebrating the music behind social change in partnership with Repairers of the Breach, a movement-building nonprofit organization behind Poor People's Campaign: A National Call for Moral Revival, drawing on the unfinished work of the Rev. Dr. Martin Luther King Jr.'s 1968 Poor People's Campaign.
"Making The Midnight Miracle with SALT was the beginning of a really beautiful working relationship I knew I wanted to last well beyond the first season," said Wilbur. "I could not be prouder of working with the team—and their creative superpowers—at SALT as we continue pushing the boundaries of what's next in audio."
Adler joins SALT from Spotify, where he designed the processes that Spotify used to engage production companies in the space to scale podcasting globally. Adler also led production and post operations for Spotify's internal podcast studio, Studio 4, where he oversaw operations for all titles including "Stay Free: The Story of The Clash," "Dissect" and "Nosy Neighbors" among others. Prior to Spotify, Robert worked in video production and post production, notably for Philymack Management, creating digital content for world-renowned artists including Demi Lovato, Nick Jonas and DNCE.
"I could not be more thrilled to be joining SALT at such a pivotal moment in their growth as a company," said Adler. "As we branch out into more forms of content, I look forward to scaling and supercharging our operations team to match the diversifying and expanding slate of shows."
What began with award winning and genre-defining work in audio fiction has quickly grown into SALT becoming the pre-eminent one stop partner for creating outstanding audio storytelling and brands. SALT's appointment comes on the heels of the releases of Til This Day with Radio Rahim and Become, a new health and wellness podcast series on Amazon Music produced and developed by SALT, signifying the company's ongoing expansion beyond talent-led fiction and continuing to explore new ways to break boundaries in audio.
"We're entering a golden age of audio and those who value talent and quality first will come out ahead," said Nick Panama, SALT CEO and Co-Founder. "Kenzi and Robert bring with them a treasure trove of exceptional experience combined with an eagerness to make SALT the home for the best creators in the world who want to platform in audio. Couldn't be more grateful to welcome them to the team as we grow our ambitions."
This is a press release which we link to from our daily newsletter about podcasting and on-demand. This is reprinted verbatim; we may rewrite headlines and descriptions.