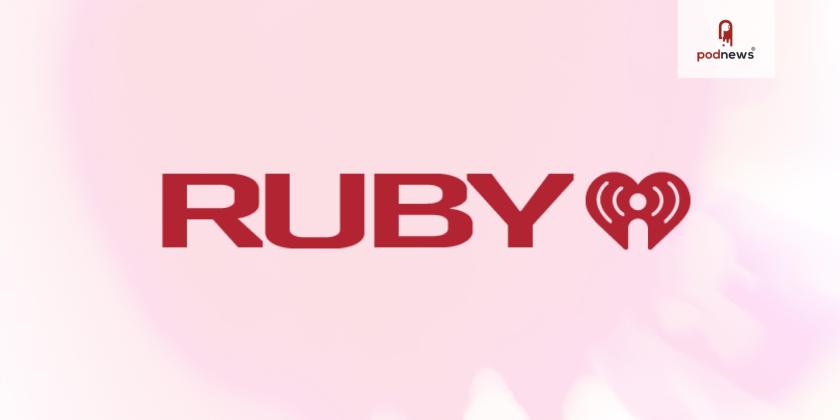 iHeartMedia Expands Branded Podcast Studio as Demand Grows for Bespoke Podcast Platforms
Press Release · New York, NY, USA ·
iHeartMedia, the No. 1 podcast publisher globally with more downloads than the next two podcast publishers combined according to Podtrac, today announced the launch of Ruby, the first dedicated team of its kind from a major media company committed entirely to the production, sales and marketing of branded podcasts.
iHeartMedia has built one of the fastest-growing slate of branded podcasts globally with 30 original series from major brands such as T-Mobile, IBM, Intuit QuickBooks and Mattress Firm. The launch of Ruby represents an expanded commitment to one of iHeartMedia's most premium products allowing advertisers to engage audiences with creative, long-form native content.
Ruby creates holistic podcast concepts that resonate with targeted audiences. The audio studio has partnered with a distinguished catalog of host talent–– both big and small across all industries including 'Saturday Night Live' cast member and co-host of the hit "Las Culturistas," Bowen Yang, 'Good Morning America' co-host Robin Roberts, Malcolm Gladwell, Betty Who and Adam Devine of "Pitch Perfect" and "Workaholics'' fame.
Ruby's branded podcasts allow advertisers and their brand partners to spend upwards of 30-45 minutes with their target audience in a unique environment, with opportunities for storytelling that are not possible anywhere else in their media mix including social video. With distribution across the iHeartRadio app and all other major platforms, native podcasts from Ruby connect brands to audiences by translating brand messaging, products and services into original and engaging stories that audiences love.
"Audio creates a relationship with consumers that no other marketing medium can compete with. When speaking directly to listeners, brands command a level of intimacy and authenticity that shifts perceptions and changes what's possible," said Gayle Troberman, CMO of iHeartMedia. "According to Magna, podcasting ad spending is on track to grow 16 percent this year, 4x the overall market. And with over 80 percent of our branded podcast clients renewing for multiple seasons, it's evident the advertisers and audience's appetite continues to grow. Ruby will ensure that current and future clients will be able to harness iHeartMedia's powerful platform, scale and proven expertise to tell meaningful stories."
iHeartMedia's Ruby studio kicked off this year by collaborating with Intuit Quickbooks on "Mind The Business: Small Business Success Stories". Hosted by Jannese Torres (Yo Quiero Dinero) and Austin Hankwitz (Rate of Return), the podcast reveals the stories of small business owners managing the ups and downs of starting and growing their businesses. Already charting in multiple categories, the podcast debuts alongside renewed seasons of popular podcasts from T-Mobile, Salesforce, IBM, and Mattress Firm.
"iHeartMedia's Ruby team is creative, collaborative and delivers a turnkey audio product that enables new avenues for us to connect consumers with our brand," said Mickey Mericle, Mattress Firm's Chief Marketing and Experience Officer.
iHeartMedia has developed, produced, and distributed 30 podcasts including the award-winning IBM podcast "Smart Talks with IBM" hosted by Malcolm Gladwell, and "The Official Game of Thrones Podcast: House of the Dragon," an original podcast that reached No. 1 on the Apple podcast charts in 2022.
Podcasts have become one of the fastest-growing mediums, reaching almost half of the US population every month. iHeartMedia produces more than 750 iHeartPodcasts which span every category from business, sports, spirituality, and technology to entertainment, family, comedy, and true crime, with more top ten shows on Podtrac than the next three podcast networks combined and twice as many podcasts with one million monthly downloads than the next largest podcast publisher. iHeartMedia is also the only podcast publisher with shows in all content categories ranking on Podtrac.
Ruby podcasts have landed the number one spots on the Apple and iHeartRadio podcasts charts with publications such as Vanity Fair describing the podcast "Humans Growing Stuff" - an ode to the new, modern gardener - as an "essential" listen. For more information on Ruby, please visit www.ruby.iheart.com.
About iHeartMediaiHeartMedia, Inc. [Nasdaq: IHRT] is the leading audio media company in America, reaching over 90% of Americans every month. iHeart's broadcast radio assets alone have more consumer reach in the U.S. than any other media outlet; twice the reach of the next largest broadcast radio company; and over four times the ad-enabled reach of the largest digital only audio service. iHeart is the largest podcast publisher according to Podtrac, with more downloads than the next two podcast publishers combined and has the number one social footprint among audio players, with seven times more followers than the next audio media brand, and the only fully integrated audio ad tech solution across broadcast, streaming and podcasts. The company continues to leverage its strong audience connection and unparalleled consumer reach to build new platforms, products and services. Visit iHeartMedia.com for more company information.
This is a press release which we link to from Podnews, our daily newsletter about podcasting and on-demand. This is reprinted verbatim; we may rewrite headlines and descriptions.
This page contains automated links to Apple Podcasts. We may receive a commission for purchases made.