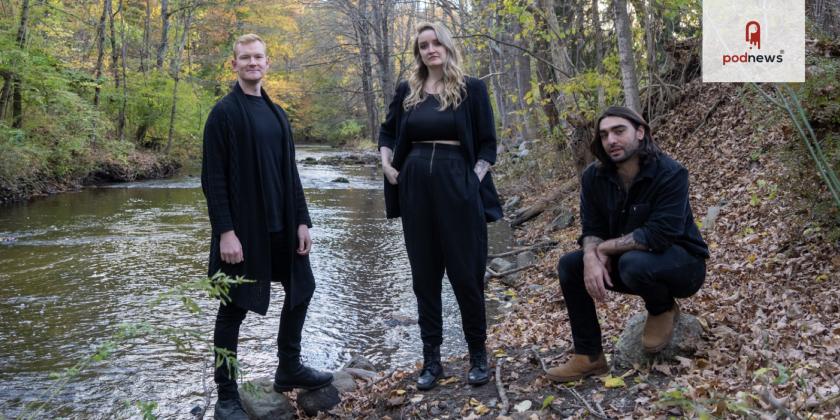 Rocking Chair (or, Settlement) is a new, narrative horror musical podcast
Press Release · New York, NY, USA · via Scantic River Productions ·
Scantic River Productions is proud to announce Rocking Chair (or, Settlement) — a new, original, narrative musical presented in the unconventional format of a podcast.
Rooted in New England folklore, Rocking Chair is a horror musical podcast that tells the tale of characters lured into a haunted forest over the course of three centuries, the ghosts that haunted them there, and the mysterious rocking chair at the heart of it all. Rocking Chair was written, directed, and composed by Colby J. Herchel, produced by Nathanael Taylor, and recorded, sound designed, and mixed by Kelly Oostman.
The podcast will feature nine chapters (or episodes) in total: four of which are already out. The remaining chapters are scheduled to release before the end of the year. Listeners can subscribe to Rocking Chair on most major podcast platforms (including Spotify and Apple Podcasts). Or, visit, www.scanticriver.com/rockingchair to listen to episodes & learn more about the show.
About Scantic River Productions:
Scantic River Productions is a non-profit theatre & production company rooted in New York City. We're inspired by creative works and thrive in curating original pieces in order to produce them in ways you don't expect. Our passion is discovering unique stories and perspectives from new artists that may not be readily accessible to commercial audiences. Jump in the sandbox, pick up a shovel, and let's build castles.
Listen
This is a press release which we link to from Podnews, our daily newsletter about podcasting and on-demand. We may make small edits for editorial reasons.
This page contains automated links to Apple Podcasts. We may receive a commission for any purchases made.