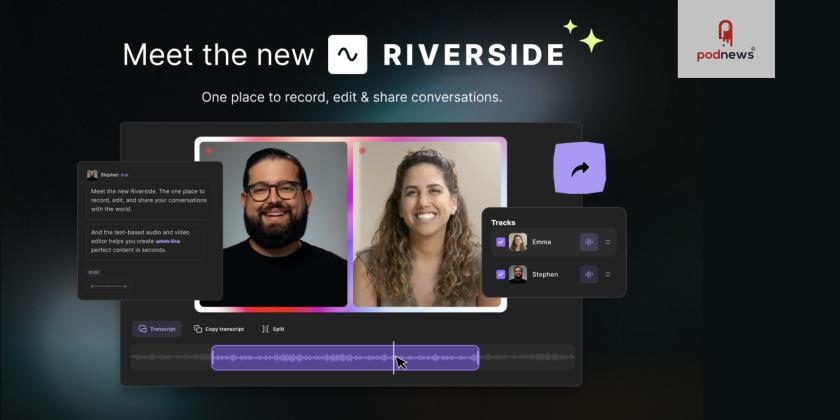 Riverside Unveils Text-Based Editing and AI Transcription Features in Massive Update
Press Release · Tel Aviv-Yafo, Israel · via Riverside ·
Riverside, a pioneering remote video and audio recording platform, just announced the latest version of its platform. The software now incorporates groundbreaking text-based editing and AI transcription features.
"By streamlining the work of recording, editing, and sharing conversations in a single place, we're empowering our users to focus on what truly matters: producing high-quality content that resonates with their audience," said Nadav Keyson, CEO of Riverside.
Since its inception three years ago, Riverside has been dedicated to providing creators and businesses with tools to create high-quality video and audio. Today, they take this commitment a step further by unveiling new features that help creators go from idea to finished content seamlessly.
The text-based editing feature simplifies content creation by allowing creators and businesses to edit recordings through transcriptions. This eliminates complex video and audio editing, significantly reducing time spent dealing with technicalities. The new AI Transcriptions feature generates accurate transcriptions in over 100 languages, making the tool globally useful. Integrated with OpenAI's Whisper, it minimizes time spent correcting errors and significantly reduces costs.
Riverside now combines the processes of recording, transcribing, editing, and sharing into one seamless interface. This workflow simplifies the content creation journey, making it more accessible and efficient for creators and businesses worldwide.
About Riverside
Riverside provides a single place to record, edit, and share conversations with the world. Creators and companies like Netflix, Marvel, and Shopify rely on Riverside to produce podcasts, video interviews, marketing videos, virtual conferences, internal communications, and more.
With high-quality local recordings, AI transcriptions, and text-based editing, Riverside makes professional video creation achievable by anyone, anywhere.
This is a press release from Riverside which we link to from Podnews, our daily newsletter about podcasting and on-demand. This is reprinted verbatim; we may rewrite headlines and descriptions.