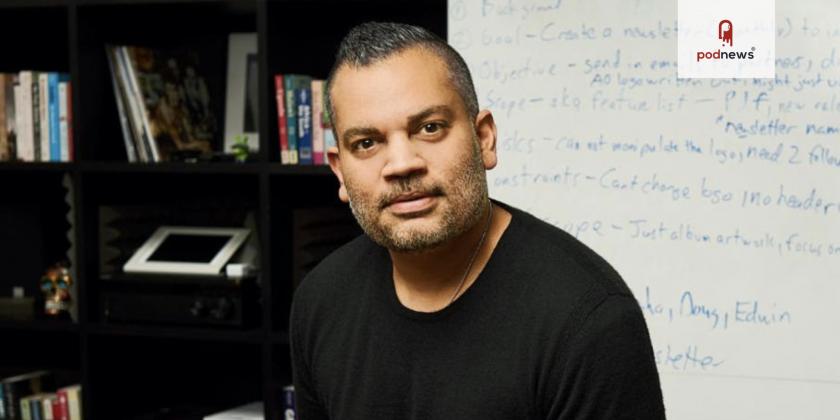 Luminary announces Rishi Malhotra, co-founder and former CEO at JioSaavn, as company's new CEO
Press Release ·
Luminary announced today that Rishi Malhotra – co-founder and former CEO of JioSaavn, and Vice President at HBO – joins Luminary as CEO to shape its new vision as the premiere audio platform for the world's most thoughtful talent, including Dave Chappelle. The company also announced Pilot Boy Productions, owned by Chappelle, has invested in Luminary and joined Luminary's Board of Directors, with its seat filled by Ben Jealous. Two additional new members will also join Jealous on Luminary's Board of Directors – Heather Hiles and Mara Buxbam.
"Luminary is a one-of-a-kind company that is becoming the home for artists with a unique point of view, from Dave Chappelle and Roxane Gay to Russell Brand, Lena Dunham, and Guy Raz. We are developing new original programming with particular focus on the luminaries of music, sports and comedy," said Rishi Malhotra, Luminary CEO. "We are going beyond subscriptions to deliver products that connect fans more uniquely to creators. I'm honored to work with the exceptional team and talent partners at the company." said Malhotra. "In my view, we are at a crossroads of shaping new media that entertains, educates, and elevates us. The Midnight Miracle is an example of a new audio format in every way. It's not just podcasts anymore. It's Luminary." he added.
Malhotra, who was named in Rolling Stone's Future 25 in 2021 and Billboard's 2021 International Power Players, founded Saavn, India's premiere music streaming service, in 2008. Malhotra developed projects with U2, Beyonce, Nas, Marshmello and many others. He drove company growth that created $1.5 billion in enterprise value and resulted in a merger with telco giant Jio, creating JioSaavn in 2018. Prior to founding Saavn, Malhotra served as a Vice President at HBO, and from 2003 to 2008 he built and launched HBO On Demand, and also worked on the critically-acclaimed HBO series The Wire.
Chappelle, who along with yasiin bey and Talib Kweli, is a creator and executive producer of the acclaimed Luminary Original show The Midnight Miracle, also executive produces additional audio content at Luminary.
"I chose Luminary because they value artists and share my vision for re-imagining audio content. The Midnight Miracle and our unique format is changing the podcast experience," said Chappelle. "At Luminary, we are creating an authentic space for inspired artists to develop and share their original content," he added.
"We are honored that this world-class group of leaders are joining to push Luminary into our next stage of growth," said Matt Sacks, Luminary Executive Chairman. "Rishi has proven his ability to build a differentiated audio streaming company with unique creative sensibilities. We are equally proud to have a creator partner like Dave Chappelle demonstrating his belief in our vision by investing in Luminary's future," he added.
After serving as Luminary's CEO for more than two years, Simon Sutton informed the Board at the end of 2021 that he would be leaving his position. Sutton will remain on Luminary's Board of Directors.
"We are grateful for Simon's leadership and are delighted he will remain on Luminary's team as a member of our Board," added Sacks.
About Dave Chappelle
Dave Chappelle is an American comedian, screenwriter, television and film producer, and actor. Recognized as one of the greatest comedians of all time, Chappelle was awarded the prestigious Mark Twain Prize for American Humor from the John F. Kennedy Center for the Performing Arts in 2019. Chappelle's work in stand-up comedy, writing, producing, and acting has earned him more than 30 nominations and awards in television and film for projects that include his groundbreaking sketch comedy television series, Chappelle's Show, guest appearances on Saturday Night Live, and his comedy specials, most recently earning his third and fourth Emmy Awards for Sticks & Stones in 2020. In audio content, Chappelle has won the Grammy Award for Best Comedy Album three years in a row, 2018 through 2020. In 2017, Netflix cited Dave Chappelle: Collection 1 as the most-viewed comedy special ever on their network.
About Pilot Boy Productions
Pilot Boy Productions, founded in 1992 by comedian and actor Dave Chappelle, is a film and television production company dedicated to producing thought-provoking, cutting edge and award-winning television, concert films and live events. Chappelle jokes the name "Pilot Boy" comes from the numerous pitches he made to television executives in his younger days. "I'd walk thru the door and say, 'Here comes Pilot Boy!'" Since then, Chappelle has self-produced six nominated and award winning concert films and recently signed deals with both Netflix and Luminary to produce content for their streaming platforms.
About Ben Jealous
Ben Jealous is a professor of the Practice at the University of Pennsylvania where he teaches social entrepreneurship. A former partner at Kapor capital, he's helped build two dozen early stage high-growth tech companies. He is a board member at Aspiration, Pigeonly, and Curve Health. A graduate of Colombia and Oxford university, Jealous is a former Rhodes scholar and was the youngest person to serve as the national President & CEO of the NAACP.
About Heather Hiles
Heather Hiles is an expert in technology, learning, and talent development, with a 30-year track record of creating and scaling nonprofit and for-profit organizations that have improved millions of lives. Hiles is the Managing Partner at Black Ops Ventures, the first VC fund built to invest in tech startups founded exclusively by Black entrepreneurs. Hiles was the Founding CEO and Chancellor at Calbright College, California's first fully online community college, partnering with the nation's largest employers with a mission to place 10 million underemployed Californians into new economy jobs. Prior to that, they founded, managed, and scaled several organizations, including Pathbrite, Inc., Hiles Group Philanthropic Advising, and SFWorks, EARN, and served as Communications Director for the Gavin Newsom for Mayor campaign. Hiles was featured in Forbes 50 Over 50 Impact List in 2021 and holds the distinction from 2012-2018 of being the Black woman to have raised the most venture capital and have the biggest exit. Hiles gained investment experience working at the Bill & Melinda Gates Foundation and currently serves on the Udemy Board of Directors – where they are Chair of the Nomination and Governance Committee and serve on the Audit Committee – as well as the Board of Directors at Made in Africa (formerly UNIFORM), Luminary Media, OppZo, Inc., and Five-to-Nine.
About Mara Buxbaum
Mara Buxbaum is among the entertainment industry's leading publicists and communications strategists. As the President of ID and founder of its New York office, Buxbaum oversees a stellar client list while also collaborating with C-level executives on day-to-day decision-making for ID's 100 employees and in client areas including Talent, Music, Content, Brands, Philanthropy, and Digital. She is a voting member of AMPAS and has served on advisory boards including the American theatre company Naked Angels, and RXArt, a nonprofit organization whose mission is to help children heal through the extraordinary power of visual art.
About Luminary
Luminary is the subscription podcast network with an award-winning lineup of original shows you won't find anywhere else. Subscribers enjoy unlimited access to the full collection of Luminary Original Podcasts, featuring celebrated creators, diverse voices, and important stories told through a new lens from creators like Dave Chappelle, Roxane Gay, Russell Brand, Lena Dunham, Guy Raz, yasiin bey (fka Mos Def), Talib Kweli, and Glynn Washington. You can find Luminary's original content via the Luminary app, available on iOS, Android, and the web, and on Apple Podcasts Luminary channel.
Driven by a love for podcasts, Luminary was founded by Matt Sacks in 2018 with a vision to elevate the podcasting experience for both listeners and creators. Key Luminary investors include Dave Chappelle, Richard Plepler, and NEA, a global venture capital fund.
Luminary offers all listeners a seven-day free trial. After the free trial, the annual subscription is $34.99, or the equivalent of about $2.99 per month. Luminary also offers a monthly subscription for $4.99. International pricing is similar to US pricing, with annual and monthly plans available in each territory.
This is a press release which we link to from our daily newsletter about podcasting and on-demand. This is reprinted verbatim; we may rewrite headlines and descriptions.