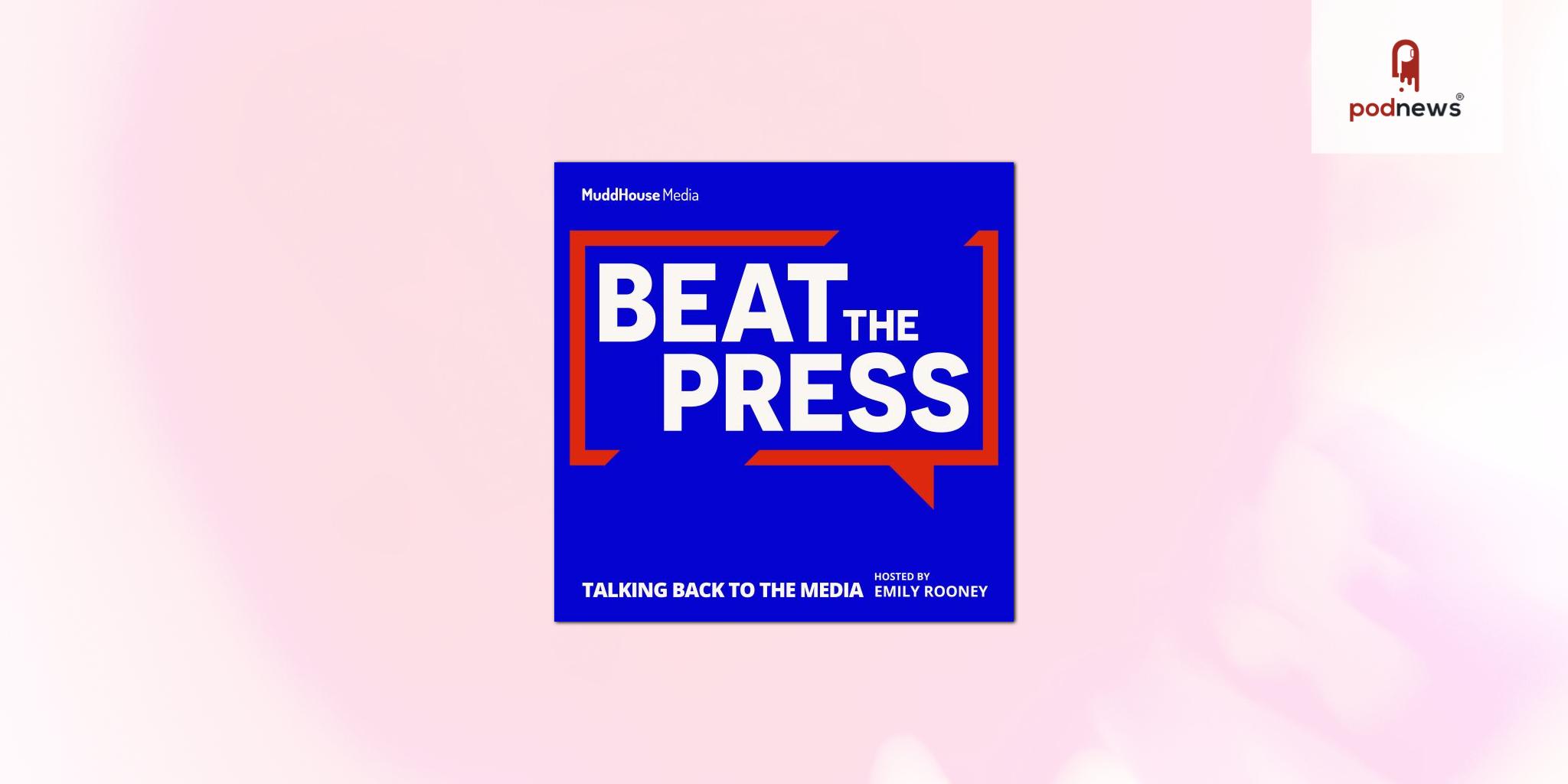 Beat the Press with Emily Rooney Returns
Press Release · Boston, MA, USA ·
Beat the Press, the multi-award-winning media analysis program created and hosted by journalist Emily Rooney for more than 25 years on Boston's PBS TV station, now returns to a national audience as a much-anticipated podcast on MuddHouse Media. Joined by a rotating cast of acclaimed journalists and media experts, Beat the Press challenges the new norms of objectivity in journalism, politics, and opinion. Episodes are now available on all major podcast platforms.
"Now more than ever it's critical that the media itself is a watchdog to the industry," said Emily Rooney. "With my 25 years of experience leading one of the East Coast's premier weekly news programs, my dedication to examining the media and how it reports on the biggest stories of the day will continue to educate audiences on a national level. Our transition from local TV to the podcast format offers tremendous opportunities to dive deeper into timely topics, and give media experts a platform to voice their singular perspectives."
"We are excited to carry on a Boston tradition of Emily Rooney bringing her expertise as a prominent journalist to the masses," says Kris Meyer, CEO of MuddHouse Media. "In this day and age of misinformation, we need seasoned journalists at the forefront of the industry to offer reliable and trustworthy viewpoints on the media landscape. With Beat the Press podcast, a national audience will now be able to tune in to Rooney's distinct analysis and commentary."
Beat the Press is a compelling examination of the media -- in all its forms -- with a rotating cast of renowned journalists providing insights on the hottest topics. Recently, panelists put the spotlight on Putin's American media pals, a New York Times op-ed gone awry, reporting in Ukraine without a safety net, Anthony Weiner's radio show comeback, the Joe Rogan controversy, privacy concerns around the death of comedian Bob Saget, partisan media sniping surrounding the Jan. 6th attacks, Dave Chappelle pushing the boundaries of humor, the Cuomo brothers, and much more.
Guest experts will include today's most distinguished experts, including long-time WBZ-TV political analyst Jon Keller, Boston Globe Editor Lylah Alphonse, Northeastern University School of Journalism Professor Dan Kennedy, Experience Magazine Editor-in-Chief Joanna Weiss, Journalist Susie Banikarim, and others soon to be announced.
Beat the Press is produced in Boston by MuddHouse Media.
About Beat the Press
Beat the Press takes listeners behind the scenes of the world's biggest and most influential media outlets, featuring journalists making a difference on the front lines. A tenured panel of media critics examine absurd and unusual moments consumed by the American public. Audiences are guaranteed to walk away from each episode more engaged with how the fascinating media world works, and the outcomes of how the press reports on vital issues.
About MuddHouse Media
MuddHouse Media is a company with diversified knowledge and skill sets, specializing in the most niche and mainstream facets of science, sports, comedy, lifestyles and culture, music and art, business, entrepreneurship and much more. MuddHouse Media combines niche expertise to create compelling, engaging and appealing storytelling. It presents the most passionate individuals discussing the subjects they live for, with people who either share their zest or can offer a novel or unique take or opinion on the subject. Its offering includes full-service production of original podcasts, corporate podcasts, and media and scripted podcast series. MuddHouse Media original series include "Beat the Press," with Emily Rooney; "The Break,"with acclaimed interior designer and HGTV/Food Network host Taniya Nayak; "Being American," with former Massachusetts Governor Deval Patrick; "Tanya's Table," with chef Tanya Holland; "Holding Court," with tennis analyst and former professional player Patrick McEnroe; and "Saints, Sinners and Serial Killers," hosted by New York Times best-selling authors Casey Sherman and Dave Wedge. MuddHouse Media has created podcasts for leaders in their fields including "The Sound Experience" with Panasonic Automotive, "Bring Out the Talent" with The Training Associates, and Bruker Industries.
Listen
This is a press release which we link to from our daily newsletter about podcasting and on-demand. This is reprinted verbatim; we may rewrite headlines and descriptions.
This page contains automated links to Apple Podcasts. We may receive a commission for any purchases made.