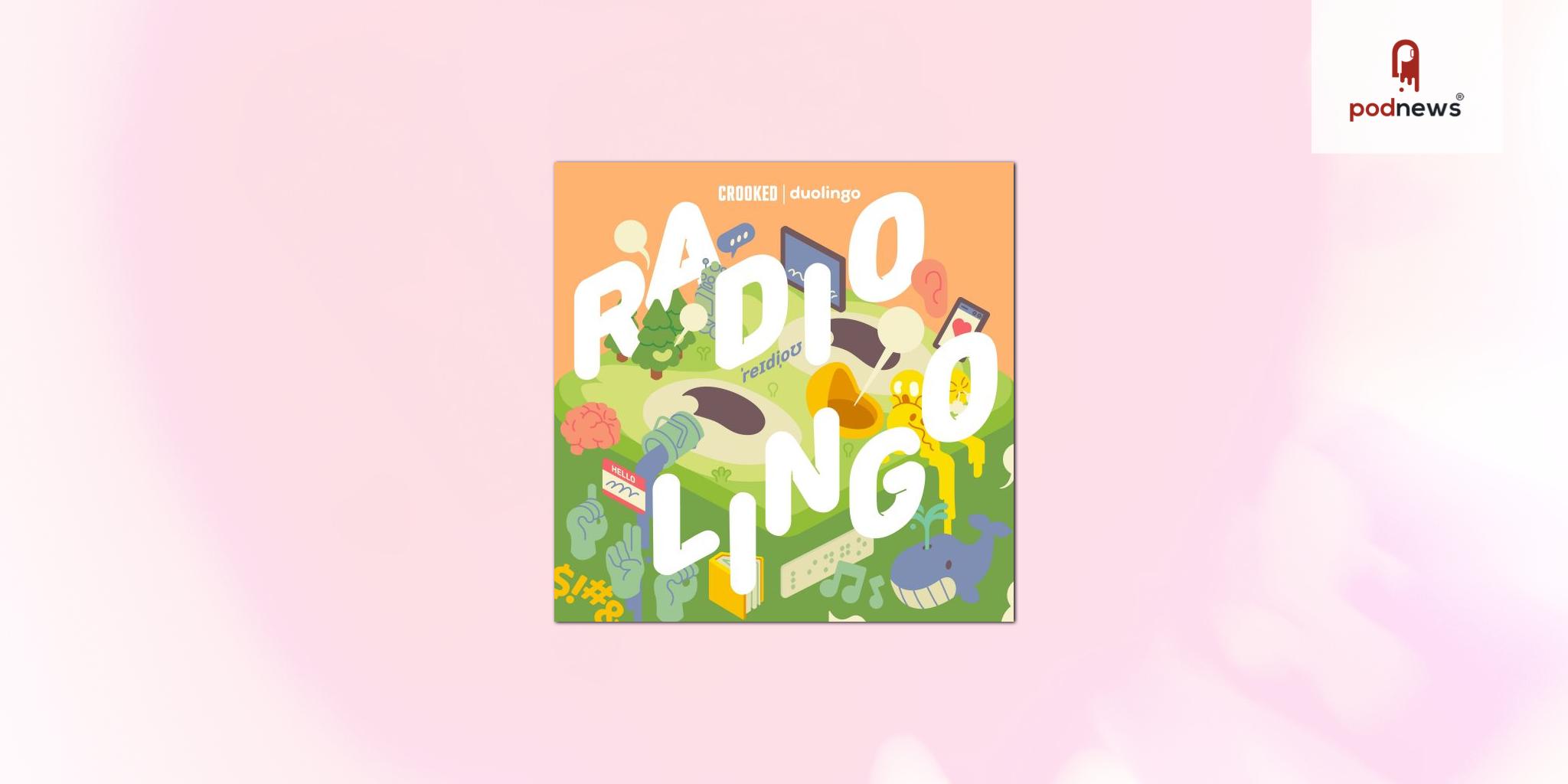 Crooked Media and Duolingo partner on innovative limited series Radiolingo, exploring the world of language
Press Release · Los Angeles, CA, USA · via Sunshine Sachs ·
Crooked Media, the progressive independent media company that delivers bold content to entertain, inform and inspire action, today announced a partnership with Duolingo, the world's leading language learning platform, through the trailer launch for its first-ever jointly produced non-language learning podcast. The limited series, entitled Radiolingo, is hosted by audio journalist and James Beard Award-winning writer, Ahmed Ali Akbar and will premiere on Tuesday, November 15.
Harnessing the power of two companies at the top of their fields and leveraging Akbar's extensive knowledge and endless inquisitiveness, Radiolingo investigates the impact of language across our lives, relationships, culture and more. From how we watch movies to how we get our names– even how two people who don't speak the same language can fall in love– Radiolingo's exploration of language provides listeners with a newfound understanding of society at-large.
Poised perfectly at the intersection of language and culture, Radiolingo features the best of both of these powerhouse partners– the trendsetting content that Crooked Media is known for to entertain, inform and inspire curiosity into real-world impact, and the groundbreaking innovation of the world's language expert Duolingo, one of the most downloaded apps ever.
The first season of the original limited series, Radiolingo, will consist of eight episodes released weekly on Tuesdays through a finale airing on January 10.
"When we partnered with Duolingo, it was exciting to see how much we aligned in our desire to create a really fun, smart, and thought-provoking series that will hopefully spark some great conversations about how we all use language to navigate our multicultural world. We are so fortunate that our incredible host Ahmed Ali Akbar embodies so many of the themes and questions we examine in Radiolingo to guide us through this fun exploration,'" said Sandy Girard, Executive Vice President of Programming at Crooked Media. "Our goal at Crooked remains attracting the culturally curious and we're so pleased to continue this endeavor with our first-ever co-produced podcast with another consumer and tech brand."
"At Duolingo, we have a lot of fascinating conversations about the meaning, science, and ideas behind language, learning, and culture that inform everything we do. Radiolingo gives us a chance to dive headlong into these topics in a podcast that anyone interested in how language works can enjoy," said Tim Shey, VP and Head of Studios and Content at Duolingo. "We were lucky to find a partner in Crooked Media that was as excited about this as we were, and who assembled an amazing team and a brilliant host in Ahmed to collaborate with our learning scientists and producers on this series."
Radiolingo can be found online and on Apple Podcasts, Spotify, Amazon Music, Stitcher and wherever listeners listen to podcasts. For more information, please visit www.crooked.com.
Listen
This is a press release from Sunshine Sachs which we link to from Podnews, our daily newsletter about podcasting and on-demand. This is reprinted verbatim; we may rewrite headlines and descriptions.
This page contains automated links to Apple Podcasts. We may receive a commission for any purchases made.