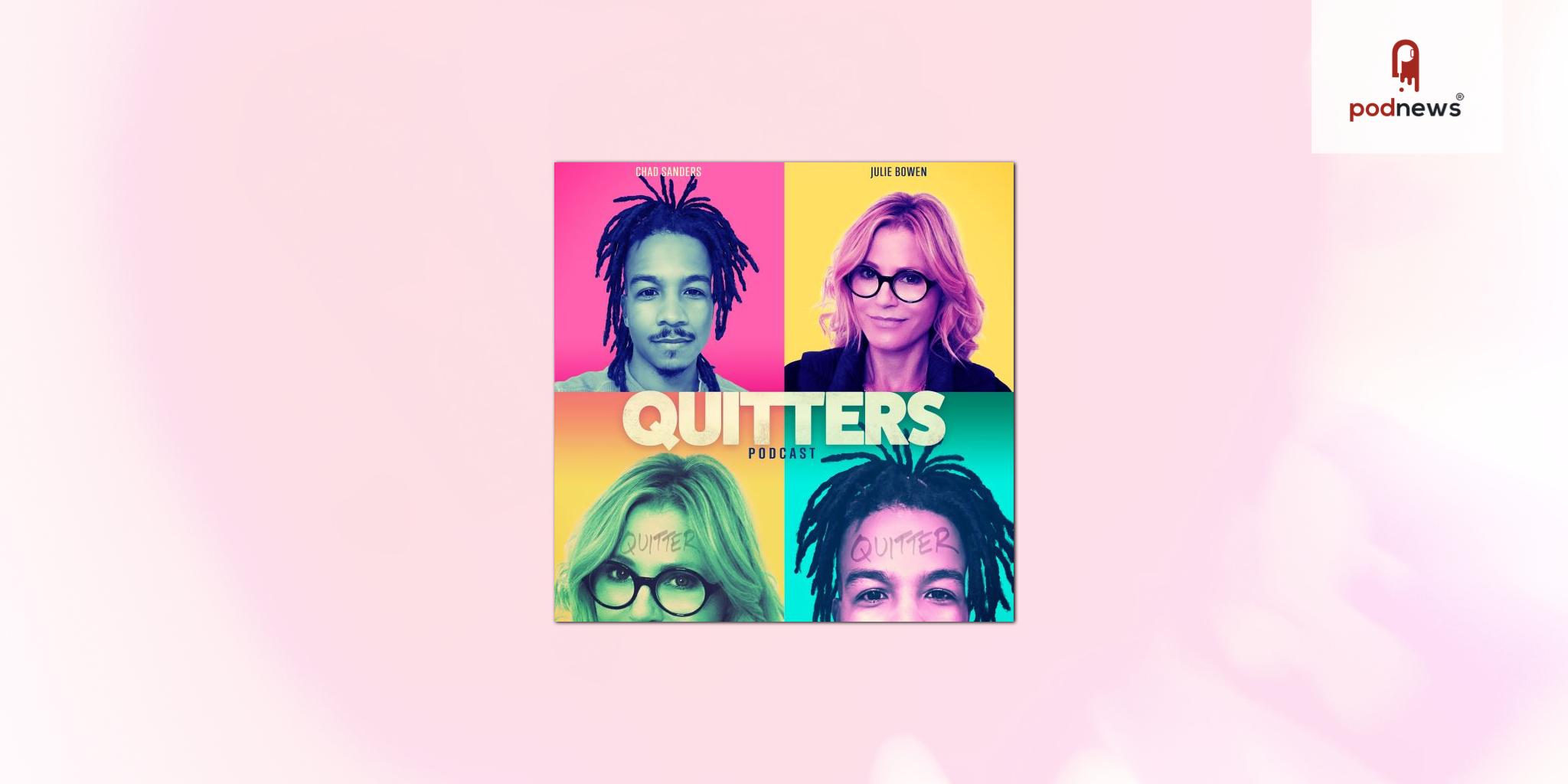 Quitters, a new raw and edgy podcast hosted by Julie Bowen and Chad Sanders, premiers today
Press Release · Austin TX, United States ·
Coming from completely different backgrounds, Hollywood alum Julie Bowen (Modern Family, Ed, Boston Legal), and New York-based writer, director, actor, and musician Chad Sanders (Black Magic, Grownish, HBO Max's forthcoming Rap Sh!t, New York Times) leave nothing on the table in their new, raw, honest and edgy podcast, Quitters, which is set to premiere this Monday, Feb. 14, 2022 on all major podcast and streaming platforms. On the new show, hosts Chad and Julie will explore the concept of "shrinking to grow" with people who took the terrifying leap to admit failure on something that felt essential - a career, a marriage, a gender identity, a substance, a talent - and ultimately found joy, freedom, connection and purpose. Check out the trailer for Quitters on Apple podcasts and Spotify, keep up with the podcast here and follow their Instagram and Twitter.
"Our podcast invites our guests and our audience into complex, funny, poignant and at times messy conversations about everything we give up to keep going," said Bowen.
"The space between the notes makes the music," said Sanders. "I don't know who said that first, but it's true. It's what we do without that makes us who we are. We aim to explore the concept of taking our lives back in a way that's edgy, sexy, funny, smart, adorable, irreverent and utterly honest."
As millions of Americans are quitting their jobs, the Quitters podcast will examine, expose and upend the dangerous stigmas around giving up. Each episode will feature a conversation between Julie, Chad, and a guest whose life or life's work was saved by giving up on something else that felt self-defining. Guests will span a diverse spectrum of identities and industries, but with a focus on self-aware, vulnerable storytellers.
To chat up the new podcast, Bowen appeared as a guest yesterday, Feb. 9, on Jimmy Kimmel Live and she will also guest host The Ellen DeGeneres Show, which airs March 11. Bowen previously was interviewed about the podcast by Jay Leno on The Kelly Clarkson Show on Jan. 25, and appeared on an earlier episode of Ellen on Jan. 14, where she first announced the show. Viewers can also catch Julie talking it up in episodes of Mayim Bialik's Breakdown, Conan O'Brien Needs a Friend, and Celebrity Game Face with Kevin Hart.
As the show kicks off, listeners can tune into episodes that dive into interesting and dynamic conversations with hosts Julie and Chad in addition to guests Ty Burrell, Meghan Trainor, Jimmy Kimmel and many more to come.
See below for the schedule of episodes to be released in the coming month:
Feb. 14: Julie Bowen, Chad Sanders and Ty Burrell Feb. 21: Jimmy Kimmel Feb. 28: Sarah Hyland March 7: Meghan Trainor and Ryan Trainor
"We're an imperfect match as co-hosts," said Chad Sanders. "Julie is a successful, established, white celebrity who is a television mainstay. I'm a subversive, young, Black writer at the beginning of my career, eager to be seen and heard but disenchanted by 'the business.' But we both feel like outsiders. And we connect on curiosity, vulnerability, humor (we think) and ambition for our precious poddycast."
"I am still mid-quit on a lot of things," said Julie Bowen. "Most of all, I'm trying to quit the shame of talking about the things I've left, and am trying to leave behind. Today, people are facing their problematic actions and views privately, but I don't want to hide from those uncomfortable moments. How else can I grow? What happens when we admit to our shortcomings, flawed thinking or toxic habits and try to grow OUT LOUD? Raised with privilege and lucky as hell in Hollywood, can I engage in a vulnerable conversation with a writer from a different generation, race and mindset about the things I think are shame inducing?"
"A few years ago I quit my job at Google - 'the best place in the world to work,'" Sanders explains. "It was the most important decision of my life. I was tired of trying to play a white guy as well as a white guy. I was exhausted and sad and bored, but it was still so terrifying to jump ship. Now, I realize quitting was one of the best decisions in my life. But the journey of quitting only started when I said the words 'I quit.' It's been a scary, exhilarating and revealing adventure. I wish someone was there to hold my hand through it all. Our show can be that for our listeners. Quitters is for anyone who wants to leave something in their life that's outstayed its welcome - a job, a partner, an addiction, a bad habit, whatever. We won't preach to you, but we'll walk the walk with you and our guests."
Bowen added that, "I quit a pretty pernicious eating disorder that plagued my younger years. I 'quit' a marriage and, frankly, romantic entanglements in general. There's so much more I WANT to quit and so many people whose stories of quitting fascinate me. My curiosity - and endless questions - can be annoying to those around me, but it's just right for a podcast."
"The podcasting industry hit $1 billion in revenue in 2021 - that number is projected to jump up to $2 billion by 2023," notes The Quitters Team. "The podcasting industry - like publishing, and Hollywood - is predominantly run and occupied by white men in their forties. The vast majority of podcast hosts are white guys although podcast audiences are becoming far more diverse. These are the voices in listeners' ears - in their minds - while they're on vacation looking up at the Northern Lights, changing baby diapers, in the shower, walking dogs, at the gym and just before they go to bed. Those voices need to change."
Sponsorship sales for Quitters will be handled exclusively by PMM.
The Quitter's podcast can be followed on Instagram and Twitter. For info on upcoming episodes launching this Feb. 14 and more, see here.
ABOUT CHAD SANDERS:
Chad is the author of Black Magic: What Black Leaders Learned from Trauma and Triumph and a writer on HBO Max's forthcoming Rap Sh!t. His Op-Eds have appeared in The New York Times, Time and others. Formerly, Chad worked at Google and as a tech entrepreneur in the US, Berlin and London. (see links below) Chad graduated from Morehouse College and grew up in Silver Spring, Maryland. Check out Chad's op-ed in the NY Times, as well as his book, Black Magic.
ABOUT JULIE BOWEN:
Julie Bowen is a two-time Emmy Award winner who is best known for her portrayal of "Claire Dunphy'' on the hit show, Modern Family. Before that she starred opposite James Spader and William Shatner in Boston Legal, and played "Carol Vessey" on NBC's Ed. On the big screen and on Netflix Julie has been seen opposite Adam Sandler in Happy Gilmore and Hubie Halloween as well as opposite Melissa McCarthy in Life of the Party. She has directed on MODERN FAMILY and made a short film in Google's Power On Series, entitled Girl Code. She recently sat in for Jimmy Kimmel as guest host on his late-night show, interviewing Minnie Driver and Jacob Elordi, with musical guest Ashe.
Listen
This is a press release which we link to from our daily newsletter about podcasting and on-demand. This is reprinted verbatim; we may rewrite headlines and descriptions.
This page contains automated links to Apple Podcasts. We may receive a commission for any purchases made.