Australian podcast advertising leaps ahead
Press Release · Sydney NSW, Australia · via ARN ·
ARN's iHeart has today shared new data from Magellan AI, which has revealed the top 15 brands advertising for Q4, 2022 across the podcast landscape nationally.
Using the latest in artificial intelligence technology, the report is based on analysing thousands of episodes from 400+ of Australia's most popular podcasts for Q4 2022 to determine which brands are advertising in the rapidly growing medium.
Overall, spending on Australian podcast advertising grew by 36% year on year. All podcast categories except for Technology saw an increase in investment year on year, with podcast genres TV & Film (up 110%), Education (up 100%), and True Crime (up 87%) seeing the most exponential growth.
The Q4, 2022 list of the top spenders across podcast advertising once again features brands from a broad range of categories including online retailers, finance and entertainment.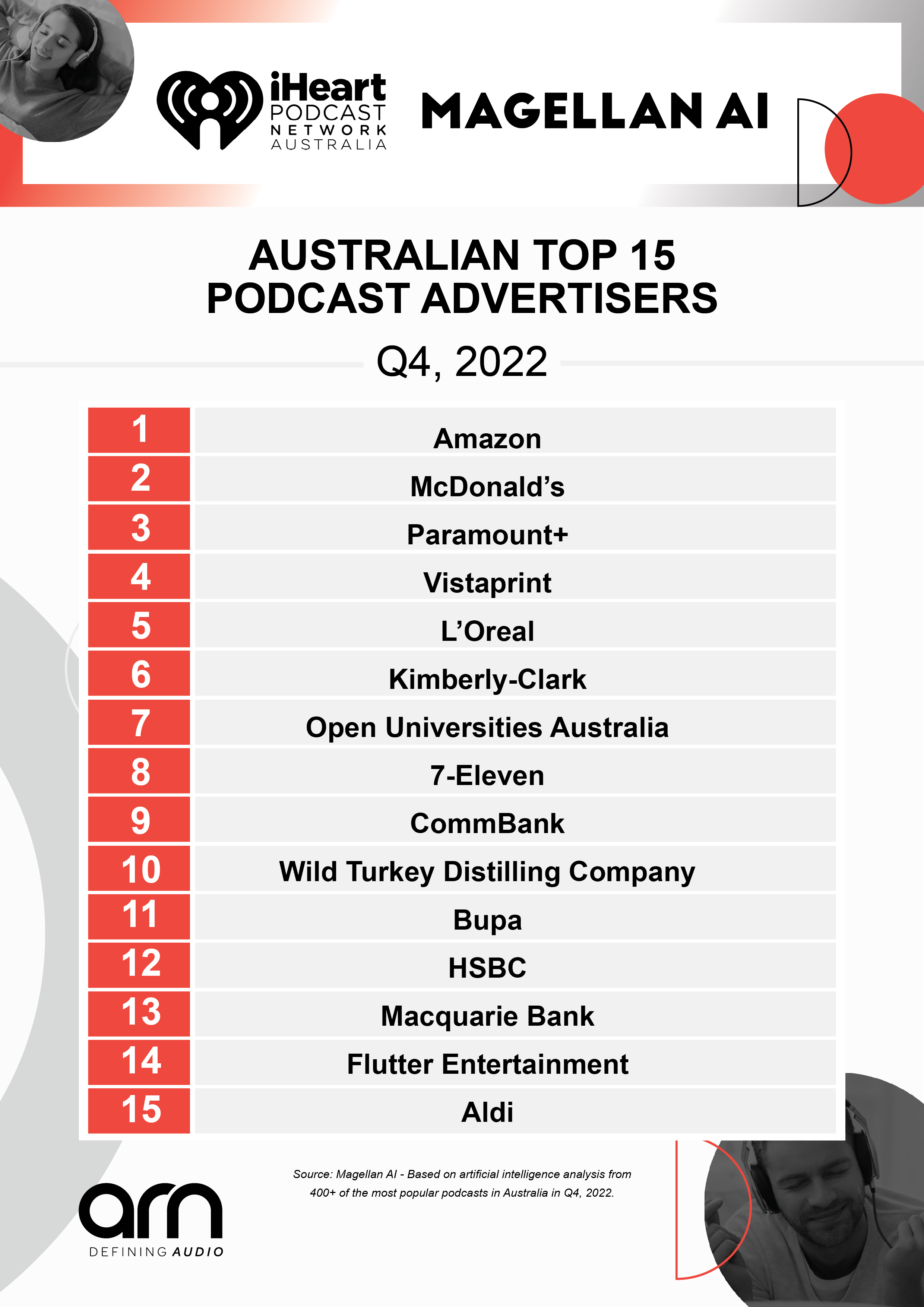 To register to receive the data each quarter sign up on the Magellan AI website
How the data is analysed
Magellan AI's sampling method "listens" to 400+ of the most popular podcasts in Australia and ingests the audio to identify ads within the content. The proprietary model then determines advertisers' spend based on proven inputs. The model factors in the number of ads detected, variation in ad load, types of ads, and multiple episode samples to identify and account for dynamic insertion. Additionally, Magellan AI's international sampling allows for comparison across different regions to ensure the ads and spend are specific to Australia.
About Magellan AI
Magellan AI is the source for market intelligence on podcast advertising. Magellan AI has created the world's largest database of podcast advertising data – covering activity from over 35,000 brands and 40,000 shows in the US, Canada, Australia, the UK, and Germany. Media buyers at advertisers and agencies spending over $500mm annually in aggregate rely on Magellan AI's podcast media planning platform to find, vet and connect with podcasts. Publishers trust Magellan AI to drive content acquisition, grow ad sales, and make ad ops efficient. Learn more by visiting https://www.magellan.ai
This is a press release from ARN which we link to from Podnews, our daily newsletter about podcasting and on-demand. This is reprinted verbatim; we may rewrite headlines and descriptions.