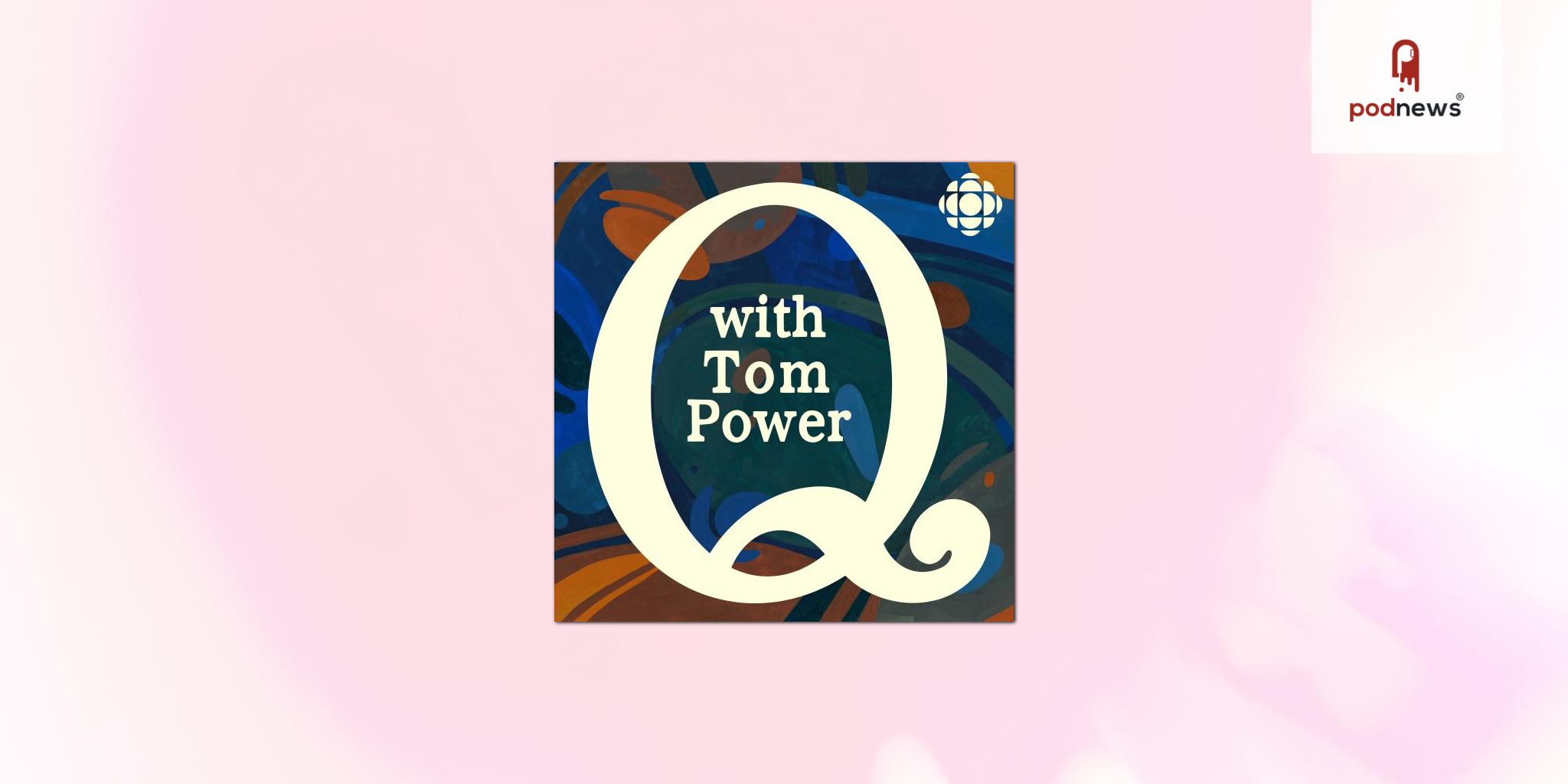 CBC Launches "Q With Tom Power" As a Podcast-First Format, Reveals Upcoming Lineup of Guests
Press Release · via CBC ·
CBC, Canada's public broadcaster and #1 Canadian podcaster, today shared details about the launch of its popular Q with Tom Power show in a podcast-first format. Starting on January 30th, the show - which releases new episodes five days a week– will feature acclaimed interviewer Tom Power sitting down to chat with the artists, writers, actors and musicians who define this cultural moment in time.
Whether he's ribbing Adele, singing a boyband classic with Simu Liu, or dissecting faith with U2 frontman Bono – Tom brings the same curiosity, respect and meticulous preparation into every interview. Plus, Tom talks to artists on the precipice of stardom – both Lizzo and Billie Eilish were on Q well before becoming Grammy award-winning artists.
Now, the show, launching as a podcast-first incarnation every morning before airing each weekday on radio, will have upcoming guests that include:
Monday, January 30: Sam Smith and Shania Twain
Tuesday, January 31: Sarah Polley and Vir Das
Wednesday, February 1: Laura Dern and Tegan and Sara
Thursday, February 2: Matty Healy of the 1975 and Hatecopy
Friday, February 3: Nineteen 85 and Cressida Cowell
Monday Feb 6 - Mary Walsh and Jason Segel
Tuesday Feb 7 - Anna Kendrick and Andre Alexis
Wednesday Feb 8 - Kristin Chenoweth and Margo Price
Thursday Feb 9 - Sheku Kanneh-Mason and Snotty Nose Rez Kids
Friday Feb 10 - Alexander Skarsgard and Han.ski
"I'm so proud of the work we've been doing on Q to have candid, honest conversations with some of the greatest artists of our time," says host Tom Power. "Now that we're re-launching it as a podcast-first show, we have even more freedom to keep those authentic conversations going, and bring new people to the show. Plus, I can't wait to start doing mattress ads."
Starting January 30, Q with Tom Power will be available each morning on all platforms where podcasts are available, and will also broadcast on 90+ radio stations across the US.
About Tom Power: Tom Power is the award-winning host of Q with Tom Power produced by the Canadian Broadcasting Corporation (CBC). Tom's heartfelt and enthusiastic interview style has attracted guests from around the globe including Harry Styles, Adele, Bono, Denzel Washington, Bruce Springsteen, Jerry Seinfeld, Lee Jung-Jae, Celine Dion, Guillermo del Toro and Janelle Monae.
Since becoming the host of Q in October 2016, listeners have come to know Tom for his heartfelt, in-depth interviewing style (speaking to Atlanta rapper Killer Mike about the Ferguson grand jury verdict), his mischievous sense of humour (jokingly chiding actor Catherine O'Hara for her parenting skills in Home Alone), and his genuine enthusiasm and fearlessness (singing a duet with Mavis Staples).
Hailing from St. John's, Newfoundland, Tom started his career programming folk music on college radio while pursuing a B.A in Folklore from Memorial University. At the age of 21, he joined CBC as the host of the national music program Deep Roots. He was recognized as the youngest host of a national radio program on the CBC since Peter Jennings.
Starting January 30, Q with Tom Power will be available each morning as a podcast, on all platforms that podcasts are available.
About CBC/Radio-Canada
CBC/Radio-Canada is Canada's national public broadcaster. Through our mandate to inform, enlighten and entertain, we play a central role in strengthening Canadian culture. As Canada's trusted news source, we offer a uniquely Canadian perspective on news, current affairs and world affairs. Our distinctively homegrown entertainment programming draws audiences from across the country. Deeply rooted in communities, CBC/Radio-Canada offers diverse content in English, French and eight Indigenous languages. We also deliver content in Spanish, Arabic, Chinese, Punjabi and Tagalog, as well as both official languages, through Radio Canada International (RCI). We are leading the transformation to meet the needs of Canadians in a digital world.
Listen
This is a press release from CBC which we link to from Podnews, our daily newsletter about podcasting and on-demand. This is reprinted verbatim; we may rewrite headlines and descriptions.
This page contains automated links to Apple Podcasts. We may receive a commission for any purchases made.