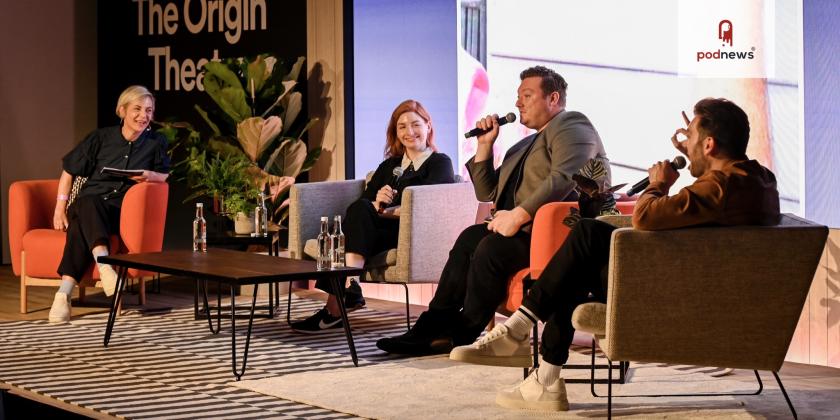 The Podcast Show 2023 to return to Islington, London in May
Press Release · London, UK · via Carver PR ·
Day Passes on sale now at thepodcastshowlondon.com
Acast & Amazon Music and Wondery confirmed as headline partners
Audioboom, BBC Sounds & Global return, with Veritone joining, as official partners
15,000+ visitors expected, day & night, from around the world - visitors from 20 countries already represented
New for 2023: Exclusive Pre-Show Party & Preview night
Ashley Flowers, New York Times bestselling author and host of the #1 true crime podcast Crime Junkie, announced as Keynote Speaker for Day 1
Dan Snow, Hala Taha, Nick Grimshaw, Jordan Harbinger, Spencer Matthews, Vogue Williams, Sam Faiers & Billie Faiers, William Hanson & Jordan North confirmed as speakers, with more to be announced
The Podcast Show, the biggest international festival for the business of podcasting, is back for a second year following the success of 2022's inaugural show. This one-of-a-kind event is open to industry professionals, independent podcast creators, business leaders, emerging talent and fans alike. The aim is to celebrate podcasting, support new creators, help shape the future of podcasting, and get business done. The festival will take place across two days at The Business Design Centre in Islington, London on 24 & 25 May 2023, in the heart of the city's media district.
In May 2022, the show brought together over 9,500 visitors (day and night) from the audio and broadcast industry, from every corner of the globe, to learn, do business and network. It was an international celebration of the industry, with visitors from 28 countries including the US, Sweden, Norway, Australia, Canada, Spain, Denmark and Brazil. 2023 promises to be no different, with 48% of confirmed partners and speakers coming from outside of the UK.
The show delivered some of the most recognisable faces in podcasting including Louis Theroux, Emily Maitlis, Gary Lineker, Annie Macmanus, Dr Rangan Chatterjee, The Receipts, Mark Kermode and Simon Mayo, through to leading players in the business. This year, The Podcast Show is bigger and more ambitious – with more live shows, more networking opportunities, more content, and more of the biggest names in the industry.
Headline partners are Acast and Amazon Music and Wondery. Acast will present a new version of The Creator's Corner, allowing independent creators and advertisers to take the first steps in podcast advertising and monetisation. Attendees can hear from key figures in the industry, as well as interact with show partners and their commissioners to network, learn and absorb. They'll also host The Studio Stage, a space for big talks with industry players and renowned talent.
Amazon Music and Wondery will once again present The Amplify Theatre, in association with IAB UK, showcasing everything from global industry players to the industry's hottest topics. They'll be hosting their own exclusive sessions across the two days as well as delivering, for the second year, an Amazon Music and Wondery branded activation on the main show floor.
Audioboom, BBC Sounds and Global are returning as official partners, with Veritone joining this year. Further partners include production companies such as Listen, TBI Media and Crowd Network, as well as talent management agencies e.g. Insanity Management Group and Money Management. International partners include Libsyn, Triton Digital, Patreon, Mackie and The Podcast Academy. See the full list of partners below.
The show will host 130+ in-person panels and sessions with industry leaders, creators and some of the most recognisable faces in podcasting. There will be a wide range of talks to fit attendees at every stage in their careers, whether just starting out or seasoned professionals.
The Podcast Show is thrilled to announce the headline Keynote Speaker for Day 1, Ashley Flowers. She is the host of the #1 true crime podcast Crime Junkie and founder and chief creative officer of audiochuck, one of the top media and podcasting companies in the world, which has generated over 1.5 billion downloads and has listeners in over 170 countries. This past year, Flowers released her debut novel All Good People Here, which became an instant #1 New York Times Bestseller.
Further speakers confirmed for the lineup include Dan Snow, Hala Taha, Nick Grimshaw, Jordan Harbinger, Spencer Matthews, Vogue Williams, Sam Faiers & Billie Faiers, William Hanson & Jordan North, with more to be announced.
500+ brands attended in 2022 to meet the podcast community. With this number set to grow this year, the Brand Works Theatre on the main show floor has been doubled in size. This will be presented by Global in association with Fresh Air, with Campaign & PodPod supporting. Expect to see some of the biggest brands up close and personal.
A major new development for this year's show is the Pre-Show Party and Preview taking place on Tuesday 23 May. With doors opening the night before the main show, this is the opportunity to meet all of the international exhibitors and partners first, and have a sneak preview of the show. With a limited number of tickets on offer, this promises to be the hottest podcasting ticket in town and will include complimentary drinks, special guest appearances, and networking.
Also new for 2023 is PodHouse, an exclusive area located in the heart of the show-floor that will host back-to-back networking drinks receptions. These 'invitation only' events will be hosted by leading talent, brands, production and advertising organisations. There will also be day-time gatherings in the central Hub Bar, hosted in partnership with Veritone (the leader in AI-enabled technologies for podcasting) end-of-show day drinks events and evening parties.
By night, The Podcast Show LIVE will host a week-long live podcast festival. This year's programme has doubled in size, with 30 live podcasts taking place around London from 22 - 28 May, celebrating world-class talent and bringing some favourite voices to the stage. If last year's programme is anything to go by (the likes of British Scandal, The Receipts and Fearne Cotton's Happy Place), this is set to be another impressive line-up, which will be announced soon.
The Business Design Centre is a stone's throw away from Kings Cross train station and the Eurostar. Delegate Day Passes are on sale now at thepodcastshowlondon.com. Prices start from only £55 (Day Pass) and £99 (2 Day Pass), with a limited number of £30 tickets for those aged 30 and under. Produced by AV Media & Events (AVME), a joint venture between SME London and GetOnMedia.
Josh Woodhouse, Managing Director of Acast UK & Ireland said: "The Podcast Show was without a doubt THE event to be a part of this year, and at Acast we hugely benefited from being able to meet podcasters and creators face-to-face. Acast is delighted to be partnering with The Podcast Show once again in 2023, and together with the show we'll be bringing some of our most popular podcasters and creatives to London to celebrate the medium of podcasting."
Craig Strachan, Head of Podcasts, Europe, Australia and New Zealand, Amazon Music said: "The Podcast Show 2022 was an unmissable event, uniting the industry again after two years spent working remotely. It was a fantastic opportunity to meet creators, partners and colleagues face to face, and to discuss all things podcasting, we're really looking forward to returning in 2023."
Mike Newman, Vice President - UK Content & Production, Audioboom said: "Bringing the industry together under one roof created an amazing amount of buzz and energy at last year's event, so we're thrilled to be a part of The Podcast Show in 2023 and build on that success."
Jonathan Wall, Director of BBC Sounds said: "Last year's event generated lots of energy and ideas as big players and emerging podcast creators gathered together. We're delighted to be returning as a partner in 2023, as we continue to invest in the UK audio industry and up our creative ambition to work with a huge range of brilliant voices and bring our world-class storytelling to a wider audiences."
Megan Wastell, Director of Podcasts and Strategy for Global Player at Global said: "With our podcast slate continuing to grow and our ambition to create world-class audio content, we couldn't miss an opportunity to get involved in this year's Podcast Show. We've got some exciting news to share, great sessions in the works and some of our best podcast hosts on board, so we look forward to seeing everyone there in May."
John Murphy, Senior Vice President, Commercial Enterprise, Veritone (the show's newest official partner) said: "Veritone is a leader in influencer marketing, programmatic advertising, attribution, and synthetic media—all core elements to sustained growth within the podcasting industry. The Podcast Show is a must for those looking to expand in this area, network with industry leaders, and learn new ways to monetize their content and brand."
Pledging to support the Equality in Audio Pact, The Podcast Show encourages and nurtures continued opportunities, including supporting gender balance, minority groups including LGBTQIA+ and ethnic diversity among panelists, speakers and those in attendance. For more information about the act, visit: equalityinaudiopact.co.uk
Tickets on sale now at thepodcastshowlondon.com
Further programme, speaker, partner and live show announcements coming soon
This is a press release from Carver PR which we link to from Podnews, our daily newsletter about podcasting and on-demand. This is reprinted verbatim; we may rewrite headlines and descriptions.