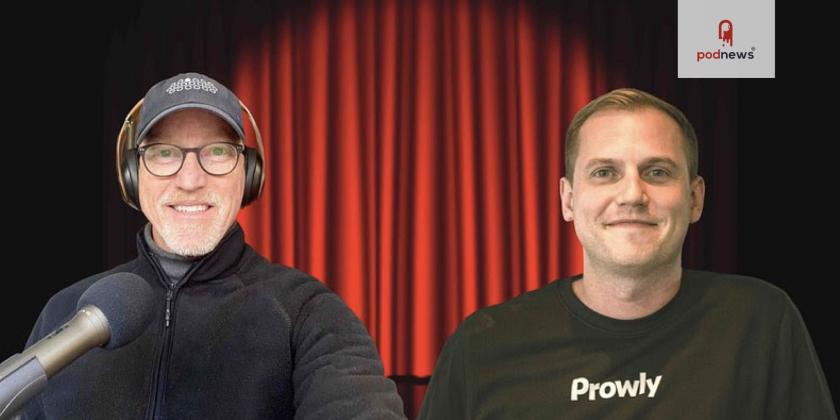 Prowly Sponsors The UnNoticed Entrepreneur podcast
Press Release · Warsaw, Poland ·
The UnNoticed Entrepreneur has entered into a sponsorship with Prowly, the all-in-one public relations platform. The six-month agreement will lead to greater awareness of both brands amongst business owners who want to get noticed for what they do in media relations.
Prowly, a Semrush company, believes that The UnNoticed Entrepreneur podcast's audience will benefit from learning more about the comprehensive public relations platform. The guest interview format twice-weekly podcast, launched in 2020 by British entrepreneur Jim James, is in the top 3% of shows worldwide and has reached listeners in over 114 countries. Entrepreneurs are guests who share their experiences of how they get their businesses noticed in twenty-minute episodes.
Commenting on the sponsorship, Maciej Wróblewski, Head of Marketing at Prowly said,"We've been admiring Jim James' work for a long time now, especially his "The UnNoticed Entrepreneur" podcast. His vast experience in public relations, along with captivating, knowledge-filled conversations he has with his podcast guests is truly praiseworthy. We're proud that Prowly can take part in this project and support businesses in increasing brand awareness by getting the recognition they deserve."
The six-month sponsorship will see a collaboration between Prowly and Jim James to demonstrate the possibilities open to entrepreneurs working to reach out to the media to gain publicity for their businesses without the expense of hiring an agency. Prowly enables users to access over 1 million contacts from a worldwide media database. The feature set of the platform includes: creating targeted media lists, pitching stories with a personalized message, press release creator and analytics.
The UnNoticed Entrepreneur podcast is produced to support business owners by sharing the experience of fellow entrepreneurs and highlighting the power of marketing technology to help small companies compete effectively with a limited budget. Under the sponsorship agreement, James will promote Prowly on the podcast and host live workshops to demonstrate the platform's capabilities.
"Prowly fills a need for entrepreneurs to access PR tools and media contacts delivered as Saas and at an affordable cost. I am delighted that The UnNoticed Entrepreneur will be able to share the message that Prowly replaces the need to hire a PR Agency for business owners starting on their publicity journey, " said Jim James, Host, of The UnNoticed Entrepreneur.
Podcasts have established themselves as an effective and engaging way to connect with audiences. There are over 3,006,195 podcasts and 153,311,702 individual episodes, with a forecast that podcast ad revenue will exceed $2 billion in 2023. According to statistics shared by Semrush, nearly 20% of people are much more likely to consider supporting a brand if it's advertised on their favourite podcast. 60% of listeners searched for a product after it was mentioned on a podcast. [https://www.semrush.com/blog/podcast-stats/]
Listen
This is a press release which we link to from Podnews, our daily newsletter about podcasting and on-demand. This is reprinted verbatim; we may rewrite headlines and descriptions.
This page contains automated links to Apple Podcasts. We may receive a commission for any purchases made.