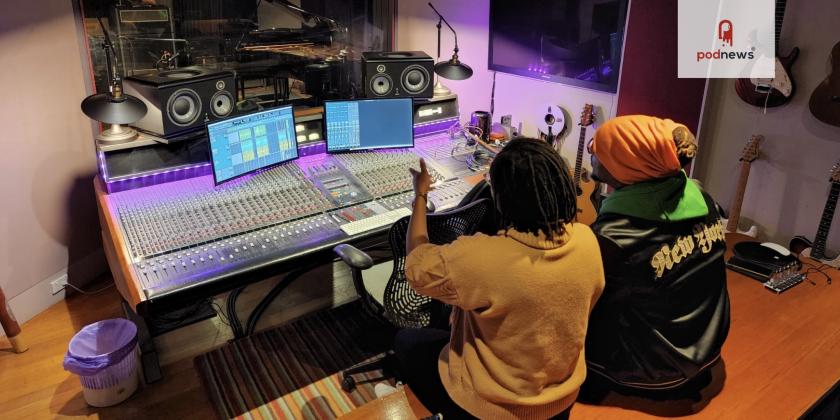 Private Affairs, Australia's 2021 Podcast of the Year, is Back for Season 2
Press Release · Melbourne VIC, Australia ·
Above: Private Affairs recording session at The Base, Melbourne - Christine Mwaturura (L), Taff (R)
The highly anticipated second season of Private Affairs, a romantic-dramedy fiction podcast, is set to premiere on 17 February.
The show centres around Vee, a Zimbabwean expat, and her Aussie partner, Luke, as they navigate an intercultural and interracial relationship. Vee is helped along by her newly married cousin and smooth-talking BFF.
This new season kicks off with an unforgettable 30th birthday trip to Thailand. The characters journey through a story touching on: work, mental health, reproductive choice and betrayal. Relationships will be tested and emotions will run high as this season leans into the drama.
The first season of Private Affairs was crowned Podcast of the Year and Best Fiction Podcast at the 2021 Australian Podcast Awards. Christine "Kix" Mwaturura, who was the 2022 Jesse Cox Audio Fellow, is the show's creator, writer, director and producer. She said, "Making season 2 challenged me to go deeper as an artist and a producer. I hope people will listen with an open heart and enjoy it."

Private Affairs S2 main team - left to right: Jerry Agbinya, Ratidzo Mambo, Christine Mwaturura, Tsungirai Wachenuka, Garikai Jani, Ronn Kurtz
Private Affairs season 2 stars: Ratidzo Mambo, Ronn Kurtz, Tsungirai Wachenuka, Garikai Jani and Taff, with additional performances by Jarryd Doyle. The season was recorded by Phil Threlfall, sound designed and mixed by Jerry Agbinya, and cover art designed by Maanya Dhar.
This project has been assisted by the Australian Government through the Australia Council for the Arts, its arts funding and advisory body.
Listen
This is a press release which we link to from Podnews, our daily newsletter about podcasting and on-demand. This is reprinted verbatim; we may rewrite headlines and descriptions.
This page contains automated links to Apple Podcasts. We may receive a commission for any purchases made.