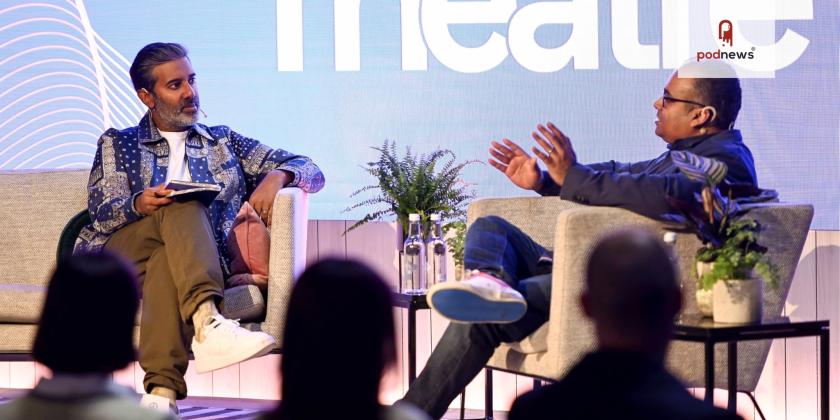 The Podcast Show 2023 in London announces Preview Night line-up
Press Release · London, UK · via Carver PR ·
The Podcast Show, the biggest international festival for the business of podcasting, is back for a second year. This one-of-a-kind event is open to industry professionals, independent podcast creators, business leaders, emerging talent and fans alike, and will see the podcast community gather at The Business Design Centre in Islington, London. Day and night, thousands of visitors are expected from around the world, with visitors from over 35 countries already represented.
For the first time, a special Preview Night will take place on Tuesday 23rd May, 6pm until 9pm. Ticket-holders will be the first people to enter the Business Design Centre and walk the show floor - they'll get a sneak preview of the activations and exhibitions ahead of the doors opening to the public the following day, as well as complimentary drinks, music, networking opportunities, and the chance to share the floor with some of the biggest names in the industry.
Nihal Arthanayake, UK radio and TV presenter, will host the evening. Fearne Cotton (Broadcaster and Founder, Happy Place) will present the inaugural International Podcast Trailblazer Award to Ashley Flowers, recognising the global impact she has made on the podcast industry. Flowers hosts the #1 true crime podcast Crime Junkie, and is the founder and chief creative officer of audiochuck, one of the top media and podcasting companies in the world, generating over 2 billion downloads with listeners in over 170 countries. Flowers said -
"I'm so grateful to The Podcast Show for this incredible honor. To be recognized for our work at audiochuck at an event that acknowledges the many talented storytellers in our industry means so much to me, and I can't wait to celebrate with our Crime Junkies in London!"
Following the presentation, Holly Bott, Global Managing Director, Entertainment at YMU Group will be 'In conversation' with Fearne Cotton about her phenomenally successful Happy Place podcast and the wider Happy Place brand which includes the festival, app and books imprint.
The Podcast Show is thrilled to announce the support of an International Industry Advisory Panel, consisting of a group of figureheads from across the global podcast community. They are advising the Show across all aspects of the festival to make sure it's as meaningful and helpful as possible to the podcast community. The panel includes:
Bernard P Achampong (Founder of Unedited)
Christina Moore (The Podcast Academy founding member)
Donald Albright (President & Co-Founder at Tenderfoot TV)
Jenna Weiss Berman (Executive Vice President of Podcasts at Audacy, which bought her company Pineapple Street Studios)
Jennifer Dollard (Acast's Director of Content for Ireland)
Jez Nelson (EVP, Co-Head of Global Podcasts at Sony Music Entertainment)
Lee Brown (VP, Global Head of Advertising Business & Platform, Spotify)
Megan Bradshaw (Senior Podcast Manager at Amazon Music for UK, Australia and New Zealand)
Oren Rosenbaum (Partner & Head of Audio at UTA)
Ruth Fitzsimons (Former Managing Director at Podfront UK)
As well as Nihal Arthanayake hosting the featured moments on the night, he will also moderate a keynote session with members of the Advisory Panel titled, 'A Glimpse at the Global Market'.
The Business Design Centre is a stone's throw away from Kings Cross train station and the Eurostar. Passes are on sale now at thepodcastshowlondon.com, including £65 Preview Night tickets, £69 (Day Passes) and £127 (2 Day Passes), with a limited number of £30 tickets for those aged 30 and under. Produced by AV Media & Events (AVME), a joint venture between SME London and GetOnMedia.
Pledging to support the Equality in Audio Pact, The Podcast Show encourages and nurtures continued opportunities, including supporting gender balance, minority groups including LGBTQIA+ and ethnic diversity among panelists, speakers and those in attendance. For more information about the act, visit: equalityinaudiopact.co.uk
Tickets on sale now at thepodcastshowlondon.com
This is a press release from Carver PR which we link to from Podnews, our daily newsletter about podcasting and on-demand. This is reprinted verbatim; we may rewrite headlines and descriptions.