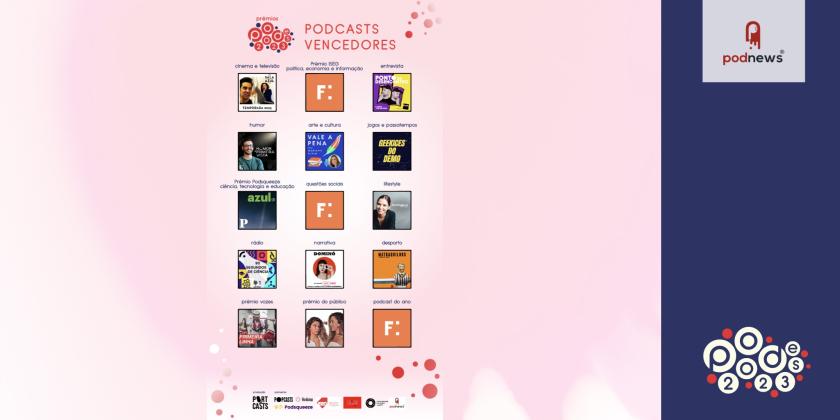 Best Portuguese Podcasts 2023 announced
Press Release · Lisbon, Portugal · via PODES ·
The 5th edition of Podes, the Portuguese podcast festival, took place on 18 November in Lisbon, Portugal. The event was focused on podcasters and podcasting, marking a shift from previous editions where the biggest sessions were podcast liveshows. As such, Podes offered capacity-building workshops and panel debates on growth, technology and the state of Portuguese podcasting in 2023, and invited all podcasters to attend a podcasting town hall meeting to openly discuss the state of affairs, what can be done in the future and what role should a podcasting festival have in a growing industry.
The festival ended with a live ceremony that celebrated Portuguese podcasts and the people who make them.
The awards process started in September, when a free registration was open for all podcasts. At the same time, open submission was available for the People's choice award, which ran until 31 October. After registration was closed, shortlists were created for each category, according to the criteria set in the regulations, and a jury of 14 members was tasked with selecting 5 nominees and 1 winner for each award. The Best Podcast was also chosen out of all the category winners.
These are the 2023 Podes Awards winners in each category:
The Voices Prize is an award given by the jury to recognize podcasts that promote inclusion and diversity, in the themes they address and/or in the people involved as protagonists, guests or in the podcast production.
The Best Podcast award is decided by the jury among the winners in all categories.
This is a press release which we link to from Podnews, our daily newsletter about podcasting and on-demand. We may make small edits for editorial reasons.