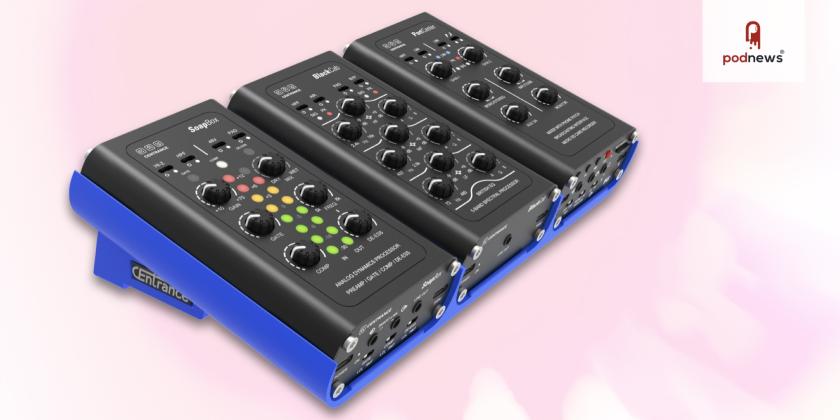 CEntrance Ships "The English Channel" Portable Channel Strip
Press Release · Chicago, IL, USA · · Updated
CEntrance is now shipping The English Channel™, a portable, analog channel strip for recording on the road that features a mic pre with dynamics, a parametric EQ, and an audio interface with unique online streaming capabilities. Since 2009, Centrance has enabled artists to deliver projects at such high quality that their clients couldn't tell they weren't recorded in a pro studio.
The Company's new "English Channel" continues that tradition, delivering an audio recorder and a portable streaming studio for podcasters, musicians, journalists, and YouTubers. The new analog production tool is a set of three, premium-quality, signal-processing devices made of tough, lightweight aluminum—to help survive the stress of the road. The product includes a high-gain mic preamp, an analog dynamics processor, an analog parametric EQ, and an audio interface, all housed inside a small desktop cradle no larger than a book. The compact audio processor connects to laptops, phones, and tablets, and allows content creators to record on the spot, or instantly go live, anywhere in the world. Plus, the built-in 24-bit 48K SD card recorder works without a computer. The CEntrance English Channel is powered by USB and comes with a lightweight carry case. It all fits in a backpack, perfect for broadcasting from remote scenic locations. The English Channel retails for $1,599. USD, and is available now.
"Our world demands fast content. But you can't always work in your studio and your phone just doesn't deliver professional audio results from its built-in mic," said Michael Goodman, CEntrance's Founder and CEO. "We bridge that gap and make it easy to produce high-quality audio, away from your studio. Professional podcasters, journalists, and touring artists can now record and broadcast top-quality audio without packing a heavy rack of gear. We help deliver professional results from almost any location, even without a computer, to simplify your rig and let you travel light."
Centrance specifically chose analog technology for audio quality, road-worthy reliability, and ease of use. The built-in Noise Gate, Compressor, De-Esser, and 3-band 'British' Parametric EQ all feature tactile controls—and purposely avoid distracting screens or complicated menus—to help the performer focus on the art. The time-proven analog technology means no crashes, reboots, or firmware updates, offering the crucially important simplicity of a high-pressure, one-person show. All knobs can be operated quickly and without looking—a benefit for a busy artist working in less-than-ideal conditions. The English Channel allows the artist to use any XLR microphone, reduce background noise, add body and confidence to their sound, and go online from anywhere, all in broadcast quality. The unique combination of "Signal Processor & Audio Interface" lets the user quickly shape their sound and start live streaming or recording at the touch of a button.
The audio interface at the heart of the English Channel adds important benefits to the built-in analog channel strip. Using the three included mic preamps, the host can add mics and set up a two or three-person podcast. The English Channel can record the program to the SD card, while simultaneously streaming it via the connected phone to YouTube Live, Instagram, Facebook, and more.
Centrance offers the choice of either MixerFace™ or PortCaster™ as the recording interface in the package, to better suit the needs of Musicians or Podcasters. The three compact devices in the English Channel can be used separately, or together as part of the bundle, secured inside a sleek desktop cradle. As a portable recording interface with a full suite of analog signal processing tools, the English Channel can be a bonus for recording engineers, who may enjoy using it as an analog insert for their DAW.
The CEntrance English Channel is available now for $1599.99 USD. Offering a simple and robust way to improve audio quality on the go, the product is ideal for podcasters, musicians, journalists, and YouTubers.
About CEntrance
CEntrance is known for its work with top Hollywood artists and producers and has been perfecting design miniaturization for years. For recording artists who need quality audio without the hassle, Centrance offers virtually indestructible travel gear that is easy to use on the spot. Unlike other bulky, complicated options, Centrance products are designed to minimize distractions and inspire the Power to Create. By focusing on simplicity and customer service, the company delivers an intuitive experience that removes the barriers to creativity. Famous recording artists, producers, voice-over artists, and journalists endorse Centrance audio solutions. Centrance products are made in Chicago. We provide great customer support and have a passionate following.
This is a press release which we link to from Podnews, our daily newsletter about podcasting and on-demand. We may make small edits for editorial reasons.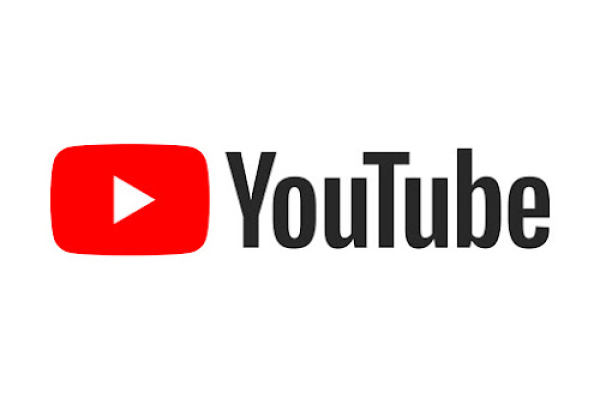 YouTube