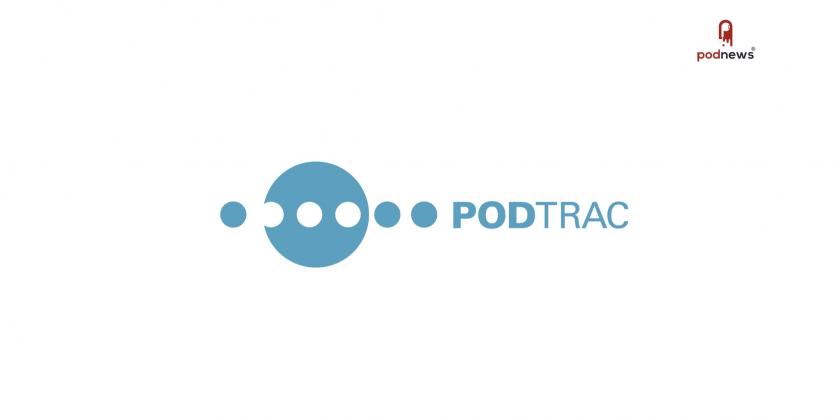 Podtrac Launches New Podcast Sales Network Ranking
Press Release · Alexandria, VA, USA ·
The new Podtrac Sales Network Ranking showcases the reach and delivery of podcast networks that provide important advertising options to the industry across all of the shows they represent.
Podtrac's new Sales Network Ranking provides advertisers with free monthly access to Podtrac reach and delivery information for top sales networks. The networks on the new ranking represent more than 38,000 podcasts and 500 million monthly downloads.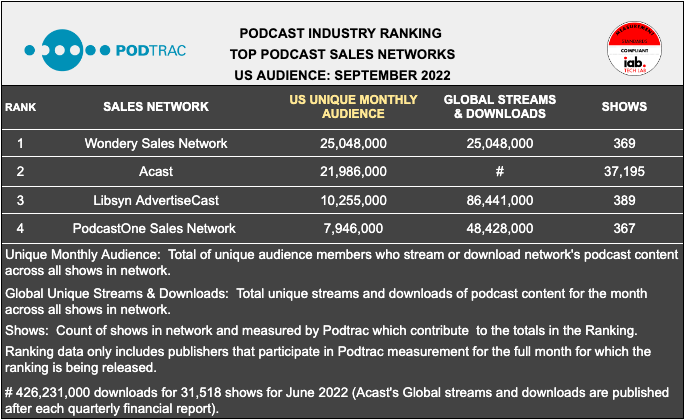 Topping the list is Wondery's sales network with a US monthly audience of 25 million which includes podcasts they represent on their Art19 platform. Other networks on the ranking include podcast ad and publishing platforms Acast and Libsyn AdvertiseCast, both newly measured by Podtrac, plus PodcastOne.
As with Podtrac's industry-first Podcast Publisher Ranking which debuted in May 2016, more sales networks are expected to join Podtrac's newest ranking over time. The full Podtrac Sales Network Ranking is available here.
Today's podcast ad sales networks may provide a variety of services to the shows and publishers they represent including ad sales, hosting, publishing tools and/or ad insertion. The new podcast audience ranking data from Podtrac is actionable for advertisers in working with the sales networks listed on the rankings to reach engaged podcast listeners across both the short and long tail.
"For half a decade, Podtrac has been the industry standard for measurement at both the show and network levels in podcasting. Now that same level of transparency is available for podcast ad sales, creating unmatched insights for media buyers and demonstrating how powerful Acast's sales offering is within the growing US market," said Christiana Brenton, US Director of Sales and Brand Partnerships at Acast.
"Being ranked among the Top Podcast Sales Networks by Podtrac is a testament to the AdvertiseCast model of serving independent creators while helping advertisers connect with these highly-engaged audiences," said Dave Hanley, Chief Revenue Officer at Libsyn's AdvertiseCast. "Podtrac's analysis of our growing network reach and delivery underscores our commitment to transparency and empowering brands to explore the powerful advertising opportunities with independent podcasters."
Since 2016, Podtrac has published its monthly ranking of Top Podcasts and Top Podcast Publishers. The new Sales Network Ranking measures audiences served by networks across a broad range of shows and publishers. Podcast advertising options offered are unique to each sales network, with many offering cross-show, contextual, demographic and/or geographic targeting. For details on the offerings of each network, contact them individually.
About Podtrac
Podtrac is the leader in podcast measurement, measuring more podcasts, publishers, networks, audience, streams and downloads than any other system, with more than 2.5 billion podcast streams and downloads measured per month across all podcast apps. Podtrac's metrics enable advertisers and podcast publishers to access the reach and delivery of top podcast publishers and sales networks across the shows they produce or represent to make better informed ad planning and content decisions. Podtrac's measurement system is certified by the IAB. More information is available at Podtrac.com.
This is a press release which we link to from Podnews, our daily newsletter about podcasting and on-demand. This is reprinted verbatim; we may rewrite headlines and descriptions.