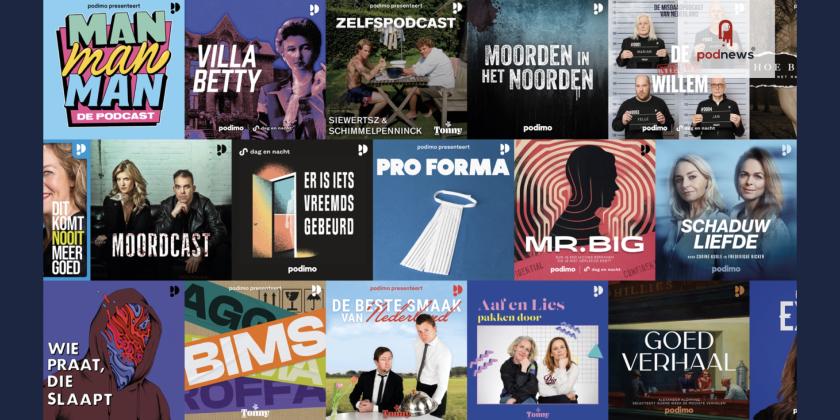 Podimo celebrates 1 year in the Netherlands
Press Release · Amsterdam, Netherlands ·
A year ago, podcast platform Podimo made its debut in the Netherlands. By now, it is impossible to imagine the Dutch podcast landscape without Podimo, with more than 70 shows to listen to, both exclusively and on the open network. Lovers of true crime, entertainment, narrative podcasts, news & politics know how to find Podimo for (local) shows like "Moordcast," "De Zelfspodcast" and "Alle Geschiedenis Ooit."
Flying Start
In just one year, Podimo has given stage to more than 70 local shows. Existing podcasts like Dionne and Henrik Slagter's "Moordcast" and Jaap Reesema and Sander Schimmelpenninck's "De Zelfspodcast" immediately made the transition to Podimo. But new formats also emerged, such as Alexander Klöpping's "Goed Verhaal" (Good Story), where talented podcast creators have free rein to make what they want. And Podimo also gave old acquaintances a new podium in podcast land. After her famous book series, Francine Oomen launched "Hoe overleef ik…" the podcast, made possible by Podimo and freely available for everyone to listen to on the open network.
Dionne Slagter: "Podimo has given Moordcast the opportunity to take our episodes to the next level. It's great to have such a nice and professional platform behind you that specializes in podcasts. From a collaboration with the police and great interviews with those involved to wonderful promo content; they are always ready to help. It's an atmospheric team and I proudly subscribe to Podimo's exclusive podcasts."
Hours of listening pleasure
Added up, a total of 13,636,659 hours of podcasts were listened to on Podimo in the first year, and 752,054 hours of audiobooks. In the period from May 22, 2022 to March 23, 2023, the true crime category grew by more than 106%. For the history category, it is even a growth of more than 250%, and entertainment shot up by 244%.
Podimo figures show that the Dutch listen to podcasts for an average of 5 hours per week. And when do the Dutch prefer to listen to their favorite show? 9.7% listen during business hours on weekdays, 6% listen at night, 5.1% during the morning commute, while 12.8% put on a fine podcast in the morning or evening while commuting. The most popular genre is entertainment, followed by personal stories and true crime. Podcasts about culture and news/politics rank fourth and fifth.
Tim de Gier, Head of Content at Podimo Netherlands: "Next year, Podimo aims to expand the portfolio even further, with a suitable offering for every moment of the day; from news and depth in the morning, light entertainment in the afternoon and compelling stories at the weekend."
An overview of all shows made possible by Podimo can be found here.
This is a press release which we link to from Podnews, our daily newsletter about podcasting and on-demand. This is reprinted verbatim; we may rewrite headlines and descriptions.