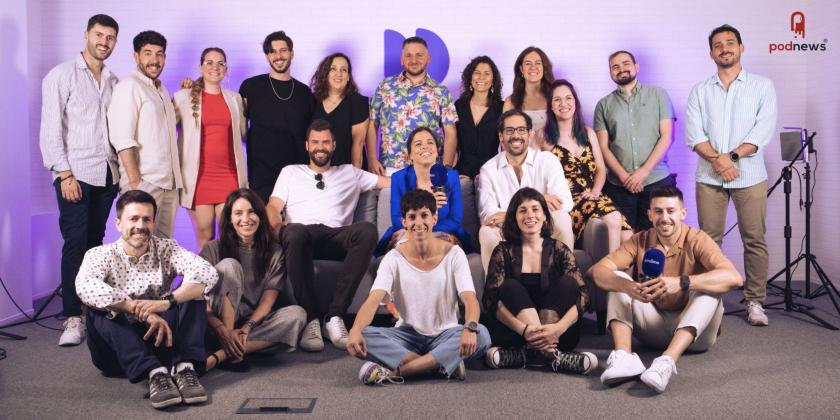 Podimo opens its first recording studio in the South of Europe
Press Release · Madrid, Spain ·
Podimo, the fastest growing podcast and audiobook subscription service in Europe, announces the creation and opening of its first recording studio in Madrid, Spain. A creative epicenter that will be part of a much more ambitious project that will turn the Spanish capital into the audio hub of the European Union.
The studio, located in the heart of the capital, has a functional space and multipurpose lounge, with two customizable recording sets and all the necessary technical equipment for audible productions (as well as live broadcasts), video podcasts and photo shoots. With the recording studio up and running, the next step will be to find the new voices that will bring life and stories to this modern space.
Thus, Podimo presents its Talent Hub, a talent program in collaboration with PRISA Audio -a division of PRISA Media that already has a strategic agreement with Podimo to boost the Spanish-language podcast market- that will make its platform, resources and experience available as an amplifier for anyone who wishes to break into the world of podcasting.
A clear commitment not only to meet its goal of becoming the leading audio entertainment platform in Europe, but also to continue betting on its local growth in Spain (the podcast is the third most listened digital audio format (54%), according to the Digital Audio Study 2023 of IAB Spain) and for the city of Madrid, to promote it as the center of audio creation on the continent. This initiative coincides with the recent announcement of the Espacio Audio project, a funding program promoted by the Spanish government to "boost, energize and internationalize" the industry dedicated to audio in Spanish and in the co-official languages of the State, in which podcasts are included.
"Spain is a country with a high audio culture and the podcast industry is at its best, not only because of the progressive growth of users but also because of the great talent we have", Isabel Salazar, country manager of Podimo Spain.
New talent, new voices
With the Talent Hub, the collaboration program between Podimo and PRISA Audio for the search of new talents, Podimo wants to offer amateur creators a complete support program that includes, in a first stage, recording studio time in the company of their advice and experience on how to produce a podcast, how to create the visual identity of their show and how to formulate it in order to disseminate it and reach larger audiences. In a second stage, those selected will be paid for exclusive content and will upload their program to the platform, thus "graduating" as Podimo's professional podcasters.
To this end, they have opened a process of receiving applications from June 22nd to September 30th, 2023, so that all those interested can apply online for their pilot project -maximum 1 hour long in MP3 version- and go through a selection process, in which together with PRISA Audio, will choose the first five applicants of this first call. Those selected who live outside the Community of Madrid will be eligible for an exclusive scholarship to cover travel and study hours.
Madrid Audio Hub
In this path to continue building a company and a culture that reflects the diversity of the world we live in: with a diversity of talents, voices, ideas and thoughts, which applies to the brand as well as to its content, creators and teams; Podimo frames the creation of the recording studio and the Talent Hubs as the first steps to lay the foundations of the Madrid Audio Hub.
A center, created jointly with the creators, production networks and partners of the brand, which will serve to establish an exclusive ecosystem, with its own infrastructure, to create and produce original and unique content in Europe, as a magnet for new talent and the consolidation of its own.
An industry that keeps growing
In the last year, Podimo has premiered more than 120 shows -90 of them exclusive-; its consumption in hours has multiplied x7, compared to what it had grown in the previous year -most of the listening takes place during office hours, according to the company's internal data-; and they have obtained a Premio Ondas especial revelación (ex aequo) for their podcast La Vida y tal -presented by Ana Milán and Sebastián Gallego-. These objectives were achieved in addition to its main annual objectives: globally, to increase its presence in the seven current markets and, locally, to continue growing its subscriber base and increase investment in content by 50% in Spain.
This is a press release which we link to from Podnews, our daily newsletter about podcasting and on-demand. We may make small edits for editorial reasons.