PodFest China held fourth annual conference in Shanghai
PodFest China, the first podcast-themed conference in China, took place on Saturday, October 30, 2021 in Shanghai. The theme of the conference was "Renaissance of Dialog," addressing four different roundtable sessions by podcasts' genre: Culture, Comedy, Business & Music.
Hosted by JustPod, China's premier podcasting company, and supported by Xiaoyuzhou and Ximalaya, China's two leading podcast applications. The half-day conference attracted nearly 500 attendants from all over the country. This year's panel and speech brought 17 pioneers to talk about the different types of podcasting in China. Speakers represented some of China's most influential audio and podcast platforms, podcasters, and cross-over content creators.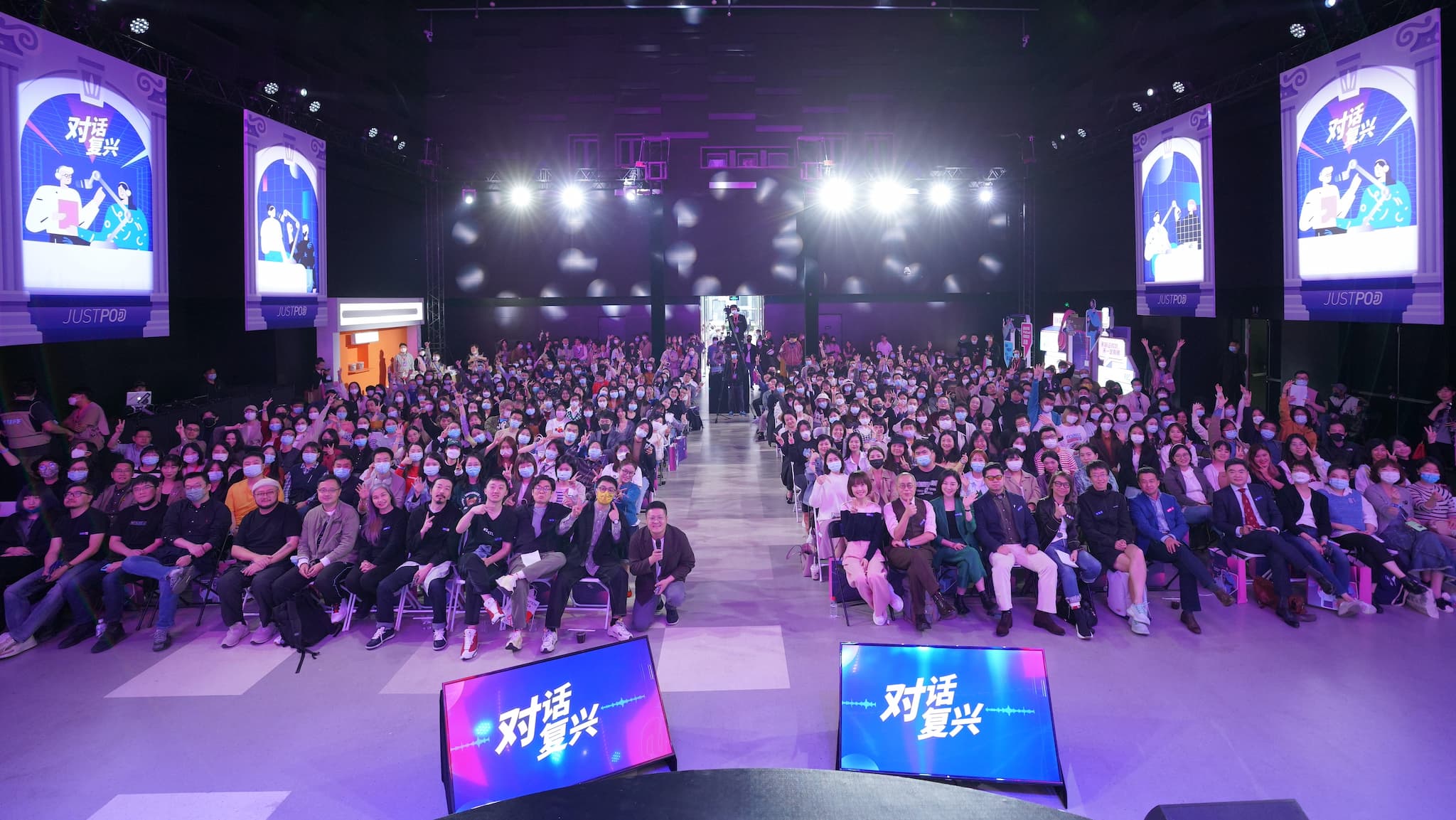 What has PodFest China 2021 covered?
Over the past year, more and more people have become listeners or creators of podcasts. Some of these names are household names in China. Chinese podcasting is no longer a niche but is becoming a pop culture phenomenon. PodFest China's annual conference this year presented this new trend.
The stage featured four roundtable sessions presented by leading podcasters:
Session 1 – Culture podcasting: Panelists included Journalist and talk show host, Chen Luyu; Media pundit/host of Eight Minutes, Leung Man-tao; Writer/host of Art Folding, Zhu Yujie; CEO of JustPod/host of Left-Right, Cheng Yanliang; who discussed the path of dedicating themself to culture podcasts.
Session 2 – Comedy podcasting: Panelists included Founder of "Comedy United Nations"/host of XiTanLu, ; Host of WuLiaoZhai, Liu Yang; Host of Mostly Harmless, Mao Dong; who explained why stand-up comedians become a podcaster.
Session 3 – Monetizing podcasts: Panelists included Mainland China TMT Leader, PwC China, Gao Jianbin; Founder of YouZhiYouXing/host of No One Knows, Meng Yan; Founder of Withinlink/host of "Bessie's Notes, Bessie Lee; Host of YiCai, Yin Fan; who shared their insights about monetization and Investment in Podcasts.
Session 4 – Music podcasting: Panelists included Copyright Manager, StreetVoice, Liang Shumei; Host of BuZaiChang, Zhong Qing; Musician/host of This Day By Day, Zang Hongfei; Host of COMMON FM, Jian Cui; who talked about the potential impact of the music podcasts in China's market.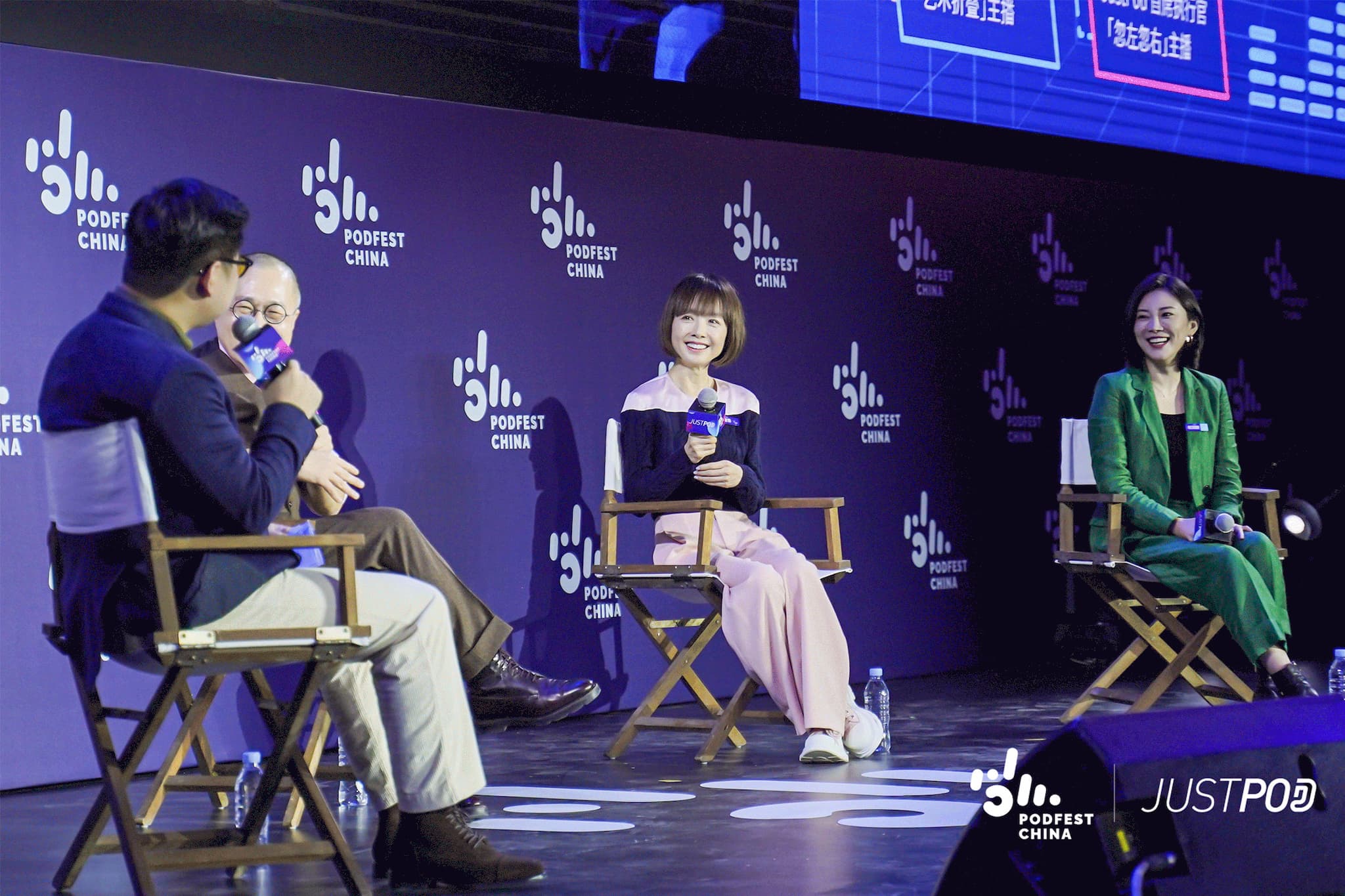 Besides the roundtable…
In addition to these roundtables, this year's event also presented something new for Chinese podcast creators:
As NPR's special partner in China, JustPod launched the #AskNPR campaign, collecting questions from Chinese podcasters. Vice President of New Platform Partnerships at NPR, Joel Sucherman; Senior Director for On-Demand News Programming at NPR, Neal Carruth; Chief Operating Officer at NPM, Bryan Moffett, have answered three questions raised by the podcasters and listeners via pre-recorded video. The video premiered at PodFest China.
And also, the book "NPR's Podcast Start Up Guide," which contains NPR's 16 years of podcast production experience, will be introduced as a Chinese version soon, announced by Yang Yi, Chief Operating Officer of JustPod.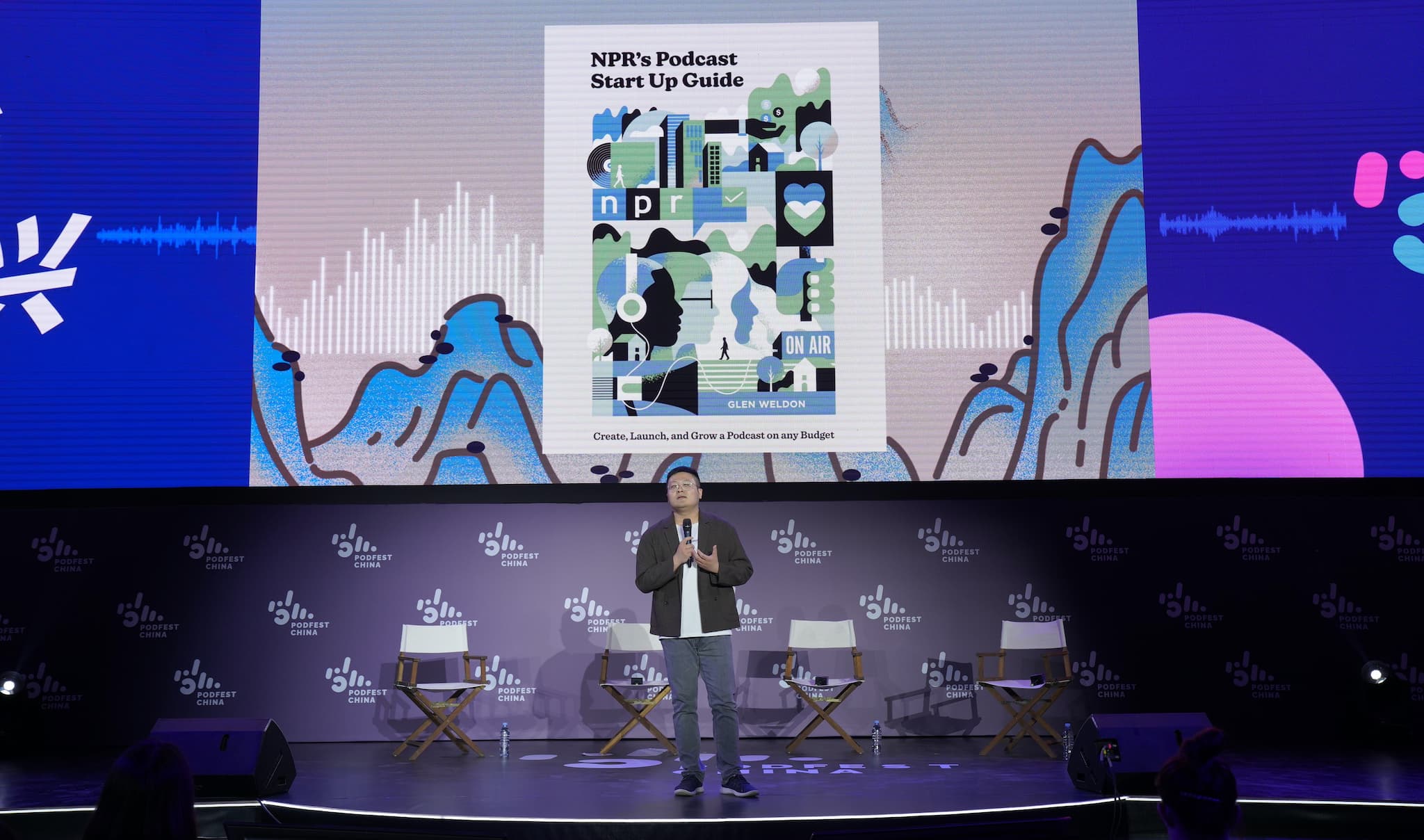 As the CEO of Xiaoyuzhou, China's leading podcast platform, Kyth has announced two new products for both podcast creators and listeners:
"XiaoYuZhouStudio": An online editing tool designed especially for Chinese podcasters which can mark special content during the editing and share rough editing versions to guests of the show.
"Podcast Business Card": A Chinese-based "pod.link" which can display podcast links to major podcast platforms, including information on various social media.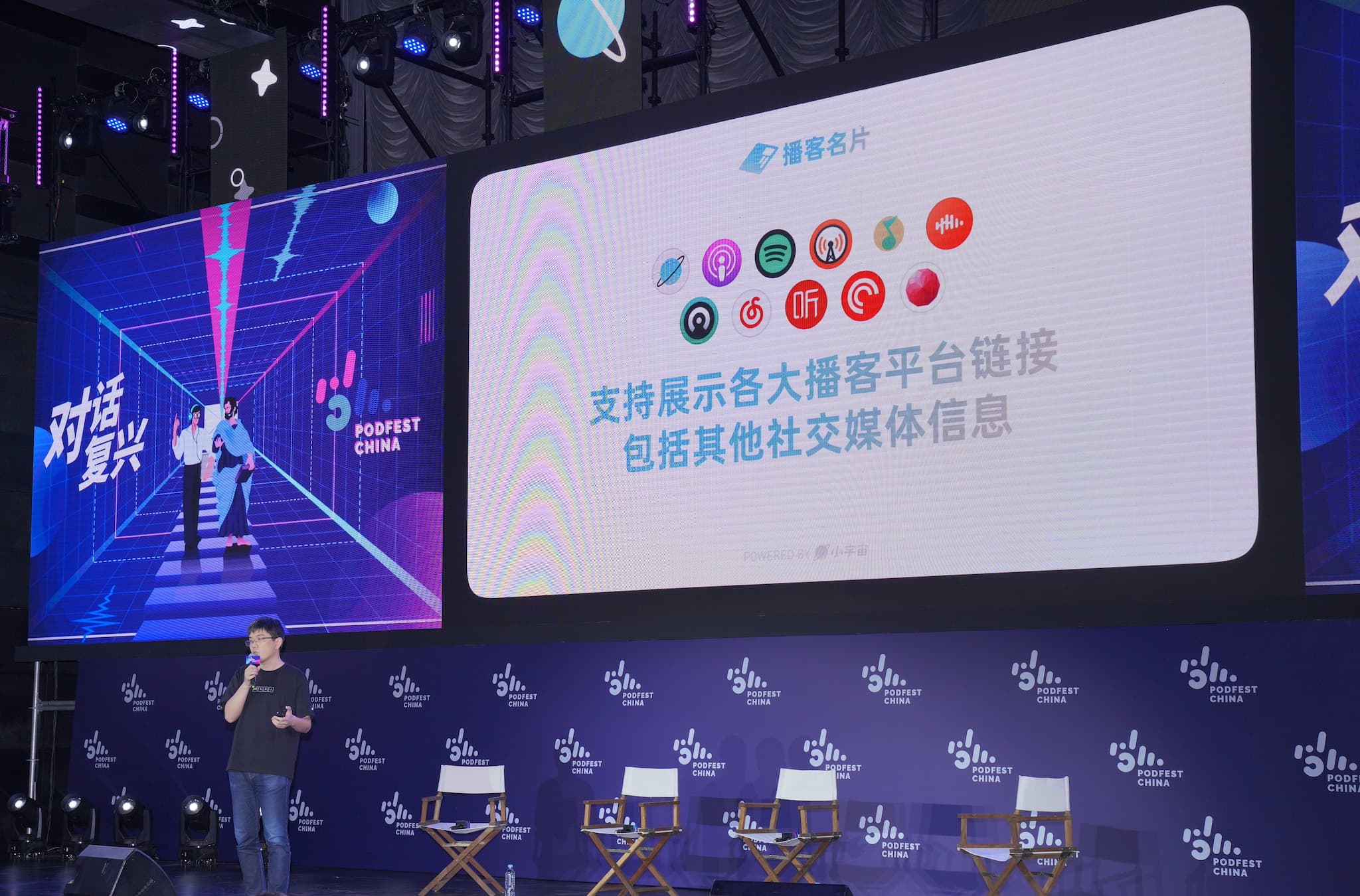 As Vice President and Editor-In-Chief of Ximalaya, China's leading audio platform, Yin Qiming revealed that till the third quarter of 2021, the number of podcasts hosted on Ximalaya has reached 23,300, and more than 5,000 have been added in the first three quarters of this year. The two groups with the highest podcast loyalty are white-collar workers and college students in major cities; From January to October 2021, nearly 7 million users on the Ximalaya became podcast listeners.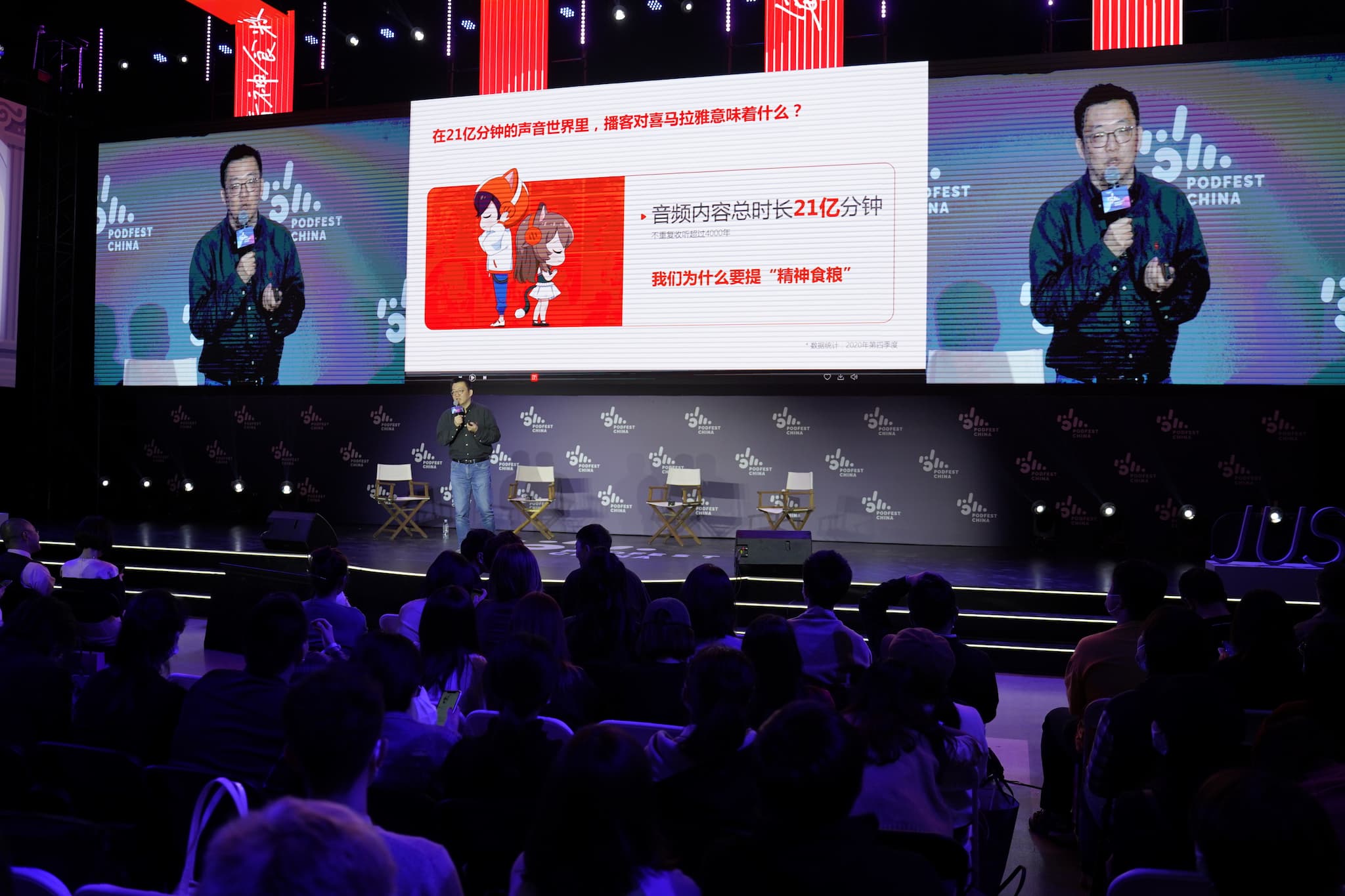 Looking Forward
"From radio to TV, blogs, microblogs, and various social media platforms; in 2021, we suddenly discovered that podcasts are also participating in the field of public dialogue. 'Renaissance of Dialog' is to pass on the 'dialogue method' of spreading human thought through podcasts." says Yang Yi, co-founder of PodFest China.
To learn more about future events, you can subscribe to a longer write-up in JustPod News, an English podcast newsletter about Chinese podcasting, or contact chinapodfestchina@gmail.com.
Lastly, if you understand Mandarin, you can now catch up with our live recordings by listening to the PodFest China podcast.
About PodFest China
Founded in 2019, PodFest China is the first podcast-themed conference in China. Bringing together top podcasters, audio producers, content distributors, and fans together, PodFest China is committed to creating an active, resource-sharing network through a series of events and workshops for Chinese podcasters to exchange ideas and best practices. For more information about PodFest China, go to: podfestchina.com
About JustPod
JustPod is China's premier podcasting and digital audio company. Founded in 2018 and based in Shanghai, JustPod produces high-quality original podcasts. It is behind a series of Chinese hit podcasts - including Left-Right, Tipsy Proff, Eye on East Asia - have claimed the Top 5 on Apple Podcasts Charts in China. JustPod has more than 20 original podcasts and became Apple Podcasts' first "Featured Provider" in China. Our shows have been named "The Best" by Apple Podcasts 11 times. JustPod is also a full-service audio creative agency. We create highly produced podcasts in partnership with brands. JustPod has been working with top brands from different sectors like LinkedIn China, BMW China, GGV Capital, NBA China, CITIC Press, Tmall Global, and Ximalaya. Get more information at
This is a press release which we link to from our daily newsletter about podcasting and on-demand. This is reprinted verbatim; we may rewrite headlines and descriptions.