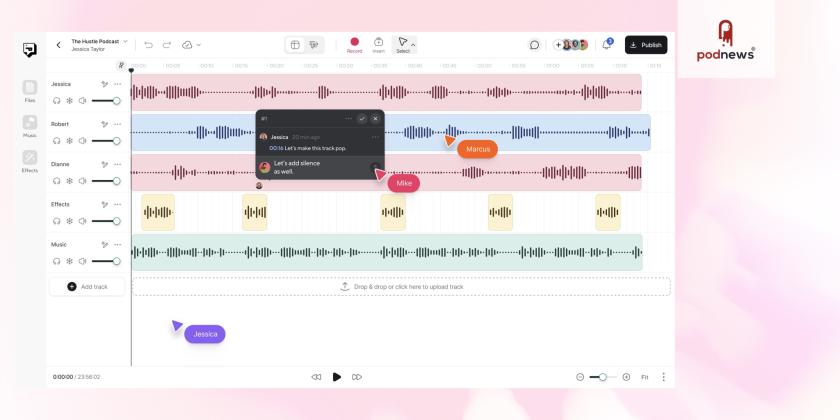 Podcastle launches the world's first real-time collaborative podcasting platform
Press Release ·
Podcastle is adding the power of real-time collaborative teamwork to its growing suite of AI-native podcasting tools with the launch of Podcastle for Teams.
Teams of creators, producers, editors, and all project stakeholders can now work on the same project at the same time without having to leave the platform, saving time and effort and unleashing the power of creative collaboration.
"Podcastle for Teams represents a huge leap forward in our mission to democratize access to content creation with AI-powered tools. " says Arto Yertisyan, CEO and Founder of Podcastle. "The ability to keep your team, tools and work all in one place is transformative for creative content teams. In the same way Figma or Miro has allowed for real-time collaboration for design or ideation, Podcastle is empowering creators to create better content in less time."
Podcastle creators can make shared workspaces, invite contributors and carefully manage permissions within the existing Podcastle platform. 'Viewers' can leave comments on projects, while 'Creators' can host recording sessions, edit files, and publish episodes. Admins and Owners can do all the above while also managing billing and shared workspace access.
Team members will be able to follow updates and leave feedback on projects in real-time as their fellow team-members edit content. Collaborators can reply to comments or 'mark as done' to ensure that feedback is incorporated.
Podcastle for Teams is now available for all users with an unlimited number of 'Viewers' able to see projects and leave comments. Additional Creators and Admins can be added to workspaces, but will require a subscription to a 'Storyteller' or 'Pro' plan.
About Podcastle
Podcastle enables podcasters, bloggers, journalists, content marketers, educators, and other content creators to record, edit, transcribe, and publish their audio & video content with unmatched simplicity. Podcastle was initially created as a Chrome extension that converts any online article to a podcast instantly. The extension became widely popular in a very short period, which signaled to the founders that there is a deeper need in the market for simple and intuitive audio creation tools. Since launching the platform in the middle of 2021, the company has won some of the tech world's most coveted awards: The Webby People's Voice Award in the Creative Production Category (2022), Product Hunt's Golden Kitty Award for the Product of the Year (2021) in Audio & Voice Category, and most recently being recognized by G2 as an Overall High Performer in Winter 2023 based on its excellent verified user reviews. The company has raised a total of $8.8M in funding to date. Today, the Podcastle app is also available on iOS, allowing creators to record or conduct remote interviews straight from their iPhone. To learn more, visit www.podcastle.ai.
This is a press release which we link to from Podnews, our daily newsletter about podcasting and on-demand. We may make small edits for editorial reasons.