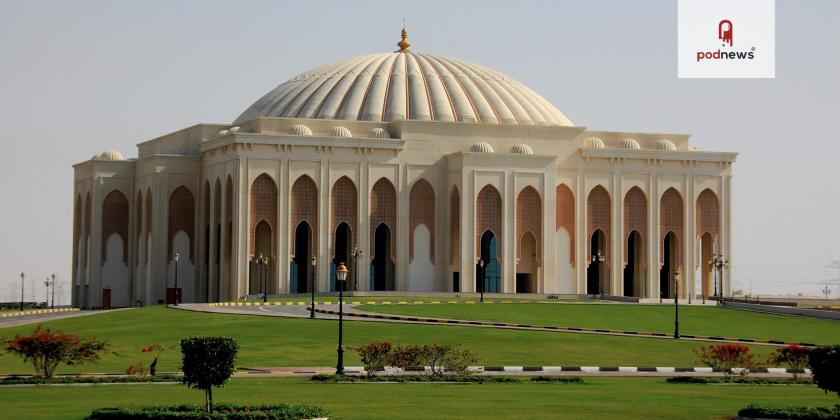 Conference predicts bright future for podcast and radio in Middle East
Press Release · Sharjah, United Arab Emirates · via University of Sharjah ·
By Professor Leon Barkho
Communication scholars say podcast is gaining ground in the Middle East, and the coming two years are expected to see unprecedented growth.
The scientists, gathered for a conference at the University of Sharjah in the United Arab Emirates, also said that radio was making a comeback as a medium of communication across countries of the south.
The conference attracted researchers from Britain, India, Mexico, South Africa, Colombia, the Sudan, the United States, and a host of other countries. They presented research findings on the issue of radio journalism and podcast news in the global south.
Ms. Lama Masri, strategy director at Podeo, Arab World's largest podcasting platform, said there were more than 13 million people who listened to podcast for up to seven hours per week in the Middle East.
She said Saudi Arabia was the largest podcast market with 5.1 million listeners followed by the United Arab Emirates with 2.3 million.
"The number of podcasts in the region has surged to 19,000 in the month of January 2023 alone from only 2,000 in the whole of 2022," she said.
Mr. Khalid Almudfaa, chairman of Sharjah media city, said the Arab world was a fertile ground for the growth of podcasting. He attributed his optimism to the "dominance of verbal narrative as an inherent component of culture" shared by the region's 444 million inhabitants.
Dr. Emma Heywood, from U.K.'s Sheffield University, talked about radio and podcast in Africa, saying the situation in the continent was a reminder that the radio "is not a thing of past" and that "it is not losing its relevance."
Dr. Heywood, who used Burkina Faso as a case study, said the impoverished African country had "175 radio stations of various types" with daily listening estimated at more than three hours.
Radio in Africa "is adapting and not perishing, maintaining relevance despite conflict, overcoming linguistic and geographical obstacles," Heywood said. "Radio is winning the argument against those who are saying it is dying, working as an engine of social cohesion in fragmented societies."
However, Heywood stressed that the return of radio in Africa was not without hurdles, with broadcasters cautious even about the type of word or term to use.
María-Rebeca Padilla-de-la-Torre used the Mexican state of Aguascalientes as case study and found that up to 60% of the 1.5 million inhabitants listened to radio on a daily basis, while the national average was 39%.
Dr Sisanda Nkoala from South Africa's Cape Peninsula University of Technology spoke about the emerging synergies between radio programs and podcasts in African languages and how they were creating new public spheres in Africa.
Dr. Nkoala added radio was making headway in South Africa with 80% of the population listening to radio every week, and advertising revenue growing by 30%.
A group of researchers from Pakistan, led by Dr. Syed Hassan Raza, discussed the relevance of podcast in health communication and increasing public awareness of health issues.
Dr. Anh Dinh-Hong from Vietnam's Academy of Journalism and Communication, said Vietnam was in the midst of a "podcast boom era and news organizations in the country are developing podcasting activities across various platforms."
Dr. Maha Bashri spoke about Sudanese women and their penchant for podcasting "to raise awareness on existing laws governing gender rights' and how podcasts have "aided their calls to restructure laws that suppress gender equality."
This is a press release from University of Sharjah which we link to from Podnews, our daily newsletter about podcasting and on-demand. This is reprinted verbatim; we may rewrite headlines and descriptions.