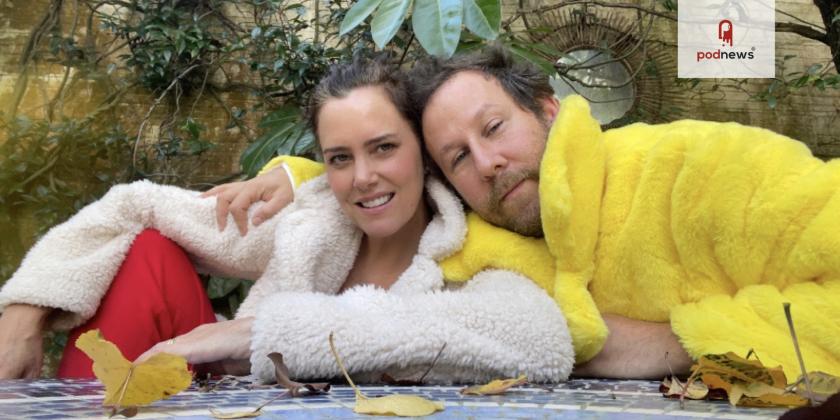 Ben Lee and Ione Skye partner with Acast on new podcast network
Press Release · Sydney NSW, Australia ·
Iconic Australian musician/producer Ben Lee and actress/painter/director Ione Skye have partnered with Acast, the world's largest independent podcast company, to launch The Weirder Together Podcast Network, a new podcast network that aims to amplify unique, left-of-center, fascinating personalities.
Notable names with projects in development at the network include Alexi Wasser, Max Quinn and Safy-Hallan Farah, with more to be announced soon.
Ben and Ione recently launched their own weekly podcast with Acast, Weirder Together with Ben Lee and Ione Skye, which shares the same name as their podcast network. The show explores the husband and wife duo's lives as eccentric, married artists in an intimate, cosy, light-hearted setting.
Ben Lee, co-creator of the Weirder Together Podcast Network and co-host of the Weirder Together podcast said: "I am an avid podcast fan and listener first and foremost. I actually had a tiny podcast back in 2006 through my website, which was probably slightly premature. Anyway, now the podcast space is so dynamic and full, that it feels like curation is a missing aspect. Our approach to the Weirder Together network is kind of like the indie record labels we grew up on. You would see a cool label like SubPop or Half A Cow or Rough Trade logo on a new record, and because you trusted the brand, you gave the record a shot. Our network is going to be like that. Like with everything we do, we exclusively work on super cool shit with super cool people."
"Both Ione and I have made it our life's passion to be collaborators, curators and champions of wonderful, eclectic, tasteful freaky creators. This network is a way to share our taste with the world. And of course, it is so important to me that we, and our creators, maintain complete creative control over our craft, and that's why I decided to partner with Acast on these super exciting projects."
Guy Scott-Wilson, Creator Network Director, Acast Australia and New Zealand, said: "Ben Lee is an Aussie icon. Ione is an influential force in American indie cinema. Podcasting shares the same accessibility and DIY ethic as the post-punk and indie film and music scenes, and the Acast Creator Network has always provided a home to independent voices who want to do things on their own terms, so it's an absolute pleasure to be working with Ben and Ione on bringing this project to life. Acast will bridge the gap between Ben and Ione's podcast network and their podcast Weirder Together, hosting, monetising and growing their active audience base."
In his 30-year music career, Ben Lee has been gloriously prolific and unpredictable. He is behind some of the greatest chart hits in Australian music history including; Cigarettes Will Kill You, Gamble Everything For Love, We're All in This Together and Catch My Disease. British-born American actress Ione Skye recently starred in ABC's Barons and is known for her roles in Say Anything, Good Girls, Arrested Development, and Wayne's World.
Together, Ben and Ione have hosted Weirder Together music and comedy variety shows at Los Angeles's famed Largo at the Coronet theatre (with guests like Lena Dunham, Brad Pitt, Julianna Barwick, John C Reilly, Spike Jonze and Lisa Loeb). In 2021 they performed a series of similar shows at Sydney's Giant Dwarf Theater (with guests such as Cameron James, Rove McManus, Wolfmother's Andrew Stockdale, Brigid Delaney, Sam Campbell and Josh Pyke). They consider their brand Weirder Together as a multi-pronged creative container for, to quote Ben, "Whatever cool shit we are into". Or, to quote Ione, "We make stuff. We curate stuff. We celebrate stuff."
The duo will launch their network in a typically fun and irreverent manner, with a free party at Sydney's Cafe Freda's on June 29 featuring DJ sets from Ben and Ione along with DJ sets by Georgia Maq of Camp Cope and Japanese Wallpaper.
As part of its commitment to the open podcast ecosystem, Acast will make all podcasts on the Weirder Together Podcast Network accessible to listeners on all podcast platforms, including Apple Podcasts, Spotify, Amazon Music, Google Podcasts, Samsung Free, and more. For brands and advertisers looking to work with Weirder Together and beyond, opportunities are available exclusively through the Acast Marketplace.
Listen
This is a press release which we link to from our daily newsletter about podcasting and on-demand. This is reprinted verbatim; we may rewrite headlines and descriptions.
This page contains automated links to Apple Podcasts. We may receive a commission for any purchases made.