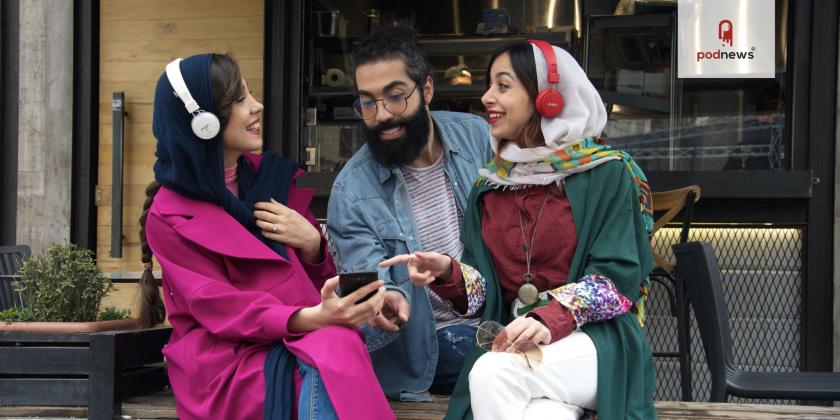 Shenoto provides detailed insight into the Persian podcast industry in the Middle East
Press Release · Tehran, Tehran Province, Iran ·
Persian podcasts are growing at a rapid pace - here's all you need to know…
It is difficult to say how it all started. In many countries of the Middle East, media outlets and the radio are operated and led by the government or official parties, so it is difficult to track down the roots of the first-ever Persian podcasts, but our research shows it was somewhere around 2012 that the first Persian podcasts came into being, soon followed by hundreds of others. Nowadays, Persian podcasts form a big private industry in the Middle East, with around 10,000 active shows, and new shows being created every day at a rapid pace. But wait, how come Persian podcasts are a thing in the Middle East?
Good question! There are three main languages in the Middle East: Persian (or Farsi), Arabic and Turkish. Out of 450 million people living in the Middle East, 120 million speak Persian as their first or second language. Podcasts and audiobooks are a major source of entertainment for Persian youths, although a lot of them listen to podcasts to gain awareness about important affairs and learn new subjects. Persian podcasts find their audience amongst the more elite and educated groups of people and when it comes to age range, 20 to 30-year-olds take keen interest in podcasts, as 41% of podcast listeners fall into this age bracket, followed by 30 to 40-year-olds who make up 32% of Persian listeners. 14% of Persian listeners are above 40 years old and 13% of listeners are 10 to 20-year-olds. Persian podcasts are available in all sorts of categories, from business, history, true crime and politics and the government to music, comedy, news and stories, just take your pick! When it comes to popular Persian podcast categories, education and self- development come first, followed by society and culture, and literature, stories and the arts. So welcome to the world of culture vultures!
Now, time to talk about market players and content creators. Shenoto (pronounced like /ˈʃenōtō/) is the largest Persian podcast platform and podcast network, playing a key role in this market. Out of the 10,000 Persian podcasts, 8,000+ collaborate with Shenoto or have chosen Shenoto as their hosting provider.
Shenoto is a freemium platform - with free content and features for all users and a limited premium archive that is available under subscription. This premium service also provides content creators with an additional source of income, but 90% of Persian podcasts are free and content creators earn a revenue mainly from sponsorships and advertising. Branded podcasts are still uncharted territory except for a few grand companies, but this is changing fast, as more businesses are relying on podcasts as a means of establishing their brand image. When it comes to users' preferences, 62% of Shenoto users prefer using the website while 38% use the Shenoto mobile application.
About Shenoto
Shenoto is the first and the largest Persian podcast platform and network in the Middle East. It was founded in 2017 by Amir Hossein Madadi, a creative entrepreneur with years of experience in content production, software development and IT and media management. As a platform, Shenoto fosters an inclusive audio ecosystem among Persian creators and provides marketplace tools and services that enable podcasters to build their audience, grow their podcasts and boost their revenue. Here at Shenoto, we are dedicated to promoting Persian podcast culture by making audio content more accessible, more inclusive and more diverse. You can find out more about us and what we do at Shenoto on our website. Our android application is also available on Google Play, so do give it a try if you're interested. You can also find us at info@shenoto.com
This is a press release which we link to from Podnews, our daily newsletter about podcasting and on-demand. This is reprinted verbatim; we may rewrite headlines and descriptions.