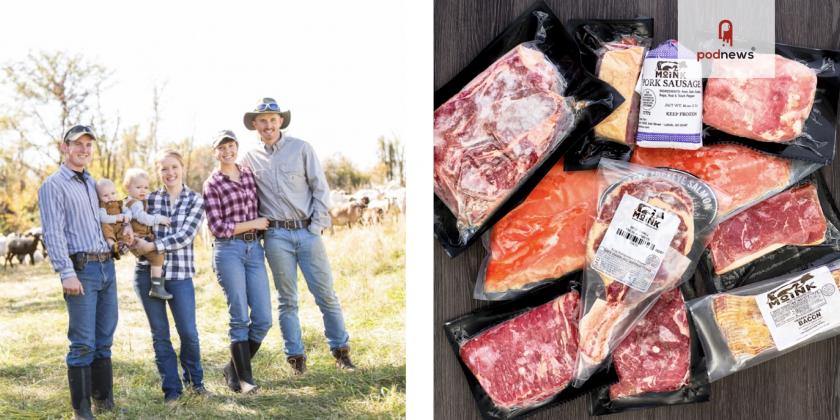 Oxford Road Brings Home the Bacon for Moink — Driving Audio Results for a DtoC Brand Seeking True Impact
Press Release ·
Oxford Road is an audio ad agency that works with brands like Quip, Headspace, Shopify, Indeed, and more to scale efforts in audio across podcasts, radio, streaming, and more, driving true value and impact for clients ranging from mega-spenders like Indeed to smaller direct brands who have used audio to outpace legendary in-market brands that are many times their size.
Oxford Road's proprietary and innovative Audiolytics™ offering drives much of its clients' audio and omnichannel success by providing them with the intelligence and foresight they need to drive predictably superior results.
Moink is a purpose-driven direct-to-consumer brand that delivers humanely raised and ethically sourced salmon, beef, pork, lamb and chicken to homes in a box. Oxford Road's innovation and work literally helped the brand bring home the bacon by empowering the brand to radically understand its audience, campaign and the possibilities and then execute flawlessly — outpacing all expectations, as the outcomes included in the KPI section of this submission reveal.
Here's the story. When Moink first began discussing its challenge with Oxford Road, it had all but given up on Facebook as an advertising channel as part of their omnichannel strategy because they simply couldn't find a cost-effective way to bring in new customers and grow sales on the platform. The team at Oxford Road assured Moink that it was not alone and what it was experiencing was something many brands do because executing within walled gardens without clear insights into how a campaign might perform is a bit like roulette. Rather that allowing clients to just roll the dice, Oxford Road suggested marrying the capabilities of its Audiolytics™ solution with Marpipe, a multivariate testing service partner, to help Moink understand the audio to Facebook opportunity and then turn on much higher ROI campaigns that would delver results at scale and, most importantly, drive Moink's advertising and business goals.
The approach was straightforward but powerful. Oxford Road's Audiolytics™ proprietary creative messaging system provides a blueprint for building the best audio ads possible by analyzing the nine key messaging components and 71 sub-components — building blocks that can be rearranged in specific ways to drive specific listener actions. When activated, Audiolytics™ pre-determines exactly the components of a message that can make a campaign a smash or crash.
Audiolytics™ logic is built upon a growing database of audio and communications knowledge, and the Oxford Road team is always looking for new tech and data to inform it. Part of the future of Audiolytics™ is to one day be able to multivariate test audio ads. To begin building multivariate logic into the Audiolytics™ system, Oxford Road turned to Marpipe. Marpipe's platform helps brands and businesses find winning ads and creative assets through sophisticated and accurate multivariate testing image and video ad creative.
To effectively test against the nine key components of the Audiolytics™ messaging structure — Setup, Value prop, Positioning, Demonstration, Substantiation, Offer, Scarcity, Path, and execution — Oxford Road charted a nine-phase testing approach. They tested each component one by one.
Oxford Road's first few tests for Moink were small, testing only four ad variants at a time. But as time went on, their trust in the process and the size of their tests grew.
First, they determined which protein their audiences preferred by testing a small set of ads, each with a different product image. Bacon was the clear winner.
Next, by testing copy variants, they discovered that the value prop of Fighting for the Family Farm really resonated with audiences. "Eat like the family farm matters," and "Family farms do it better," were consistently top performers. The headline "Save the family farm!" had a CTR nearly on par with the winningest headline, "Eat this bacon." And an image of the family of one of Moink's suppliers was also a consistent winner.
Finally, when an image of the individually packaged cuts of meat performed well in their ads, they realized that perhaps they should be even more explicit about which specific cuts of meat future customers would receive in their boxes. This was a meaningful change to consider for audio copy.
The Oxford Road and Moink teams planned, designed, and ran multivariate tests on more than 50 ads, each test delivering new insights about their top-performing ad creative. Throughout testing, they were able to stay below their goal CPA. This improved even more when winning ads were scaled — dropping the Moink Facebook campaign by almost 30% below goal.
Using Marpipe, Oxford Road was able to bring Moink back to Facebook, a channel they had strayed from for over five years. In seeing the power high-performing creative has on Facebook, Moink decided to 5x their spend on the social media platform.
"Brick by brick, we did what we'd set out to do at the beginning: to build Moink's 'super ad.'" — Stew Redwine, Creative Director, Oxford Road
Translating creative intelligence to boost ad performance across an entire campaign, Oxford Road now had the creative data they needed to try and spark similar performance breakthroughs with Moink's audio ads.
They translated the learnings from the static image multivariate tests into a previously produced audio script read by Moink's founder, Lucinda Cramsey. They pulled in the top-performing Value Prop with the line — "I created Moink so you can eat like the family farm matters." They then listed the available cuts of meat as a proxy for the image demonstrating what comes in a subscription box. Finally, knowing that bacon had been their top-performing protein image, they updated their offer — free bacon for a year.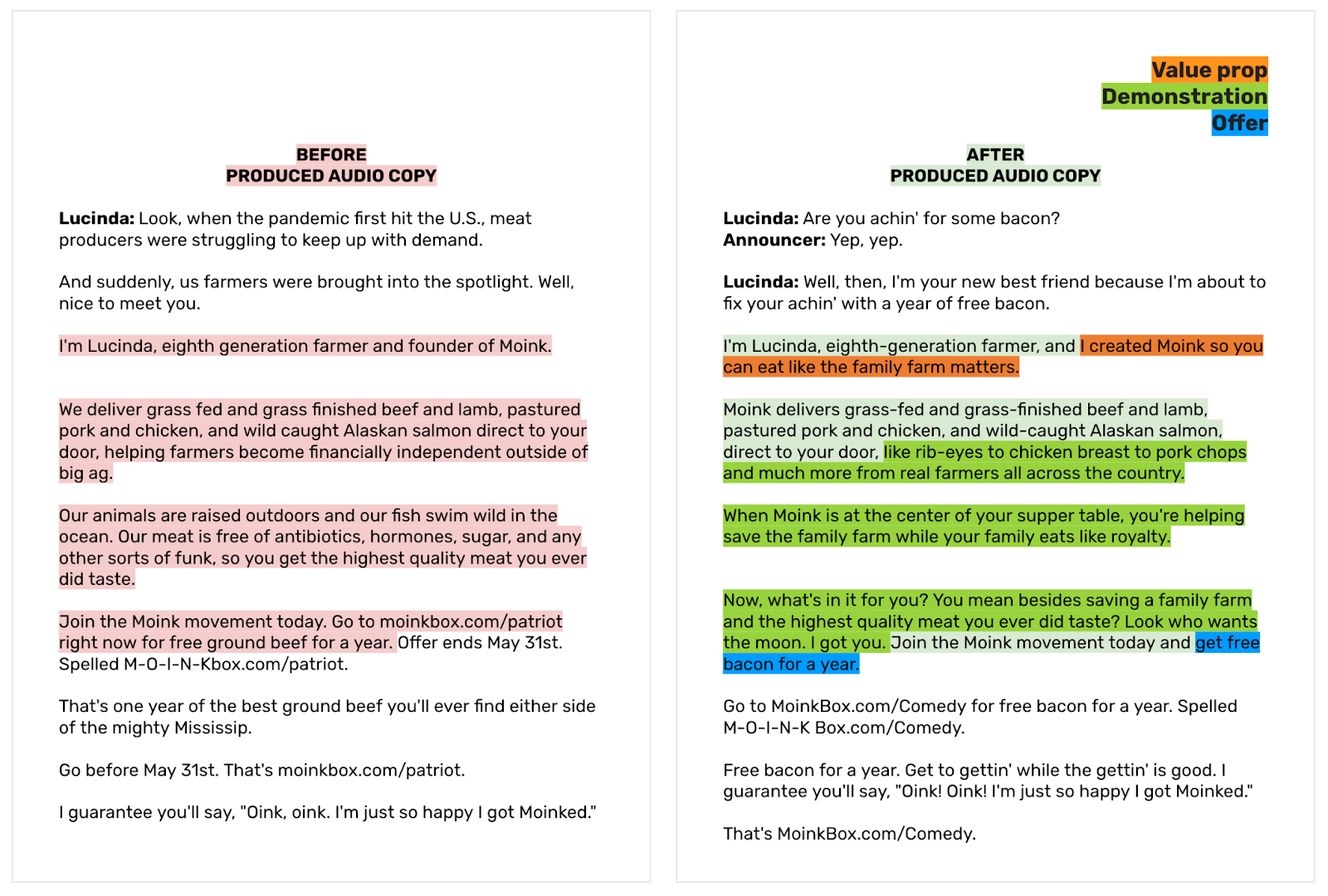 Moink's audio ad script before and after creative intelligence data was applied
The new spot played on satellite radio and garnered some incredible results. CPS and CPA dropped by nearly 60% and 70% respectively from previous levels. Oxford Road proved that extending creative intelligence across a campaign can — and should — be part of a larger performance strategy. The messaging from the successful satellite radio ads was then tailored by Oxford Road to Moink's podcast messaging and that channel has since scaled dramatically, as well.
Massive client learnings (example: Moink's top-performing ad 8.6% higher CTR than the next best ad and bacon outperformed steak by 15% and chicken by 32%)
The ability to turn on broader omni-channel advertising and reactivate Facebook after failure
50+ ad variants tested
27% decrease in static image ad CPA
67% decrease in audio ad CPA
58% decrease in audio ad CPS
The Moink brand now has a way to predetermine the results of advertising on audio and across channels, supporting their full funnels goals and maximizing their investments across channels. In Oxford Road's case, its Audiolytics™ solution prevents audio clients from driving blind across channels, making them smarter on audio and beyond.
This is a press release which we link to from Podnews, our daily newsletter about podcasting and on-demand. This is reprinted verbatim; we may rewrite headlines and descriptions.