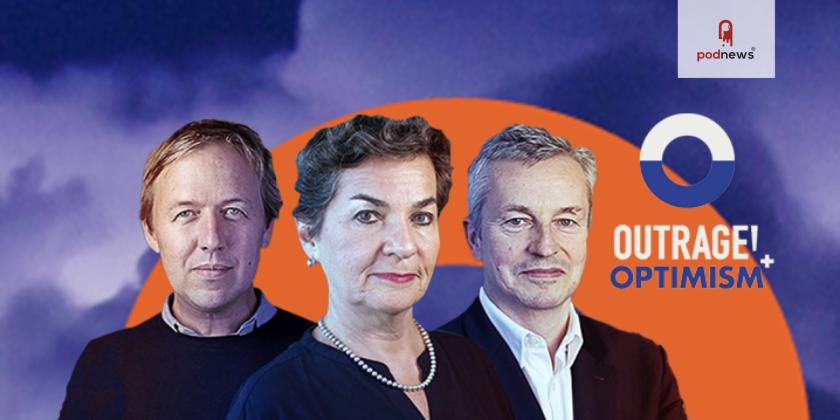 Leading climate podcast Outrage + Optimism launches new season on 7th of September with special guest Al Gore
Press Release ·
"As the climate crisis intensifies, so must our response. Join us in Outrage and Optimism as we try to make sense of the signals amidst the noise on all things climate this season. " – Christiana Figueres, Co-host of Outrage + Optimism
Outrage + Optimism is a useful, weekly guide for anyone wanting to make sense of the complexity of the climate conversation.
Hosted by Christiana Figueres and Tom Rivett-Carnac – who famously helped deliver the historic Paris Agreement on Climate Change in 2015 – as well as sustainable economy expert Paul Dickinson, the show is the leading, global, independent climate podcast.
Asking their audience to face the climate crisis head on, the trio share their expertise, insight and humor with the world's climate thought-leaders in science, business, finance, politics and culture to help listeners understand that we have the power to solve this.
New and loyal listeners to Outrage + Optimism's Season 8 can expect:
A high octane interview with Al Gore to kick off the season. A series of incisive conversations with the hosts and key leaders from inside and outside the climate community.
Deep dives into tricky issues including carbon removals and the shipping industry's response to net zero.
A special mini-series jointly curated by Christiana and Isabel Cavelier exploring our relationship with 'nature'.
High quality coverage and expert analysis of key climate events such as UNGA, Climate Week NYC, Latin America and Caribbean Climate Week, and the ever contentious COP28.
For its growing audience of loyal listeners, Outrage + Optimism is often described as an accompanying voice that acts as a beacon of light and hope during these often fearful and uncertain times.
Whether you're suffering from climate grief or anxiety, are already fired up, full of hope and taking action, or somewhere in between, the podcast will help you navigate feelings of outrage and optimism, and leave you feeling informed and inspired.
About the hosts
Christiana Figueres OBE is co-host of climate podcast, Outrage + Optimism, and co-author of The Future We Choose: The Stubborn Optimist's Guide to the Climate Crisis. From 2010 to 2016 she was Executive Secretary of the UN Framework Convention on Climate Change, leading the process that secured the landmark Paris Agreement on Climate Change. Christiana chairs the Earthshot Prize, sits on multiple executive and advisory boards and is a frequent public speaker and media commentator.
Tom Rivett-Carnac OBE is co-host of Outrage + Optimism, co-author of The Future We Choose and worked alongside Christiana at the UNFCCC in the leadup to the landmark Paris Agreement on Climate Change. Tom is a Strategy Advisor to the Earthshot Prize, a Bezos Earth Fund Fellow, Senior Advisor to the Macquarie Group, and Fellow at Stanford Law School.
Paul Dickinson is co-host of Outrage + Optimism. He founded the Carbon Disclosure Project (CDP) in 2000 with an ambition of creating a global economic system that operates within sustainable environment boundaries and prevents dangerous climate change. Paul has served as a member of the Environmental Research Group of the UK Faculty and Institute of Actuaries, authored several publications, and serves as Chair of the Trustees of the NGO ShareAction as well as a Trustee of the Findhorn Foundation.
Listen
This is a press release which we link to from Podnews, our daily newsletter about podcasting and on-demand. We may make small edits for editorial reasons.
This page contains automated links to Apple Podcasts. We may receive a commission for any purchases made.