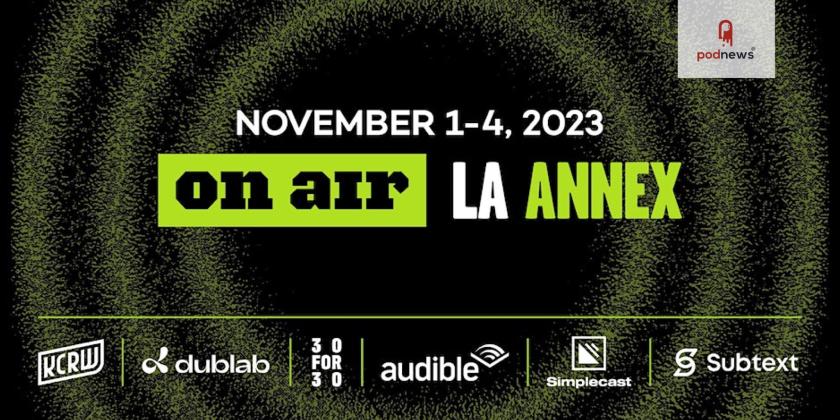 On Air Fest announces 'On Air LA Annex 2023'
Press Release · Santa Monica, CA, USA ·
On Air Fest –the preeminent event for audio storytelling– reveals details for On Air LA Annex 2023 November 1-4, the four day festival presenting live podcasts, unforgettable performances and installations from the preeminent artists and storytellers who are defining this moment.
On Air LA Annex will convene creators, fans and the podcast industry at events throughout the city, including KCRW in Santa Monica and dublab in University Park.
Described as the "Sundance of Audio," On Air Fest is known for bringing together the biggest names in podcasting alongside creative visionaries to inspire creators, fans and the audio industry writ large. Since 2017, the festival has premiered dozens of award-winning podcasts, produced hundreds of live stories, convened thousands of fans and created a platform to elevate the artform.
On Air LA Annex will kick off Wednesday November 1st with the On Air Business Summit, an invite-only convening of industry leaders fueling the growth of the medium. Following the Summit, On Air Fest will present two enchanting evenings of cultural programming on November 1st and 2nd, including live tapings and performances at KCRW's state of the art performance studio. On Saturday November 4th, the festival continues with On Air Open House, a day of programming devoted to LA's creator community hosted at dublab.
This year's On Air Open House will be defined by a first-of-its-kind exhibition: a collection of original listening experiences curated by On Air Fest's creative team, dublab artists and LA-based talent. Guests will move between stations to experience a range of immersive stories and sonic experiments.
"The culture of creativity in LA is undeniable." Says festival Founder, Scott Newman. "We're excited to support the artists who are shaping this moment in a city where storytelling thrives."
On Air LA Annex 2023 programming includes:
The festival kicks off with the On Air Business Summit, a by-invitation gathering of industry leadership for urgent dialogues on the growth and evolution of the podcast marketplace. Presented by Adswizz.
On Air LA Annex evening programming opens up at KCRW's state-of-the-art Annenberg Performance Studio in Santa Monica and features the highly anticipated return of Lost Notes. This special session co-hosted by Novena Carmel (Morning Becomes Eclectic) and Michael Barnes unspools the real stories behind LA's soul music scene.
Part improv comedy, part horror film, all plot twist: in this interactive rendition of Let's Make a Horror, the critically acclaimed show from CBC Podcasts and Kelly&Kelly takes the stage for a new spooky story just in time for halloween. Comedians Ryan Beil, Maddy Kelly, and Mark Chavez will be joined by a TBA guest on stage.
A live taping from Talk Easy with Sam Fragoso with a guest to be announced.
Listen in on a special audio showcase from Audible. In this exclusive session, Audible will dive into one of their highly anticipated Audible Originals.
Imperfect Paradise, the award-winning LAist Studios show about the people and issues that define California as a flawed utopia, will take the stage for a behind-the-scenes look at the highly-anticipated return of the show with host Antonia Cereijido. LAist Studios' own Brian De Los Santos, the host of How to LA, will also join to highlight stories for LA and by LA.
Join us for On Air Open House at dublab! Free & open to everyone, this all-day celebration is for and by LA's creative audio community. Walk through interactive storytelling spaces, sit in on a radio live stream, and meet on-mic talent, podcasters and artists. Plus a happy hour presented by ESPN 30 for 30, live performances, DJ sets and more.
On Air "Official Selects" is a celebration of creative short-form audio. Following an open call period, a cohort of podcast notables will select new audio works under 10 minutes long to be presented as listening experiences at On Air Open House.
Live from Studio A all-day live stream from dublab's own Studio A. Sit in on podcasts tapings as they happen and witness how live radio gets made.
& more to be announced
You can get tickets here.
This is a press release which we link to from Podnews, our daily newsletter about podcasting and on-demand. We may make small edits for editorial reasons.