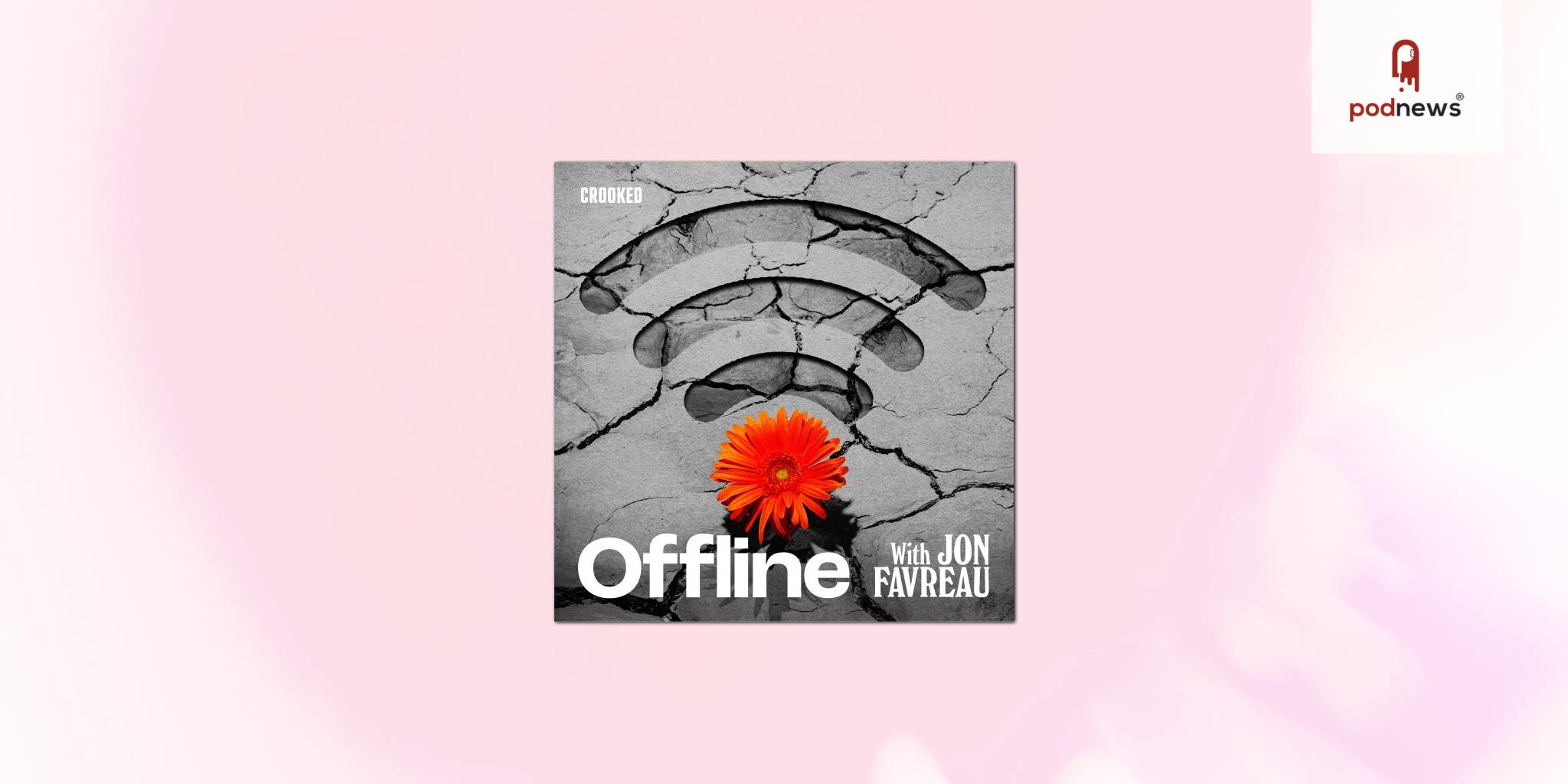 Crooked Media announces Offline With Jon Favreau will continue as a weekly series in its own podcast feed
Press Release · Los Angeles, CA, USA ·
Crooked Media's hit podcast series Offline with Jon Favreau premieres today as a weekly show in its own podcast feed. The show, which originally debuted as a limited series available in the Pod Save America feed where Favreau is a co-host, sparked thoughtful conversations about what's broken on the internet and what we can do to fix it. Starting today, listeners can find new episodes and all of the original episodes in its new permanent home by searching for 'Offline with Jon Favreau' wherever they get their podcasts.
Each Sunday, host Jon Favreau and a guest will take a step away from the conflict of the internet and attempt to make sense of the way our online existence is shaping the way we live, work, and interact with one another. He'll speak with newsmakers and experts from the worlds of politics, entertainment, sports, business, and more about their perspectives on the latest hot topics, controversies, and major issues surrounding the internet and social media, including the combating misinformation, the birth of the metaverse, crypto's big scam (or big promise), remote work, racial justice in the digital age, and Instagram's relationship to our mental health. Offline is less about what's broken and more about finding empathy online and learning how we can live harmoniously with the internet.
The premiere episode features a candid conversation with New York Times' Opinion writer Kara Swisher about the enormous impact tech and social media companies have on our lives and the information we receive. Kara recounts insider stories about the inner-workings of some of the biggest companies and pulls back the curtain on how they are making significant decisions about how we all live. The episode is out now.
In the coming year, Offline will provide fans an opportunity to continue to give feedback and suggestions, which began with listener suggested guests Hank Green and Abbie Richards. The show will follow the same format, with Favreau in conversation with some of the brightest minds on the internet about the internet, but will also expand its footprint to cover a broader range of compelling topics. The updated direction for the show was inspired by audience suggestions and feedback. Offline is interested in constructive, nuanced reactions to and about the show and they ask that you send it by email -- not Twitter -- to Offline@crooked.com.
"My weekly screen time is down by a few minutes and I'm ready to keep yelling about the internet with people who are much smarter than me," said Offline host Jon Favreau. "I had some incredible discussions with guests and listeners last season and I'm eager to keep the conversation going."
Offline's re-launch marks a host of major firsts for Crooked Media, including the first time the media company has spun out an existing series from an established feed to give it its own home following listener demand and feedback. The Blue Moon sponsor integration represents both the first major beer partnership and the first multi-channel brand integration for Crooked. The dynamic ad partnership will appear across podcast episodes, video, social media, and events surrounding the show.
"Offline is all about building meaningful connections and having conversations that break down destructive buckets that social media often puts people in. We've heard from our audience how much they enjoy conversations on these important topics that aren't always covered on Pod Save America" said Giancarlo Bizzarro, VP of Sales at Crooked. "We're really excited to bring Offline back for a new season with Blue Moon, a brand all about bringing one-of-a-kind brightness and encouraging great conversation, and to do it with Crooked's signature host-read (and often funny) ads."
As a different kind of Sunday show, new episodes of Offline will be released every Sunday morning. For more information about 'Offline with Jon Favreau' visit crooked.com/offline or subscribe to Offline with Jon Favreau on Apple Podcasts, Spotify, Amazon Music or wherever you listen to podcasts. Offline will be live at SXSW in Austin on March 11.
Listen
This is a press release which we link to from our daily newsletter about podcasting and on-demand. This is reprinted verbatim; we may rewrite headlines and descriptions.
This page contains automated links to Apple Podcasts. We may receive a commission for any purchases made.