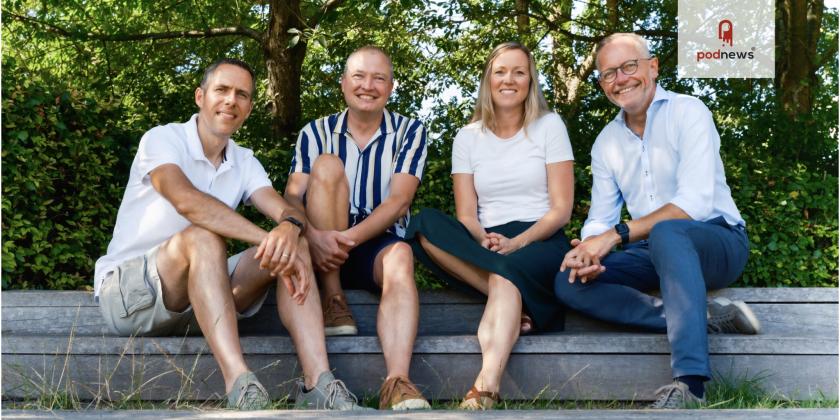 Portuguese true crime podcast travels to Germany with the help of Podster and Acast
Press Release · Copenhagen, Denmark ·
The Danish startup Podster (founders pictured above) adapts one of the most popular Portuguese true crime shows to German. The original production is called 'O Insolito' and has more than half a million subscribers on Youtube. Acast is in charge of distribution and monetisation.
The exclusive partnership between Podster and Acast was established in June 2023. While Podster focusses on adapting great local podcasts into new global formats, Acast supports the Danish startup with marketing efforts. This makes it possible to reach new listeners, which generates a larger audience and revenue.
The two companies have already launched the show Forhøret in Denmark, which originates from Sweden, together. Now, Acast and Podster have chosen to test their collaboration on the German podcast market with the adaptation of the Portuguese show O Insolito, which will be called Ungewöhnliche Kriminalfälle in German.
"It felt great to release our first show with Acast in our home country. However, we are more than ready to make an entry on the German market. It is safe to say that we at Podster are really looking forward to publishing another show through our collaboration with Acast. And it will not be our last", says Henriette Høj Gharib, Co-founder and CEO of Podster.
Acast works with over 100,000 podcasts in their network, generating over 430 million listens per month globally. In the second quarter of 2023, the company tracked 1.3 billion listens worldwide. Acast works with some of the world's leading publishing houses including BBC, The Guardian, The Economist, as well as multiple publishers and Indie podcasts in Germany.
Tobi Griebenow, Content Director at Acast Germany, adds, "Recognising that Acast offers an unparalleled blend of expertise and infrastructure, this partnership is proof of that. The collaboration with Podster has enabled us to propel O Insolito beyond boundaries, captivating new markets to launch a highly successful podcast from Portugal in Germany. Great storytelling really does know no bounds".
The cases featured in the podcast Ungewöhnliche Kriminalfälle originate from the true crime show O Insolito. More than half a million people have subscribed to the Youtube channel hosted by Marcos Campos. The first season of Ungewöhnliche Kriminalfälle consists of 12 episodes. The show will premiere September 15 and a new episode will be published weekly.
Listen
This is a press release which we link to from Podnews, our daily newsletter about podcasting and on-demand. We may make small edits for editorial reasons.
This page contains automated links to Apple Podcasts. We may receive a commission for any purchases made.