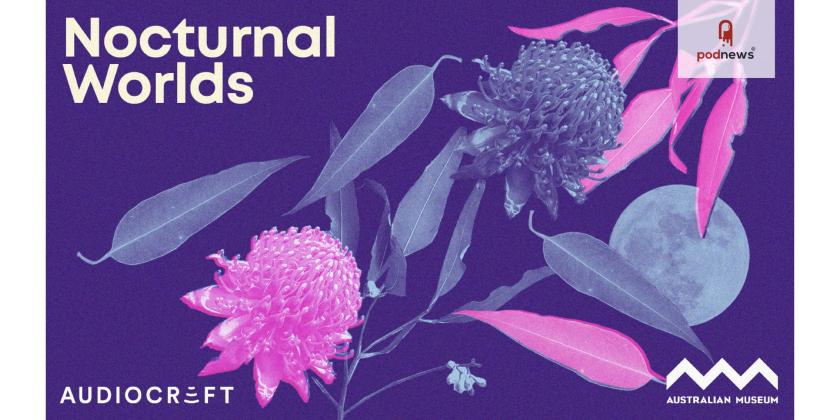 Nocturnal Worlds features field recordings of the Australian bush
Press Release · Sydney NSW, Australia · via Audiocraft ·
Audiocraft, Australia's leading podcast production company, and the Australian Museum (AM), a dynamic source of reliable natural science information, resources and research, have collaborated to create an enchanting listening experience with the original podcast series, Nocturnal Worlds: journeys through nature for sleep and relaxation.
Featuring field recordings of the Australian bush, this podcast weaves together a symphony of melodic nature sounds and captivating storytelling in an audio experience that highlights Australia's unique nocturnal ecosystems.
Nocturnal Worlds launched on all major podcast platforms on Saturday 12 August for National Science Week, Australia's annual celebration of science and technology.
Each episode delves into the hidden lives of three iconic Australian animals - the Powerful Owl, the Red-Crowned Toadlet, and the Long-finned Eel - unveiling their captivating life and nocturnal behaviours.
Drawing upon the scientific expertise of the Australian Museum, and the audio expertise of Audiocraft, Nocturnal Worlds goes beyond storytelling; it creates an immersive experience that lulls listeners into a state of wonder and relaxation.
The making of this podcast and capturing audio recordings of nocturnal animals was also an immersive endeavour: Audiocraft sound engineers ventured into the ocean using an underwater microphone to record ethereal sounds, including the melody of whale song, as well as recording frogs at twilight in a national park, while scripts were written based on research provided by the Australian Museum. Several midnight recording sessions and a lost wetsuit later, the first three episodes were finalised featuring nocturnal animals the Powerful Owl, the Long-finned Eel, and the Red-Crowned Toadlet.
Kate Montague, Audiocraft CEO said: "Nocturnal Worlds has been such a dreamy project for Audiocraft. It's not every day you get to tramp through a national park at twilight looking for frogs or drop a hydrophone mic into the ocean to listen for whales. It's projects like this one that really fill our creative cup… and fill our brain with facts about the mysterious mating rituals of eels! That's the sweet spot for us - where creative storytelling and immersive sound design meet. The result is a project that we're super proud of and we can't wait for listeners to dive in, listen deeply, unwind and reconnect with the marvels of nature."
Megan Lawrence, Head of Digital at the Australian Museum, said: "Nocturnal Worlds enables listeners to connect with nature in their own space, to hear the sounds of the bush and learn about Australia's unique night life in a calming podcast. The writing and sound design by Audiocraft is poetic and peaceful, we are thrilled with this new storytelling venture for discovering the habits of our native animals while relaxing."
Nocturnal Worlds will also feature in the AM's Nights at the Museum program on 16 August, with a "Meet the Makers of Nocturnal Worlds" presentation at 7.30pm. Find out more about this launch event at australian.museum/natm.
About Audiocraft
Audiocraft is Australia's leading podcast production company known for their highly crafted storytelling, immersive sound design and creative approach to the audio format. Their award-winning team are experienced in producing long form narratives, crafted interview formats, audio fiction, and immersive audio experiences that spark wonder, foster empathy and inspire listeners to think about the world in new ways.
Fuelled by curiosity, compassion, and a commitment to high quality immersive sounds, Audiocraft have produced series for commissioners including Audible, Spotify and SBS, and have partnered with art and cultural institutions including the Sydney Opera House, AGNSW (Art Gallery of NSW), the Australian Museum and MAAS (Museum of Arts & Applied Science).
About the Australian Museum
The Australian Museum (AM) was founded in 1827 and is the nation's first museum. It is internationally recognised as a natural science and culture institution focused on Australia and the Pacific. As custodian of more than 22 million objects and specimens, the AM is uniquely positioned to provide a greater understanding of the region through its scientific research, exhibitions, and public and education programs. Through the Australian Museum Research Institute (AMRI), the AM also plays a leading role in conserving Australia's biodiversity through understanding the environmental impacts of climate change, potential security threats and invasive species.
This is a press release which we link to from Podnews, our daily newsletter about podcasting and on-demand. We may make small edits for editorial reasons.