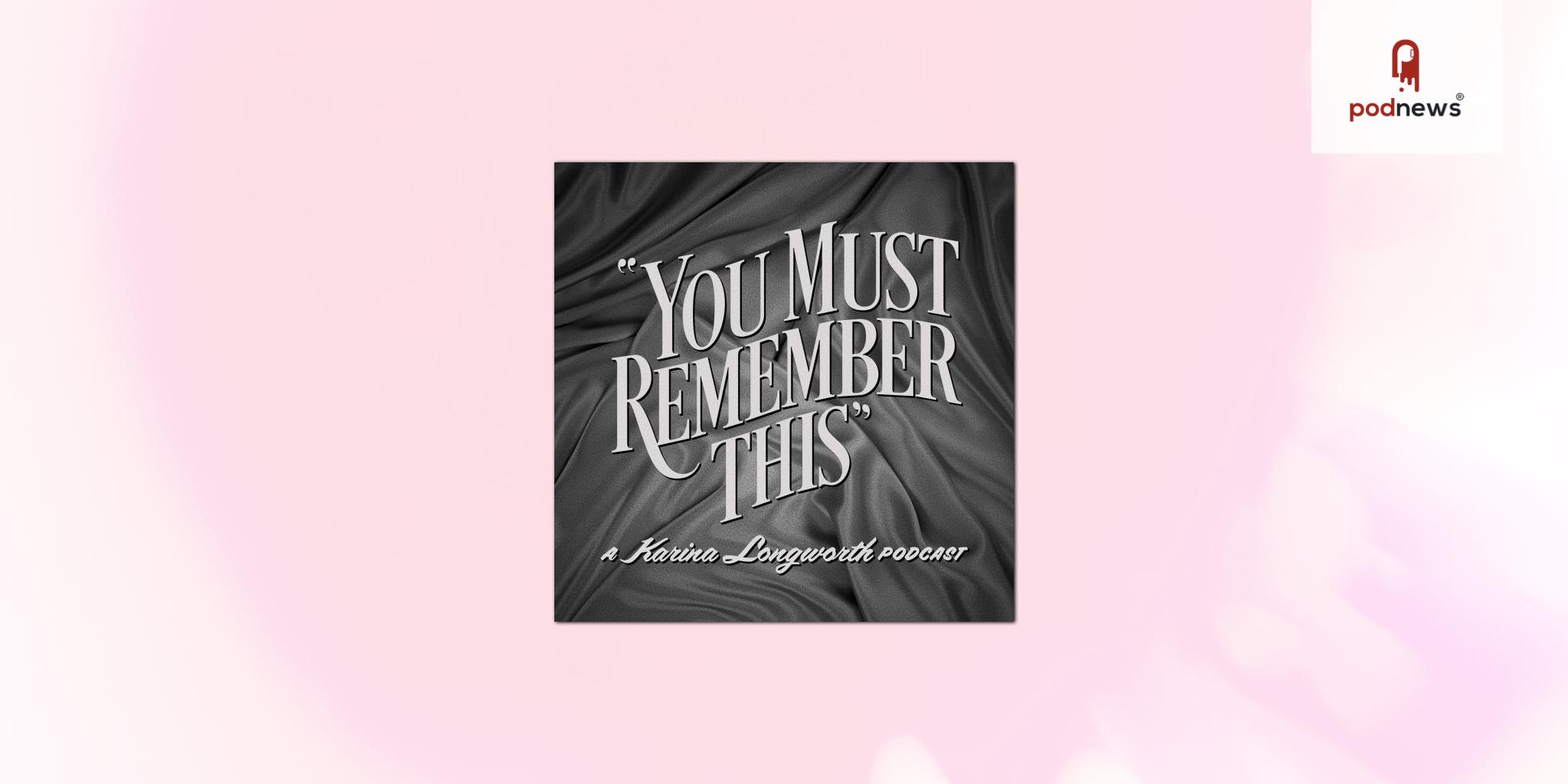 Award-Winning Hollywood Podcast "You Must Remember This" Returns for Extended New Season Premiering March 28
Press Release · Los Angeles, CA, USA · · Updated
You Must Remember This, the hit podcast dedicated to exploring the secret and/or forgotten histories of Hollywood's first century, returns with sizzling new episodes this spring. Created, written, produced and narrated by Karina Longworth, this season follows up on the success of "Erotic 80s" with a look at sex in film and TV during the 1990s. You Must Remember This is presented in partnership with Cadence13 Studios.
The 21-episode season subtitled "Erotic 90s" will launch on March 28, 2023, everywhere podcasts are available. New episodes will be available Tuesdays.
For this season, Longworth has partnered with The American Cinematheque, who will program weekly screenings on Tuesday nights at the Los Feliz 3 in Los Angeles of a select film highlighted on the podcast. The series will kick off with a screening of Philip Kaufman's Henry and June in 35mm on March 28th and the Julia Roberts starrer Sleeping with the Enemy on April 4th.
In the 1980s and 1990s, Hollywood movies explored the sexual lives, mores and fantasies of adults with degrees of candor, realism and imagination not seen before or since. While "Erotic 80s" episodes covered the theme one year at a time, the super-sized "Erotic 90s" breaks down themes from Lolitas and sex symbols to gender politics and more.
The first episode serves as a prologue discussing the disastrous rollout of NC-17 and the evolving state of both porn and feminism at the dawn of the 90s, with topics including David Lynch, Harvey Weinstein, "pro-porn" feminism, "the new morality," video stores, Magic Johnson, date rape and much more. Later episodes will explore films like Pretty Woman, Thelma and Louise, Fatal Attraction, Single White Female, Showgirls and Wild Things as well as iconic figures such as Madonna, Sharon Stone, and Britney Spears.
"We had some incredible screenings of the films of Erotic 80s in 2022, and I'm so excited to collaborate again with the Cinematheque to do an even broader series connected to Erotic 90s in 2023," said Karina Longworth. "It's going to be such a treat to be able to see, and reevaluate, films like Impulse, Single White Female and Wild Things on the big screen."
"Karina's depth of knowledge on Hollywood history, contemporary culture and where the two intersect is nothing short of extraordinary," said Chris Corcoran, Chief Content Officer and Founding Partner, Cadence13. "'You Must Remember This' is a must-listen podcast in a class by itself, and we're very proud that Karina and the show are part of the Cadence13 family."
Since Longworth launched You Must Remember This in April 2014, it has become one of the top film podcasts, most recently winning the 2021 iHeartRadio Podcast Award in the TV & Film category. Longworth began her career as a film journalist as the co-founder of the pioneering film blog Cinematical, going on to serve as the film editor and critic at LA Weekly. She is the author of books on George Lucas, Al Pacino and Meryl Streep, and her latest book, Seduction: Sex, Lies and Stardom in Howard Hughes's Hollywood, was released by Custom House in November 2018. In 2021, Karina co-wrote, co-hosted and co-produced Love is a Crime, a limited podcast series for Vanity Fair.
Cadence13 is an Audacy studio.
Listen
This is a press release which we link to from Podnews, our daily newsletter about podcasting and on-demand. This is reprinted verbatim; we may rewrite headlines and descriptions.
This page contains automated links to Apple Podcasts. We may receive a commission for any purchases made.