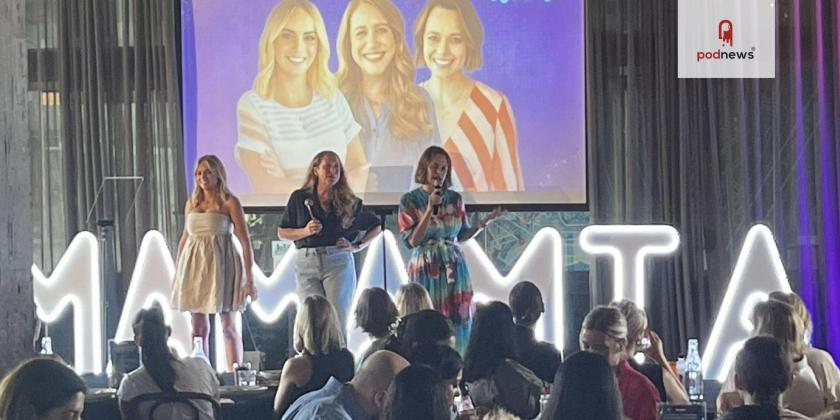 The most listened-to women in Australian podcasting share their secrets to growing a more inclusive audience
Press Release · Sydney NSW, Australia ·
Yesterday morning, at View By Sydney, Mamamia hosted a breakfast with 150 guests from brands and agencies, and shared how the platform has managed to grow such a big inclusive podcast audience.
The CRA ranker shows monthly (Au) listens of Mamamia of over 5.6 million (Nov '22-Jan '23), with Mamamia Out Loud co-hosts Mia Freedman, Holly Wainwright and Jessie Stephens rising to become the most listened-to women in Australian podcasting.
'The 3 Things You Can Steal From The Biggest Australian Pure Podcast Network' saw the Outlouders share three principles behind their success, applicable to brand growth in any category:
Respectfully, we disagree. Swimming against the tide of cancel culture, Mia, Jessie and Holly strongly disagree with each other on many of the issues they discuss each week, (it's whatever women are talking about), but they don't fall out over it. By embracing conflicting perspectives, with respect intact, a wider variety of people in the audience feel seen and heard, and want to join in.

Listen obsessively, but don't hand over the wheel. Feedback is constant and it can be overwhelming. Don't make the mistake of handing over the wheel to your audience, it can run you off the road. You are the one driving your brand. Navigate feedback with your values and the clear role in their life you are aiming for.

Trust is the most important context, the rest you can mess with. Restricting yourself to only category-aligned contexts is old school and unnecessarily narrows your audience. She is three dimensional, she's interested in everything. "She doesn't think "This isn't a beauty show, why are you talking about skincare?" or wonder why a show that just had a segment about politics is now telling me about a meal delivery service."
Mamamia revealed the findings of a survey conducted by Pureprofile (Jan '23), of listeners of different podcasts. Mamamia Out Loud scored a clear first place for "I trust the hosts' recommendations about brands", with 17 percentage points separating it from the nearest non-Mamamia show. As a network, Mamamia came in a huge 52% more trusted than the nearest radio player.
"Being a pure podcast network, with no catch-up radio shows, matters for brands," said Mamamia's Head of Podcasts, Lize Ratliff. "Analytic Partners have shown the marketing ROI of podcasts to be almost three times radio." (Source: IAB Audio Summit '21) Mamamia is Australia's #1 women's media brand across articles, podcasts, social media, online courses and live events.
This is a press release which we link to from Podnews, our daily newsletter about podcasting and on-demand. This is reprinted verbatim; we may rewrite headlines and descriptions.