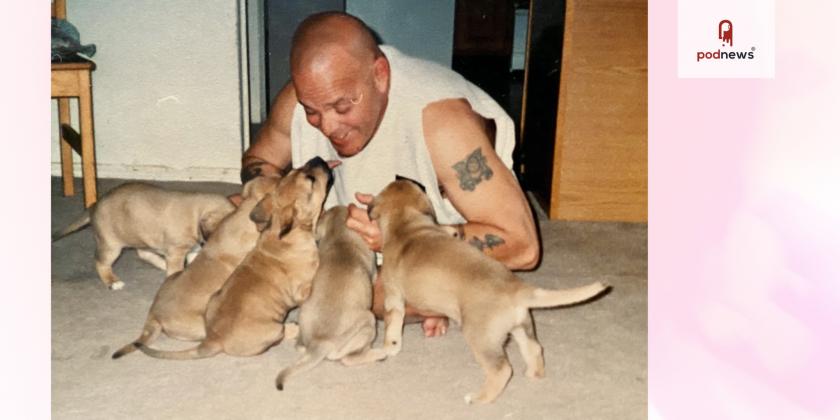 Mafia Tapes launches: a true-crime podcast on the legend of the Demeo Crew, with trusted associate on tape
Press Release ·
Mafia Tapes dives into the legend of the notorious DeMeo Crew, and their once trusted associate Dominick Montiglio. The eight-part podcast tells the story of Dominick's life, at the center of one of the most vicious mafia crews in history. With access to newly discovered audio tapes featuring Montiglio, this isn't your average mob tale. This is the real story of a man battling with the two sides of his nature: the hero and the villain; the truth teller and the con man; the lover and the fighter; the mortal and the immortal. Now, in his final interview before his death, hear from Dominick Montiglio, in his own words. New episodes of the Mafia Tapes podcast drop weekly on Mondays, beginning January 17, and you can listen to Mafia Tapes on Apple, Spotify, or wherever you get your podcasts.
After spending years trying to escape his birthright and returning from serving in Vietnam, Dominick Montiglio finally succumbs and joins his family's "business"— the American Cosa Nostra. His job? Keep an eye on the DeMeo Crew, a violent gang of young men in the Gambino crime family who became some of New York's most dangerous hitmen. When things go south, Dominick must choose between his oath of loyalty to the Mafia and his own survival. In Mafia Tapes, host Celia Aniskovich dives into a set of cassette tapes of Dominick's life's story: his life working with the infamous DeMeo crew, his crimes, his arrest, and his choice to testify against the mob. But are the tapes the whole story? Now, Aniskovich searches for the truth about human nature and family ties, all wrapped up in Dominick Montiglio's final telling of his life until his sudden and unexpected death during the making of the podcast.
With eight episodes dropping weekly on Mondays beginning January 17, the episode rundown for Mafia Tapes is below:
Episode 1: Come to Hell With Us
Drops on January 17
Dominick Montiglio is born into a prominent Brooklyn mafia family. He tries to escape, first by pursuing a singing career, then by enlisting for a tour of duty in Vietnam, and finally by moving out West. But he can't outrun the family business.
Episode 2: Make His Bones
Drops on January 24
It's time to meet the DeMeo Crew. The monsters who haunt Dominick's nightmares. Monsters Dominick is assigned to keep tabs on. Despite his desire to stay out of "that life," following the death of Carlo Gambino, Dominick falls deeper into it.
Episode 3: Living with the Animals
Drops on January 31
Police and investigators learn about the existence of the DeMeo crew and begin around-the-clock surveillance. Meanwhile, Dominick has his first child, Camarie, and must try to reconcile his aspirations to be a good family man with his involvement in "that life."
Episode 4: A Godforsaken Place
Drops on February 7
Celia heads into the vast American desert to meet Dominick Montiglio in person and try to understand the choices that have defined his life. Things don't go as planned, as she finds that Dominick Montiglio is not the man he once was.
Episode 5: Uncontrollable
Drops on February 14
Still in the desert with Dominick, Celia encourages him to open up, to talk about more than the same recycled mob stories he's been telling for decades. And he does. Dominick talks about the victims of the mob, and relives some tragic moments.
Episode 6: Omerta
Drops on February 21
A federal task force is assembled to take down the DeMeo Crew. After a decade of evading the law, Dominick Montiglio is arrested. He must now decide: keep his mouth shut and honor his omerta oath, or talk, get a deal, and be labeled a snitch for life.
Episode 7: Under Oath
Drops on February 28
It's December, 1985. Dominick is in the hallway of the Southern District of New York courthouse, waiting to be called to testify in the trial known as U.S. v. Castellano. He paces back and forth, nervous to face his family considering what he's about to do - turn on them.
Episode 8: Die Like the Rest
Drops on March 7
The final chapter of Mafia Tapes takes an unexpected turn that will forever change Dominick's story, and impacts the lives of his family, friends, and enemies. Celia takes a cold, hard look at her actions while pursuing this story – could she be partially responsible for Dominick's fate?
Mafia Tapes is produced for ID by Gigantic Pictures with Brian Devine, Brooke Devine, Jason Orans, and Joshua Zeman as executive producers. Ron Simon is executive producer for ID.
About Celia Aniskovich
Celia Aniskovich is a New York based director and producer. Her career began in live broadcast news as an NBC Page before she transitioned into narrative and documentary filmmaking. She has directed, produced, developed and consulted on numerous US & UK projects and her films and series have been broadcast around the world.
In 2020, Aniskovich co-produced "How to Fix a Drug Scandal" and field produced "Fear City: New York vs the Mafia" both of which premiered on Netflix. In 2021, Aniskovich released a six-part podcast series for Wondery Originals. Based on two years of writing and reporting, "Spy Affair," tells the story of alleged Russian spy, Maria Butina. Her other 2021 premieres include a feature documentary she executive produced and directed, "Fruitcake Fraud," for discovery+ and a feature documentary she produced for HBO Max entitled "Beanie Mania."
Aniskovich has worked on multiple Emmy-nominated television series, programs, and broadcasts. More info can be found at CeliaAniskovich.com.
About Gigantic Pictures
GIGANTIC PICTURES is a New York City-based feature film, documentary and television production company founded by producers Brian Devine and Jason Orans. Gigantic's latest documentary, CHARM CIRCLE, was on the International Documentary Association short list for Best Feature 2021. Recent productions include docu-series SONS OF SAM for Netflix and THE KILLING SEASON for A&E, music docs HEARTWORN HIGHWAYS and HEARTWORN HIGHWAYS REVISITED, period suspense thriller SHUTTLECOCK, Ramin Bahrani's BLOOD KIN, Boaz Yakin's thriller BOARDING SCHOOL, and the documentaries FRANK SERPICO and NIGHT SCHOOL. Prior productions include SXSW Grand Prize Winner and Emmy Nominee THE GREAT INVISIBLE, 99%: THE OCCUPY WALL STREET COLLABORATIVE FILM, Independent Spirit and Gotham Award nominee NIGHT CATCHES US starring Anthony Mackie and Kerry Washington; DARE starring Emmy Rossum and Rooney Mara; and Ramin Bahrani's Independent Spirit nominated GOODBYE SOLO and PLASTIC BAG.
About Investigation Discovery
Investigation Discovery (ID) is the leading crime and justice network on television. Delivering the highest-quality programming to approximately 80 million U.S. households, ID is also available via the network's TV Everywhere offering, IDGo. For exclusive web content and bonus material, fans can follow ID on Twitter, Instagram and Facebook or check out the network's true crime blog, CrimeFeed, Investigation Discovery is part of Discovery, Inc. (Nasdaq: DISCA, DISCB, DISCK), a global leader in real life entertainment, serving a passionate audience of superfans around the world with content that inspires, informs and entertains. For more information, please visit corporate.discovery.com and follow @DiscoveryIncTV across social platforms.
Listen
This is a press release which we link to from our daily newsletter about podcasting and on-demand. This is reprinted verbatim; we may rewrite headlines and descriptions.
This page contains automated links to Apple Podcasts. We may receive a commission for any purchases made.