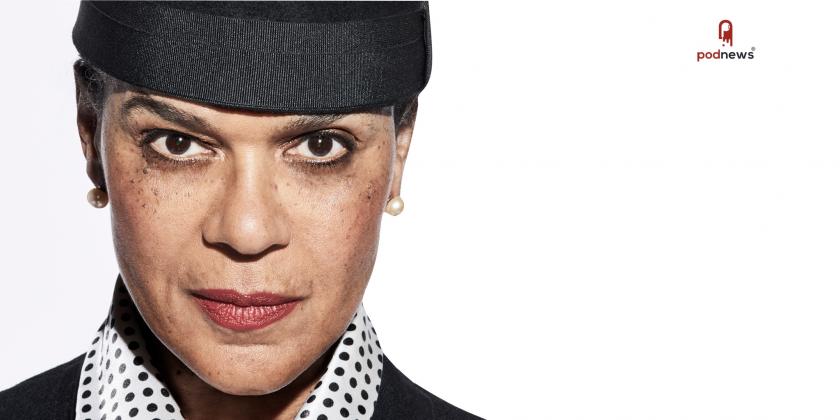 Made in the Midlands - a new podcast launches
Press Release · Coventry, West Midlands, United Kingdom ·
Made in the Midlands is a podcast which investigates the cultural foundations of the UK's most populous region. More than ten million people call middle England their home yet it's a part of Britain which often seems little understood by our fellow Brits. Northerners are sure we're southerners. Southerners are equally sure we're northerners.
The regional home of William Shakespeare, Jaguar Land Rover, Margaret Thatcher, Walker's Crisps, Julie Walters, Paul Smith and Dr Martens can be easily forgotten when England is so routinely culturally defined by its north-south divide.
Made in the Midlands is a chance to set the record straight and to increase awareness of the talent the region has produced. In each episode, Brummie Adrian Goldberg interviews successful Midlanders and asks what part the region played, in their success. Who are the important people, where are the important places that helped them on their way? And how can the Midlands get greater recognition for its achievements?
With the support of Coventry UK City Of Culture, award-winning Loftus Media and the MITM team has produced nine episodes which will be released from early February 2022.
Lee Child (available from 09/02/22)
The prolific author of the Jack Reacher detective novels talks of two Birmingham libraries which gave him his love of books. He describes the smell of the dusty shelves and the voracious appetite he developed for reading, so much so his parents obtained extra library cards in the name of visiting relatives.
"Even our dog had a library card," he says. "Without those two libraries as a little kid, I would have been a completely different person. So when you ask 'what did the Midlands mean, to me?' I mean, everything. That's who I am."
Midlands heroes: Jerry Dammers and Horace Panter for creating Two-Tone - "it was valuable musically, but it was also very valuable socially."
Pauline Black (available from 16/02/2022)
Pictures above. Another pioneer of Two Tone, lead singer of ground-breaking ska band The Selecter tells the podcast she first came to the Midlands as a student. "I got off the train in Coventry and I felt immediately at home." She studied, worked in Coventry hospitals and kickstarted her musical career playing folk gigs in Coventry pubs: "Nobody asked me to leave.."
Midlands Memory: Hauling heavy musical equipment up the steep stairs for The Selecter's first recording session at Horizon Recording Studios in Coventry. "I'd never been near a recording studio before…It was just like walking into a magical place where obviously magical things happened. "
Ken Loach (available 23/02/2022)
Recorded at an event in Coventry Cathedral, the award-winning film director becomes emotional as he recalls hearing the news from a neighbour that the building had been bombed during World War 2. "A neighbour came in and said they destroyed the cathedral. I remember the smell of the night air and the horror that people had of course, we knew so many, killed."
Midlands Masterpiece: Coventry Cathedral
"These two churches together. They speak of tragedy and ultimate hope. And I think we've got to hang on to that."
Nitin Ganatra (available 02/03/2022)
The Eastenders' actor was a shy and overweight immigrant boy with a stammer, and subjected to horrific bullying and racial abuse while growing up in Coventry. Two teachers persuaded him to audition for a school play, helping him overcome his low confidence and gain a place at Bristol University to study drama.
"I opened my mouth, everything started to flow, no stammer, no insecurity, nothing. I just began to speak in character and I sang a solo and I got a standing ovation."
Midlands Manifesto: "To create an environment (in the Midlands) to live in, which is a little bit more colourful and a bit more arty."
Debbie Isitt (available 09/03/2022)
Film director Debbie Isitt played truant after making her mind up at an early age that she wanted to be involved in the arts. A slot on a children's Saturday morning TV show sealed it. "I went on Tiswas as part of my dancing school, I just thought, what do I need school for? I'm on my way, I'm on the telly."
Midlands Hero: "My Dad – a real Peaky Blinder!…"
Tom Clarke (available 16/03/2022)
The frontman of The Enemy was born in the heart of the West Midlands. "I grew up in Castle Bromwich, which is Solihull or Birmingham, depending on who you're trying to impress." He talks of his love of manufacturing, especially cars, and of family plus his determination to offer a leg up to other young Midlands artists.
Midlands Masterpiece: "…my Land Rover 1966 Series 2A. On the Land Rover badge it says Solihull, Warwickshire. I feel immensely proud of that."
Steve Ogrizovic (available 23/03/2022)
The Coventry City FC legend will be answering Made in the Midlands questions at a live event on Wednesday February 9 at the Sky Blue Tavern with an edited podcast edition available later. Few people have lived the modern history of the club as he has. He also represented Shropshire at cricket and has been the subject of a kidnap intrigue.
Jess Phillips (available 30/03/2022)
The straight-talking Labour Birmingham MP will record an edition at a live event at the Drapers' Hall in Coventry on February 11th at 8pm. She represents her home city in Parliament. Again an edited episode will be available as a podcast later.
Ellie Simmonds (available 06/04/2022)
The former Paralympian gold medal swimmer has also agreed to record an edition for the series. She was born in Walsall, swam for a club in Sutton Coldfield and studied at Loughborough University.
Listen
This is a press release which we link to from our daily newsletter about podcasting and on-demand. This is reprinted verbatim; we may rewrite headlines and descriptions.
This page contains automated links to Apple Podcasts. We may receive a commission for any purchases made.