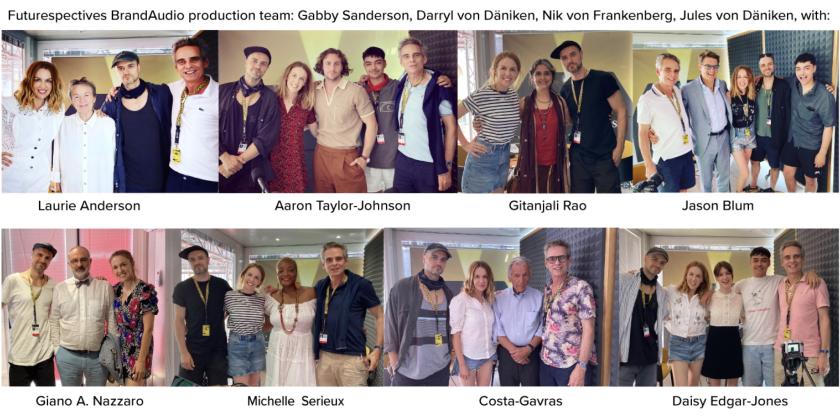 Locarno Film Festival FUTURESPECTIVES podcast rights withdrawn
Press Release · Zürich, Switzerland · via BrandAudio ·
BrandAudio, the originators, curators, and producers of the Locarno Film Festival podcast series FUTURESPECTIVES, requested the festival to cease using the FUTURESPECTIVES name and format for any future podcast episodes due to the festival's cancellation of its agreement.
After more than two years of close collaboration between the Locarno Film Festival and BrandAudio, the festival abruptly notified BrandAudio less than a month before festival start that they had unilaterally decided to cancel their co-production partnership and agreement with BrandAudio. As a result of the cancellation, the festival no longer held the rights to carry on using the FUTURESPECTIVES name and format without BrandAudio due to its co-production agreement.
"We found the festival's unexpected and abrupt cancellation of our valued co-production relationship most peculiar, and it's certainly not in keeping with what had been an exceptionally positive, friendly, and future driven two-year long collaboration. We also found such course of action completely out of place with the festival's strongly held ethics (What we care about), and can't see how such actions fit in with the festival's present ethos in regard to the essence of the SAG.AFTRA strike", says BrandAudio's Managing Partner Darryl von Däniken, "we can only imagine that something of a certain magnitude, certainly much bigger than us, must have occurred internally during the run up to the festival. Only that could explain such a seismic change of course and character, and we will certainly strive to better understand the reason for this situation in due course".
Last year's successful launch of FUTURESPECTIVES, the Locarno Film Festival's first podcast series which was initiated by BrandAudio in 2021, represented a co-production with the festival. The series was highly praised by the festival's management and supporting partners and all stakeholders looked forward to developing further podcast formats together over the coming years.
FUTURESPECTIVES presented an illustrious line-up of guests such as Matt Dillon, Laurie Anderson, Jason Blum, Klaudia Reynicke, Aaron Taylor-Johnson, Juliette Binoche, Udo Kier, Gintanjali Rao, Kamal Aljafari, Michelle Serieux, Costa-Gavras, and Daisy Edgar-Jones, as much as the festival's own PR champion Lucius Barre, the festival's Artistic Director Giona A. Nazzaro and CIO Simona Gamba, who all equally enjoyed reflecting on their life's cinematic journey, unlocking new perspectives on the future of film, culture and society, together with FUTURESPECTIVES host Gabby Sanderson.
Following BrandAudio's notice to the Locarno Film Festival to cease making further reference to FUTURESPECTIVES, and after reaching out to the new President-elect, the festival gave its assurances that the FUTURESPECTIVES podcast name and format would not be used for future podcast productions. Both parties agreed that the FUTURESPECTIVES podcast series will remain available to listeners on the festival's website and leading podcast channels.
This is a press release which we link to from Podnews, our daily newsletter about podcasting and on-demand. We may make small edits for editorial reasons.