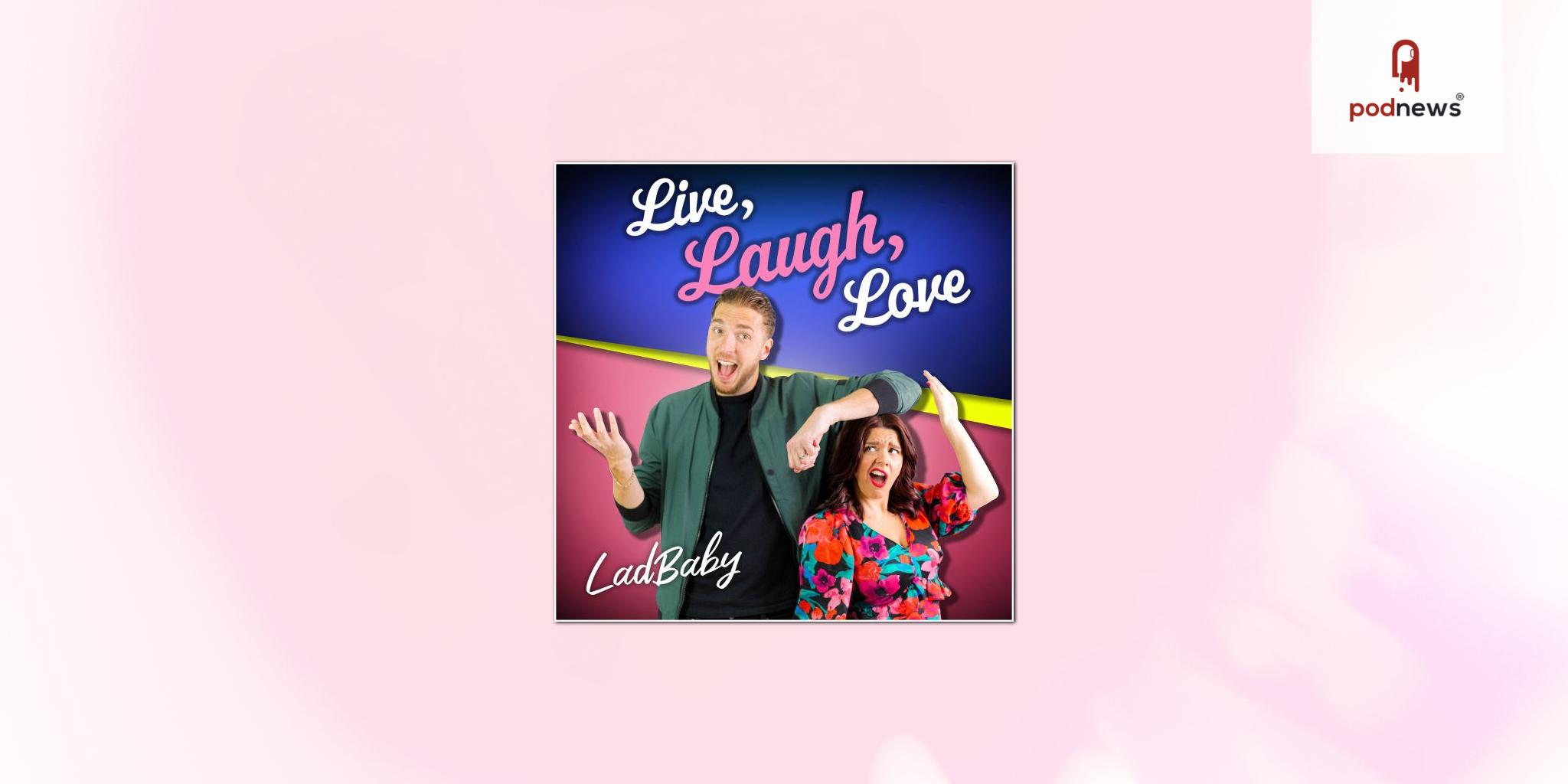 LadBaby Partners with Global for Debut Podcast 'Live Laugh Love' In Exclusive Deal
Press Release · London, UK ·
Chart-topping social media stars LadBaby aka Mark and Roxanne Hoyle have announced their debut podcast Live Laugh Love and it will be represented by Global, the Media & Entertainment group, as part of an exclusive long-term ad sales deal with DAX, the UK's largest digital advertising exchange.
The partnership between "Live Laugh Love" and Global is a testament to LadBaby's dominance in the social media space with the podcast aiming for the same huge success as Global's other podcasts such as "My Therapist Ghosted Me", "Mum Made Me Do It", "AJ and Curtis", "Spencer and Vogue" and many more.
In just five years, through their hilarious videos, five no.1 Christmas charity songs, best-selling children's books and sell-out clothing lines, LadBaby have become one of Britain's most well-known and best-loved families with a global audience of over 13 million.
Mark's quick-witted and comedic view on life, combined with Rox's happy and positive approach will mean the couple can deliver the same fun content to a podcast which has already made them household names with over 13 million global followers.
Listeners can expect to hear candid and humorous conversations between the comedic husband and wife duo and Celebrity Parents of the Year. From sharing their own exploits, family stories and celebrity encounters, to offering fun and supportive guidance to other families facing life's biggest dilemmas.
The first episode which can be listened to from 27th April 2023 - gives a rare insight into the couple's incredible journey from a normal family to a no.1 selling act with hilarious stories and insights along the way. There will also be regular features including "Date Night Diaries", "Living with a Southerner", "Dial a Dilemma" and "Guess That Sound".
"We're so excited to be partnering with Global to launch our first ever podcast show 'Live Laugh Love'," said Mark Hoyle."We've always enjoyed sharing our lives on social media, but this podcast is going to allow us to go one step further and connect with our audience in a bigger and more personal way than we've ever done before. I think people only truly know about 20% of our life, who we are, what we're about and the people we meet, we genuinely can't wait for everyone to see the rest and welcome everyone into our home on a weekly basis."
"I can't wait for everyone to finally be able to hear the podcast," said Roxanne Hoyle. "It's been something we've been working on for such a long time and I'm just excited that we can finally start telling people. Our lives have changed so much over the years it's going to be fun letting everyone hear the journey and what we're like as people and parents. I already know Mark's mouth is going to get us into trouble with his embarrassing stories and celebrity encounters but it's certainly going to keep everyone entertained."
"Ladbaby - Live Laugh Love" will be available on Global Player and all major podcast platforms every week.
Listen
This is a press release which we link to from Podnews, our daily newsletter about podcasting and on-demand. This is reprinted verbatim; we may rewrite headlines and descriptions.
This page contains automated links to Apple Podcasts. We may receive a commission for any purchases made.