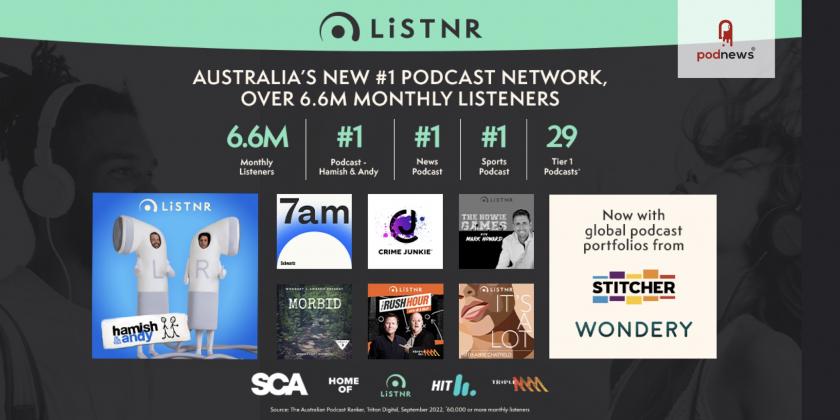 LiSTNR is Australia's new number one podcast network with more than 6.6m monthly listeners
Press Release · Sydney NSW, Australia ·
LiSTNR is again Australia's number one podcast network with more than 6.6 million monthly listeners in the September Triton Podcast Ranker.
LiSTNR has nine of the top 20 titles and three of the top podcasts in their genres, including Hamish & Andy as the no. 1 one comedy podcast, and the no. 1 sports podcast with The Howie Games which moved up 15 places to number 10 in the Top 100.
7am in partnership with Schwartz Media and LiSTNR, was the no.1 news podcast.
Other LiSTNR podcasts in the top 20 include Crime Junkie, Morbid, Triple M's Rush Hour with JB & Billy jumping four places to 12th position, It's A Lot with Abbie Chatfield, Triple M Footy AFL, and On Purpose with Jay Shetty.
LiSTNR also has the most podcasts ranked in the Top 50 Podcasts including My Favorite Murder, SmartLess, The Briefing, The Marty Sheargold Show, Just the Gist, The Scorecard with Liam Flanagan, 2 Bears 1 Cave with Tom Segura & Bert Kreischer, Hamish & Andy's Remembering Project, Freakonomics Radio, KICPOD, Last Podcast On The Left, Conan O'Brien Needs A Friend, and 99% Invisible.
"LiSTNR's monthly audience growth on the September Podcast Ranker now exceeds 6.6 million listeners, reinforcing LiSTNR as Australia's number one podcast network. Our growing slate of original podcasts, complemented by our new podcast partnerships with Stitcher and Wondery, along with established partnerships with Schwartz Media, Ten, RiAUS and the AFL, will continue to offer audiences and advertisers the biggest and most diverse slate of high-quality podcasts to listen to or advertise in," SCA Executive Head, LiSTNR Podcasts, Grant Tothill, said.
"We launched six new original podcasts during September including Dadtime Story Collection, The Minds Changing Lives with the University of Newcastle, Andy Lee's Do Not Open This Book for Eternity and The Showroom in partnership with carsales, new seasons of Hamish & Andy's Remembering Project and The Howie Games Artist Series, plus Christian Hull's popular Complete Drivel podcast moved to LiSTNR."
Source: Triton Podcast Ranker Top 100 Podcasts – September 2022
This is a press release which we link to from Podnews, our daily newsletter about podcasting and on-demand. This is reprinted verbatim; we may rewrite headlines and descriptions.