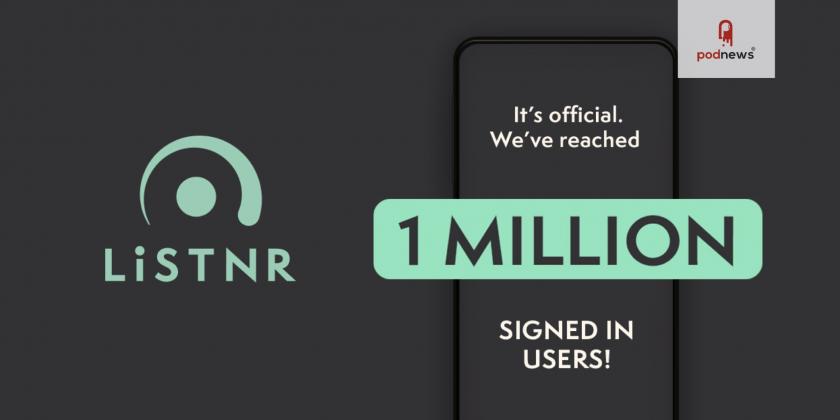 LiSTNR reaches one million signed-up users just eighteen months after launch
Press Release · Sydney NSW, Australia ·
LiSTNR reached an important milestone this month – with one million signed up known users after launching just 18 months ago. LiSTNR is Australia's top ranking owned and operated digital audio platform.
LiSTNR's user sign ups have grown by 230% year on year as the breadth and depth of content continues to expand and innovate on the free app.
Local content with trusted Australian voices is a key differentiator to other global and domestic peers. LiSTNR hosts more than 500 curated and co-created podcasts comprising LiSTNR's own 124 original Australian podcasts together with globally renowned international podcast creators Stitcher and Wondery, the BBC, NPR and locally with Schwartz Media, The Royal Institution of Australia, the AFL, NRL and Network Ten.
LiSTNR's original podcasts include Australia's No. 1 podcast Hamish & Andy, No. 1 sports podcast The Howie Games and No. 1 news podcast 7am in partnership with Schwartz Media, and its partner podcast suite includes popular international podcasts such as Dr Death, The Shrink Next Door, SmartLess, Conan O'Brien Needs a Friend, Crime Junkie and How Did This Get Made.
LiSTNR houses SCA's 99 Hit and Triple M network radio stations, live broadcasts of the AFL, NRL and Cricket along with 25 uniquely designed, exclusive music stations.
LiSTNR is available across a large array of devices including iOS and Android, CarPlay and Android Auto, Web, Google Assistant and Alexa, Apple TV and Android TV.
"Since its launch, LiSTNR has exceeded every milestone and has scaled quickly to become a true audio destination for both listeners and advertisers . We have quickly reached our first one million signed in known users. This has in turn attracted the attention of a growing cohort of advertisers seeking addressable audiences at scale," SCA CEO, Grant Blackley, said.
"LiSTNR is the personification of a five-year digital transformation journey at SCA to move from a largely linear broadcast model to a digital first business. We have now become the biggest audio content creation company in Australia - with our premium local content complemented by acclaimed international partnership content to appeal to a broad and growing audience across all demographics.
"Looking ahead, we see an accelerating path to a broader and more robust audience, stronger advertiser engagement and revenue, underpinned by a world class personalised audio ecosystem."
This is a press release which we link to from Podnews, our daily newsletter about podcasting and on-demand. This is reprinted verbatim; we may rewrite headlines and descriptions.