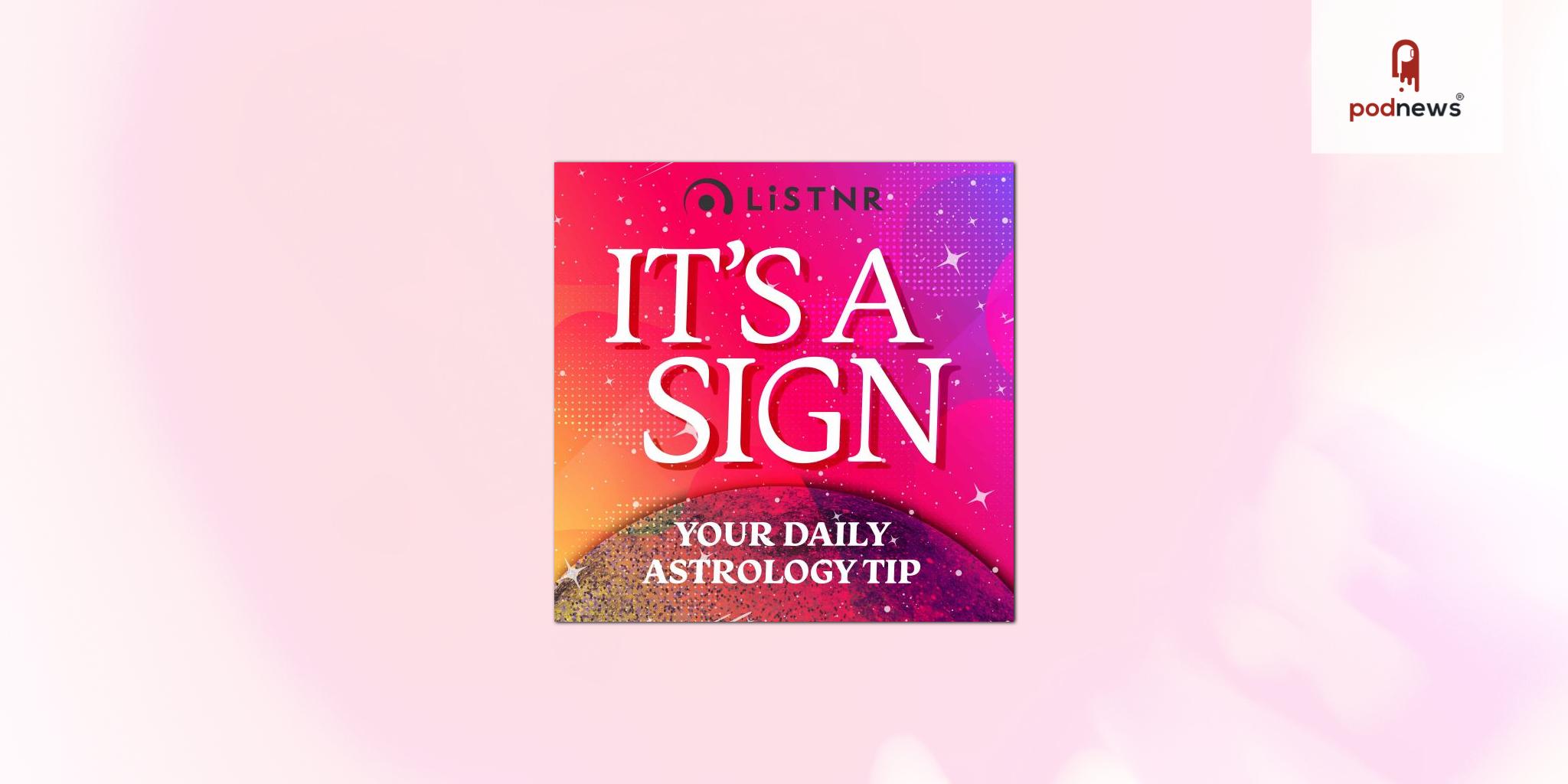 LiSTNR launches It's a Sign podcast - astrology for a new generation
Press Release · Sydney NSW, Australia · via SCA ·
LiSTNR today launched new original podcast It's a Sign: Your Daily Astrology Tip. Hosted by astrologer Katherine Gillies, It's a Sign is a daily, 90-second guide to life. Delving into the complexities of the Zodiac, Gillies charts moon and planetary transits and, in simple language, explains to listeners how these changes translate to their day-to-day lives.
So much more than a daily horoscope, It's a Sign provides listeners with logical and practical tips in short, bite-sized pieces. Responding to a resurgence in astrology, this new podcast reflects what fans now want: studied, considered astrology based on planetary transits, moon phases and cosmic weather.
It's a Sign is a unique podcast and has been created specifically for Australian astrology fans, who, until now, have had the majority of their astrological content served to them from the northern hemisphere. This means that by the time US-based astrologers are advising on the day ahead, Australian astrology fans are going to bed.
Now, with It's a Sign, Australian listeners can start their day with the topical, timely astrology content they have been craving.
Katherine Gillies, Australian astrologer from Moon Muse and host of It's a Sign, said: "I'm so thrilled to create this podcast with LiSTNR and help people demystify astrology. By learning to align your week with the cosmos, you can step into a rhythm and flow which is otherwise untapped. Astrological information distilled and delivered via simple practical tips can have a profound effect on people's lives. We teach people that there's more to astrology than regular sun sign horoscopes and that they themselves are incredibly unique, just like their birth chart.
"It's almost 2023; people are busy. They want quick actionable steps to help them understand their world, and the people in it. It's a Sign is all about the listener increasing self-awareness through small daily shifts in thinking. With a shift in awareness, they can take action towards living out their best, most aligned, life."
LiSTNR Content Director – Shortcasts, Deirdre Fogarty, said: "It has been fascinating to chart the resurgence of astrology online over the last few years, and the shift in language used in and around the Zodiac. Millennials and Gen Z are much more aware of their birth charts and want astrology content that delves deeper than sun sign-based horoscopes, which is often reflected on Instagram and TikTok. It's a Sign is fun, sharp and, most importantly, practical; in just a minute-and-a-half, listeners will understand the planetary transits and cosmic weather that may – or may not – affect them and they will leave with a bite-sized tip for how to make the most of their day."
New daily episodes of It's a Sign: Your Daily Astrology Tip will drop Monday to Friday at 6am. The first episode is available from today, 21 November, on LiSTNR.
Listen
This is a press release from SCA which we link to from Podnews, our daily newsletter about podcasting and on-demand. This is reprinted verbatim; we may rewrite headlines and descriptions.
This page contains automated links to Apple Podcasts. We may receive a commission for any purchases made.