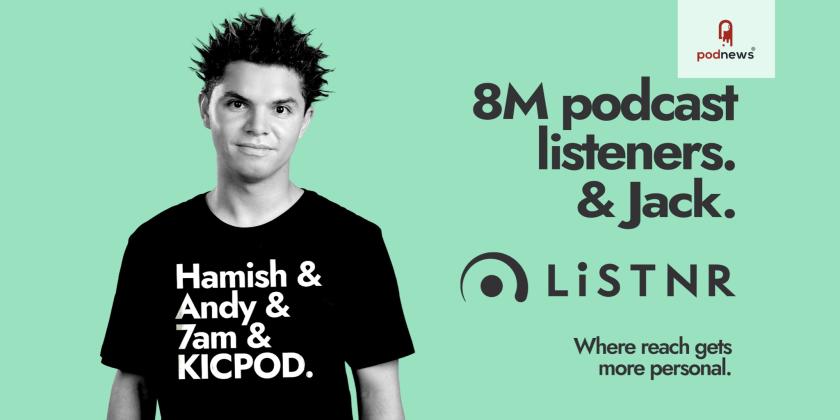 LiSTNR execs heroed for new podcast campaign to reinforce that each of LiSTNR's 8mn audience is unique
Press Release · Sydney NSW, Australia · via SCA ·
For the first time ever, LiSTNR executives will feature in a new podcast trade campaign that brings the famous classic band t-shirt meme to life to reinforce the power of personalisation and how it sits at the heart of what LiSTNR podcasts deliver.
The campaign will hero 18 LiSTNR staff from across the business who are passionate about podcasts and want to share their personal blend of podcast favourites. Whether it's Hamish & Andy & Morbid & The Howie Games, or Hamish & Andy & 7am & KICPOD, every person has a unique blend of podcast preferences, and the ads conclude with the line "LiSTNR. Where reach gets more personal."
While 8 million podcast listeners have LiSTNR in common, each is unique in terms of the genres and title combinations they are drawn to and captivated by. Personalisation is part of LISTNR's DNA and it's what makes audiences come back for more, time and time again, as evidenced by LiSTNR's 145% audience growth* in just one year.
In the world of audio, podcasts are recognised as the most deeply personal, intimate and immersive audio experience that listeners can engage with and offer unparalleled brand engagement.
"Insights from our key media agencies revealed that, while strong reach remains a necessity for planning podcast campaigns, personalisation is recognised and valued by them as being at the very heart of LiSTNR's offering," SCA Chief Marketing Officer, Nikki Clarkson, said.
"The new campaign brings all these strands of the personalisation theme together, heroing LiSTNR's own executives, as just some of the examples of LiSTNR's 8 million-strong captivated audience and what makes every one of them unique. Many of our people who are featured also have very strong, valuable relationships directly with our clients and agencies, which brings home the personalisation theme even more.
"The classic band t-shirt meme, which has been appropriated by countless people worldwide over two decades, and is synonymous as a calling card for the wearer's personal taste in music and even holiday destinations, has been reimagined for LiSTNR podcast favourites, with Australia's #1 podcasters, Hamish & Andy leading the charge and leveraging the all-important ampersand that both the comedy duo and the t-shirt meme itself employs."
SCA Chief Commercial Officer, Seb Rennie, said: "Australia now leads the world in podcast listening and we are seeing podcasts connecting with audiences across the day with trusted voices. Research among our client base has revealed that integrated podcast campaigns improve brand consideration and drive action.
"It's clear that podcasts have captivated Australians and LiSTNR's 8-million strong podcast audience provides the opportunity for brand intimacy and personalisation at scale. We're really proud to hero our passionate people in this campaign as a compelling way to showcase LiSTNR's personalisation. And there has been hot demand for the t-shirts, which were printed for our recent A Night with LiSTNR event for media agencies."
The campaign launched on 28 August across trade media.
This is a press release which we link to from Podnews, our daily newsletter about podcasting and on-demand. We may make small edits for editorial reasons.