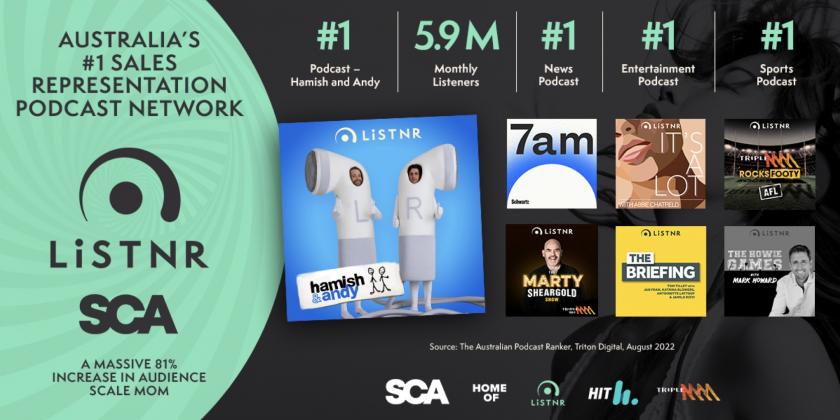 LiSTNR is Australia's number one sales representation podcast network as audience reach grows 81%
Press Release · Sydney NSW, Australia ·
LiSTNR is the number one sales representation podcast network in Australia with 5.94 million monthly listeners in the August Triton Podcast Ranker*.
LiSTNR now represents more than 400 premium podcasts and has grown its audience reach by 81%.
The Hamish & Andy podcast on LiSTNR maintains its reign as Australia's most popular podcast for the sixth consecutive month on the Top 100 Podcasts Ranker, with 997,000 monthly listeners.
LiSTNR also has the most podcasts in the Top 20, and four top podcasts in their genres, including Hamish & Andy as the no.1 comedy podcast.
LiSTNR, in partnership with Schwartz Media, has the no.1 news podcast, 7am, which is Australian listeners' fourth most popular podcast.
Triple M Footy AFL is the nation's no. 1 sports podcast on the Ranker sitting in 12th position.
It's A Lot with Abbie Chatfield is Australia's no. 1 entertainment and culture podcast and sits at no. 11.
Other LiSTNR podcasts in the top 20 include Triple M's Rush Hour with JB & Billy, and, making its debut in the top 20, The Marty Sheargold Show.
KICPOD with Steph Claire Smith and Laura Henshaw had the highest-ranking debut on the Podcast Ranker at number 42.
LiSTNR also has the most podcasts ranked in the Top 50 Podcasts including The Briefing, The Howie Games, Just the Gist, The Scorecard with Liam Flanagan, Hamish & Andy's Remembering Project and Triple M Rocks Footy NRL.
"August's Podcast Ranker is a great result for LiSTNR podcasts and the LiSTNR podcast network. It's great to see our co-created original podcasts along with our radio podcasts continuing to grow audiences, especially Marty Sheargold moving into the Top 20 and KICPOD with its fantastic debut. Credit goes to everyone who works tirelessly every day.
"With the addition of several new podcasts in the last month, including Andy Lee's Do Not Open This Book For Eternity, season four of Hamish & Andy's Remembering Project, Christian Hull's Complete Drivel podcast joining LiSTNR, and Shockwaves: The Bali Bombings co-created with Network 10, audiences have more reasons to spend time with LiSTNR and advertisers to reach new audiences," SCA Executive Head of Podcasting, Grant Tothill, said.
Source: *Triton Podcast Ranker Top 100 Podcasts – August 2022
This is a press release which we link to from Podnews, our daily newsletter about podcasting and on-demand. This is reprinted verbatim; we may rewrite headlines and descriptions.