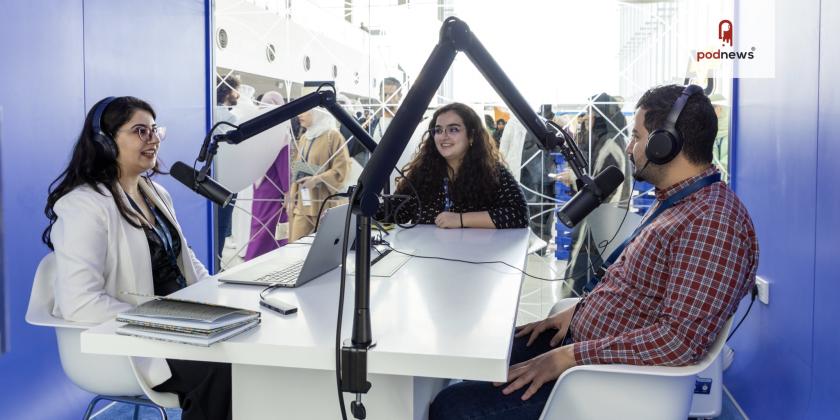 Doha Debates Introduces First Arabic-language Podcast
Press Release · Washington, DC, USA · via Doha Debates ·
"Lana," hosted by Journalist Rawaa Augé, is a new Arabic-language podcast tackling issues that impact Arab youth
Doha Debates, an organization focused on bringing people together around global topics through live debates, town halls, podcasts, films and more, today released its first Arabic-language podcast, Lana.
The podcast, hosted by former France 24 Arabic presenter and Al Jazeera journalist Rawaa Augé, tackles questions for young Arabs in culture today, including: Is the Internet a healthy debate space? Is the Arabic language evolving? and, Has cancel culture gone too far? Augé and her guests will also address beauty standards, mental health issues, and the complexities of immigration and asylum. The trailer for the Arabic-language podcast is here.
"Lana"—the Arabic word for "ours"—debuted at the two-day TEDinArabicSummit in mid-March and can be heard now at DohaDebates.com/podcasts and on most major podcast platforms. It is produced in partnership between Doha Debates and Jordan-based podcasting company Sowt.
"I've been following Doha Debates' English content, and hosting the Arabic edition has been a dream," 'Lana' host Rawaa Augé said. "I am very proud to have been selected as a host of their first Arabic podcast. I look forward to the listener responses to the topics we'll tackle, which are close to the interests and concerns of today's youth."
Rawaa Augé is a news anchor, producer, moderator, and digital content host at Al Jazeera Media Network. From 2019 to 2021, she hosted and executive-produced 70 episodes of the award-winning show "Bekasretaa" (or "Women's Voices" in Arabic) for Al Jazeera Arabic TV.
Augé began her career at France 24 Arabic in Paris in 2010. She joined Al Jazeera in 2014, where she has contributed to reporting and producing stories from across the globe, and has conducted a number of high-profile interviews. Augé earned a bachelor's degree from Lebanese University and master's degrees from Balamand University Lebanon and University of Paris 8. She received a Rosalynn Carter Fellowship for Mental Health Journalism from the Carter Center in 2021.
"Lana" is Augé's first podcast for Doha Debates and the first Arabic-language podcast for the organization. The inaugural episode tackles the issue of whether the Internet is a healthy debate environment.
Doha Debates produces and distributes live debate and interview programs, short films, podcasts, town halls and more. Previous podcasts include "Course Correction" and "The Negotiators."
Doha Debates is currently filming its new season of live debates with award-winning comedian and actor Mo Amer.
About Doha Debates
Doha Debates believes the world will be a better place if we make room to listen to and understand all sides of an issue and seek consensus together. As divisions on social, geopolitical, scientific, and other issues become more entrenched, people retreat into echo chambers and refuse to listen to a spectrum of perspectives. We believe that positive, meaningful change only happens when we build bridges among a diversity of viewpoints.
Even on the most complex and divisive problems, with the right tools, empathy, and determination, we can learn from each other and walk away with a more robust and nuanced understanding of an issue. Inspired by Majlis-style debates, which creates a welcoming space for discussion of diverse views, we engage with young people from every region and country who are invested in solving urgent global issues. Through our programming and content, Doha Debates provides intellectual and practical tools to empower a new generation of leaders who can bridge divides and resolve differences. Learn more at DohaDebates.com.
Listen
This is a press release from Doha Debates which we link to from Podnews, our daily newsletter about podcasting and on-demand. This is reprinted verbatim; we may rewrite headlines and descriptions.
This page contains automated links to Apple Podcasts. We may receive a commission for any purchases made.