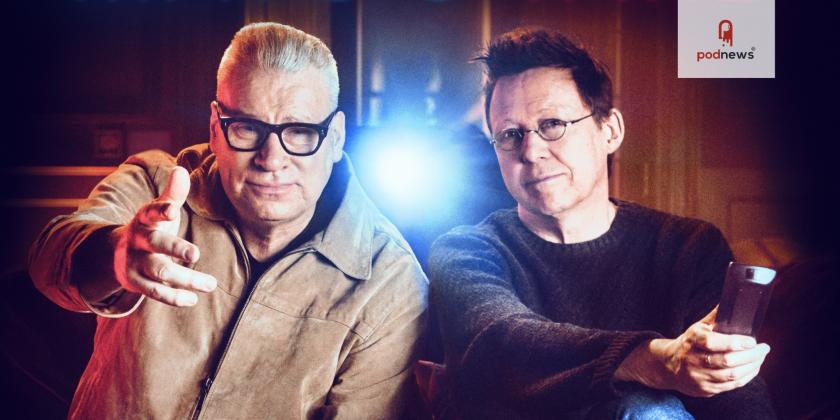 Sony Music Entertainment's Global Podcast Division forms podcast partnership with Mark Kermode and Simon Mayo
Press Release · London, UK ·
Sony Music Entertainment's Global Podcast Division today announced it has formed a podcast partnership with leading film critic Mark Kermode and iconic host and movie fanatic Simon Mayo. The seasoned broadcasters will present Kermode and Mayo's Take, a new twice weekly podcast series focusing on theatrical, streaming and physical film releases, as well as high-level global television in the UK and US beginning Thursday 5th May.
Sharing their expertise worldwide, Kermode and Mayo's Take will feature the finest reviews and previews, big guest interviews and a cornucopia of audience correspondence in every episode. Listeners can expect discussions about current and classic releases, recommendations and warnings, as well as special episodes that respond to big news and events across the industry.
For the first time, the duo will also bring their much-loved dynamic to the world of TV, with Kermode extending his estimable powers of critique to high-level serialised fiction, giving audiences the best reviews from binge-worthy streaming series to terrestrial TV. The world's flagship film and television podcast, Kermode and Mayo's Take will be an essential guide to listeners for everything they need to know on the big and small screens.
Kermode and Mayo's loyal followers can also go deeper into the world of film and television by subscribing to Take 2 on Apple Podcasts. Exploring a wider variety of material and listener correspondence, Take 2 will feature an hour of recommendations for underseen movie and televisual gems and the pair's discussion of big recent movie and TV releases in a spoilertastic fashion.
Listeners can subscribe now to Kermode and Mayo's Take on all podcast platforms with the first show launching on Thursday May 5th. Visit kermodeandmayo.com for further information.
Mark Kermode says: "Simon Mayo is quite simply one of the best broadcasters in the word and I'm thrilled to be teaming up with him again for this new Sony podcast, which will allow us to bicker about movies and tv (and skiffle, obviously) to our hearts' content."
Simon Mayo says: "We said it wasn't the end. The sequel is here… this time with sequins."
Jez Nelson, Executive Vice President and Co‑Head of Global Podcasts at Sony Music Entertainment, says: "Kermode and Mayo have made an incredible impact in UK audio for decades. They are radio icons but also pioneers of podcasting. We are thrilled to welcome them to Sony Music and to now work with them to take their amazing partnership and peerless take on movies to the next level globally."
Listen
This is a press release which we link to from our daily newsletter about podcasting and on-demand. This is reprinted verbatim; we may rewrite headlines and descriptions.
This page contains automated links to Apple Podcasts. We may receive a commission for any purchases made.