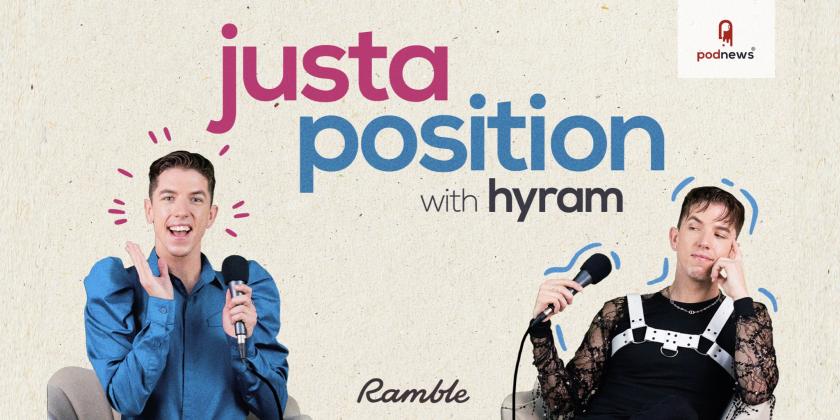 Ramble Launches Podcast with Leading Content Creator, Entrepreneur and Advocate Hyram Yarbro
Press Release · New York, NY, USA ·
Ramble, a leading podcast network that amplifies the voices of established and influential tastemakers, today announced the launch of Justaposition, a new weekly podcast hosted by content creator Hyram on which he'll explore issues ranging from mental health to how to make a positive social impact to skin care. Ramble is a joint venture between Cadence13, an Audacy company, and United Talent Agency (UTA).
Dubbed "The Gen-Z Whisperer" by the New York Times, Hyram quickly shot to fame in 2020 through his viral videos on TikTok – growing to a community of 6 million followers in just four months, and a combined following of over 12 million followers today. In addition to his popular YouTube and TikTok channels, his skin care line Selfless by Hyram aims to connect the beauty industry with social change.
On Justaposition, Hyram will sit down with fellow creators, tastemakers, and other guests to explore issues including mental health, navigating the complex world of social media, vulnerability, how to make a positive social impact, and skin care. Early guests include influencers Ava Jules, Melissa Ong, and Hillary Star.
Justaposition will launch with two episodes on June 16, 2022, everywhere podcasts are available. Beginning June 23, 2022, new episodes will be available on Thursdays.
"I'm thrilled to launch 'Justaposition' as a platform to have important conversations about mental health, social issues, and as a way to explore the nuances of content creators & public figures people know and love," said Hyram. "My goal is to make Justaposition a safe space for individuals to be vulnerable and share their life experiences in order for us, as viewers, to better understand the complexities and strengths of the human spirit. I'm so grateful to have partnered with Ramble to make this podcast a reality, and I can't wait for listeners to join the journey!"
"Hyram's use of his platform for good and his honest approach to talking about everything from mental health to social activism to skin care has earned him millions of fans around the world," said Chris Corcoran, Chief Content Officer and Founding Partner, Cadence13 and Ramble. "We're thrilled to add his voice and perspective to the Ramble portfolio."
Hyram Yarbro, also known as "Skin Care by Hyram," is an American skincare expert and multimedia creator. Best known for his videos giving brutally honest brand reviews, affordable product recommendations, critiquing celebrity skincare routines, reacting to his follower's skin transformation videos, and now his very own global skincare brand, Hyram has established himself as an authoritative figure in the beauty space. Hyram's primary goal continues to be empowering his viewers through education, positivity and a sense of social responsibility. In June 2021, Hyram released his own skincare line, Selfless by Hyram, with 5 SKUs. The line, powered by the Inkey List, features gentle active ingredients to support healthy skin and sparks social change with every purchase through partnerships with Rainforest Trust and Thirst Project. Selfless by Hyram is sold nationwide in the US DTC and via Sephora's brick-and-mortar stores, as well as in over 30 countries globally.
Hyram is represented by Hansen Jacobson and UTA, which brokered the deal with Ramble.
Listen
This is a press release which we link to from our daily newsletter about podcasting and on-demand. This is reprinted verbatim; we may rewrite headlines and descriptions.
This page contains automated links to Apple Podcasts. We may receive a commission for any purchases made.