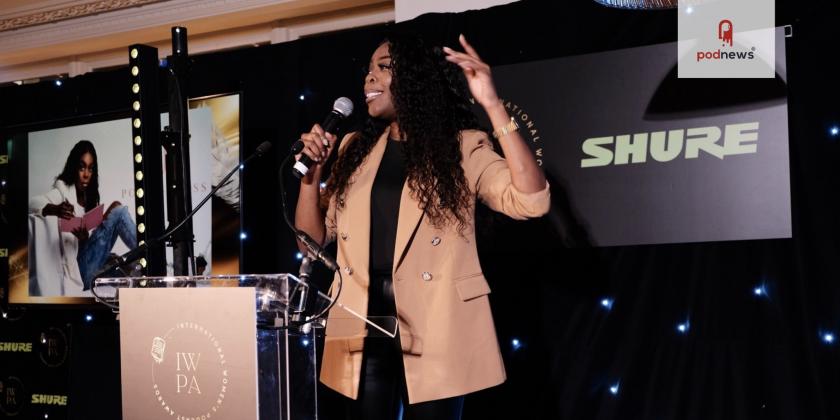 There's just one week remaining to enter this year's International Women's Podcast Awards!
Press Release · London, UK ·
Entries have been flowing in, but there's now just one week left for podcasters all over the world to enter this year's International Women's Podcast Awards, the unique event that celebrates the very best women-led moments in podcasting from the last year. The awards exist to amplify the voices of women in podcasting, and provide recognition to women and non-binary folk - both behind the mic and behind-the-scenes - who have created incredible audio moments and intimate listening experiences.
The International Women's Podcast Awards will be hosted by podcaster, writer and comedian Deborah Frances-White of The Guilty Feminist at The Conduit in London on Thursday 29th September 2022, and entries are open NOW to podcasters worldwide until Friday 22nd July 2022. The ceremony will be attended by a live audience in London, with a global livestream available for guests throughout the world to join us on the night. The category shortlists will be announced in early September.
This year the IWPA are partnering with the Podcasting, Seriously Awards Fund, which is committed to supporting independent BIPOC, Queer and Trans audio creators in submitting their work to awards. If you're based in the UK, USA, Australia or Canada you can apply to the fund to be reimbursed your entry fee. All awards applications must be in English, and further information can be found here.
Naomi Mellor, founder of the International Women's Podcast Awards, said: "It's been so wonderful to see such a huge range of entries coming in for this year's awards, and we're excited that in the final week there'll be more undiscovered work for our judges to hear. We'd love to encourage anyone who's been thinking about entering but hasn't done it yet to take the plunge and put their show forward. We're not bothered about how many downloads you've had, or how many social media followers you've got - it's all about the moments you've created with your podcast that you're particularly proud of".
The International Women's Podcast Awards aims to help level the playing field for women in this exciting and evolving industry, by rewarding and elevating the unsung podcast hosts, editors, producers and writers out there whose work deserves recognition. To many, the joy of podcasting lies in its intimacy, in the atmosphere created between the host, guest and listener, and in the moments of incredible sensitivity, humour or honesty that keep people engrossed. The International Women's Podcast Awards celebrate these intimate moments of podcasting brilliance, and the women that make them happen. It doesn't matter if they've had 100 downloads or 100 million, the awards are open to everyone in podcasting that identifies as a woman or non-binary.
Nominations are now open and will be accepted in ten categories of 'Moments', which are:
Moment of Behind-the-Scenes Brilliance
Moment of Calm Unflappability
Moment of Comedy Gold
Moment of Dramatic Tension
Moment of Entrepreneurial Inspiration
Moment of Insight From a Role Model
Moment of Raw Emotion
Moment of Touching Honesty
Moment of Visionary Leadership
Award For Changing The World One Moment At A Time
For partnership and sponsorship enquiries, please email naomi@skylarkcollective.co.uk
To enter the awards, go to https://skylarkcollective.co.uk/awards/
To find out more about the Skylark Collective, visit https://skylarkcollective.co.uk
Instagram: https://www.instagram.com/theskylarkcollective/
Twitter: https://twitter.com/IWPodcastAwards
This is a press release which we link to from our daily newsletter about podcasting and on-demand. This is reprinted verbatim; we may rewrite headlines and descriptions.