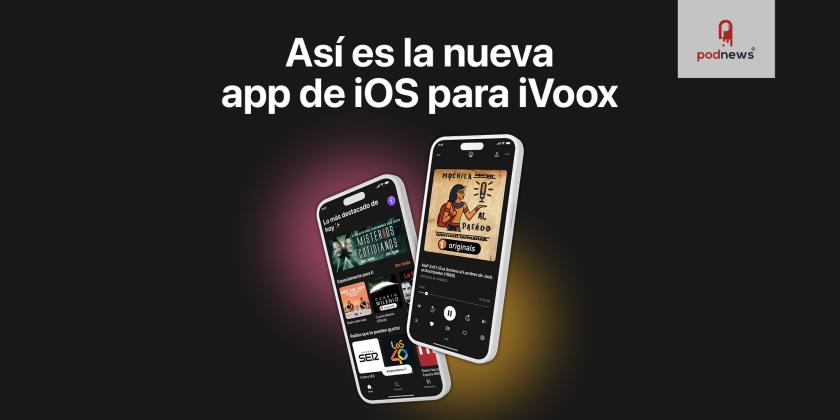 iVoox launches its new podcast app for iOS
Press Release · Barcelona, Spain · via iVoox ·
With a completely new interface, it has been redesigned to make listening and discovering podcasts easier for iVoox's more than 5 million unique users.

The iVoox application was a pioneer in 2009, and during this time it has become a benchmark with the largest audio offer in Spanish. It has more than 420,000 podcasts in Spanish, audiobooks and radio stations on any topic.

It also has the largest catalog of exclusive and free podcasts in Spanish, with more than 200 podcasts. In addition, with its iVoox Plus subscription service, listeners can enjoy more than 700,000 exclusive paid episodes of podcasts and audiobooks.
The leading platform for podcasts in Spanish, iVoox, has just launched its new application for iOS on the App Store, with a totally renewed design following current trends, and which presents improvements in usability, new features to make it more accessible, as well as a new dark theme for better visibility.
With its new interface, the podcast app for iOS has been redesigned to make listening and discovering podcasts easier for listeners. One of the big new features is the easier management of the play queue that includes native iOS features such as Long-press and swipes to perform actions quickly.
New podcast discovery and accessibility improvements
In addition to these improvements there is a new search system, which includes tags to filter the results that reorganize their presentation in a more accessible way in thematic cards. Also, it incorporates a new related tab to the podcast screen, where listeners can find other shows and playlists from the creators, as well as other similar podcasts.
The home page also features changes aimed at facilitating the discovery of new content, with larger personalized recommendation covers and direct access to the explore section, which offers thousands of episodes, podcasts, audiobooks and radios on any topic. The company works to incorporate a greater depth of thematic exploration that facilitates the discovery of collections curated by its editorial experts. Also, for listeners with limited time, the new "Surprise me" button allows them to instantly receive episode suggestions based on their interests and listening times.
The new app also facilitates access to the listener's content and, with the new Library section, puts their favorite content always at their fingertips. In the Library they will find their podcasts, lists, downloads and other content in one place. Visually, the platform has a more elegant, minimalist and efficient design, with a dark mode that improves visibility and battery consumption.
As in previous versions, the app is still compatible with CarPlay, and its new version renews the car mode for safer driving. Likewise, iVoox is working on its adaptation for Apple Watch, which will allow listening to all its podcasts, radios and audiobooks without the need to carry your cell phone with you.
iVoox will continue to add new features through these continuous improvement processes to enrich the experience of its listeners and facilitate the expansion of the podcast to new audiences.
About iVoox
iVoox is the leading podcast and radio platform in Spanish. Founded in 2010, it has been helping to develop the podcasting ecosystem in Spain and Latin America for more than 10 years. In addition, it is a pioneer in promoting monetization in the world of Spanish-speaking podcasts, being the only platform that allows podcasters to generate income and grow their audience at the same time. It has more than 5 million unique users per month, more than 90 million episodes available and more than 75 million listeners per month, with a rating of 4.7 in the main app stores. iVoox has the largest catalog in Spanish, with more than 1.3 million podcasts available in 50 different languages, of which more than 420,000 podcasts are in Spanish.
iVoox has a wide range of content that in turn allows monetization for the podcaster. iVoox Originals is the largest catalog of exclusive and free podcasts in Spanish, with more than 200 shows. It also has iVoox Plus, a subscription service with more than 700,000 exclusive paid episodes of podcasts and audiobooks. As a platform that has always allowed content to be hosted, it has some unique historical gems such as passages from the history of the great Juan Antonio Cebrián or the radio dramas of master Juan José Plans. Also with renowned programs such as Cuarto Milenio by Iker Jiménez or Días Extraños, the podcast by mystery journalist Santiago Camacho.
This is a press release from iVoox which we link to from Podnews, our daily newsletter about podcasting and on-demand. This is reprinted verbatim; we may rewrite headlines and descriptions.