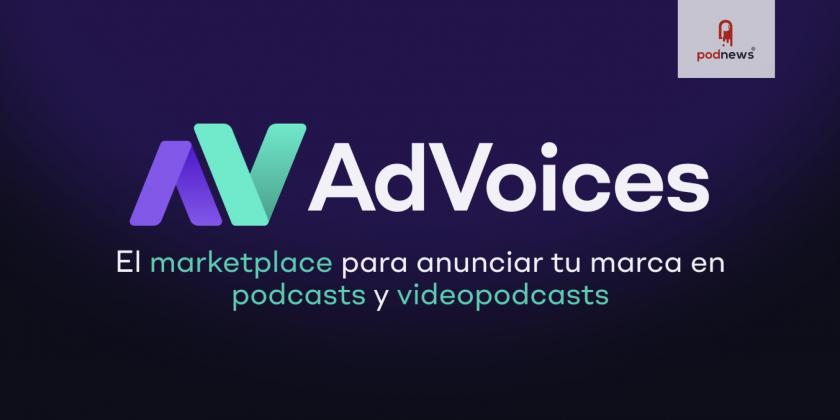 iVoox launches AdVoices, a marketplace to create podcast and videopodcast advertising campaigns on any platfor
Press Release · Barcelona, Spain · · Updated
The new marketplace easily connects brands and podcasters to carry out both dynamic ad insertion campaigns and branded content integrations in the most influential podcasts of the moment.
Developed with iVoox technology and data, it allows to identify the podcasts and video podcasts that best fit the advertiser's target and thus create campaigns that will reach millions of listeners on all podcast listening platforms such as iVoox, Spotify or Apple Podcasts, from a single point.
The company continues to work on initiatives to professionalize the podcast, and for creators it represents a new way of generating income with related and significant campaigns for their audience.
Today, the leading Spanish-language podcast platform iVoox launches AdVoices, the first marketplace in Spanish with which brands can advertise in podcasts and videopodcasts on any listening platform. With a focus on simplicity and technology that enables high audience segmentation, the new tool improves the impact and results of the campaigns. It does so using the data and knowledge collected in iVoox's more than 10 years of experience, with a relational engine based on the consumption and listening mode of the listeners.
The unstoppable growth of podcast advertising
77% of listeners remember the advertising heard, while for 43% it has a direct influence on their purchase decisions (IAB 2021 Annual Digital Audio Study). That is why audio advertising is experiencing unstoppable growth worldwide: its investment increased by 62.6% in 2021, and an expenditure of 2.8 billion dollars is expected by 2022 (Statista).
The increase is undoubtedly due to the great potential of the podcast for brands, who can make themselves known and advertise their products through different formats. In the new iVoox marketplace you can set up for free, and in a few simple steps, dynamic insertion campaigns such as preroll slots synchronized with the banner. Likewise, they can also create branded content campaigns through mentions, reviews or even dedicated episodes with the voice of the podcaster. It is a more integrated formula in the content with which they can link their values ​​to already created podcasts, and its advantages are innumerable: it is closer advertising, less intrusive and with great engagement.
AdVoices is the only platform that allows brands to advertise in the largest catalog of podcasts in Spanish, and especially has the exclusive representation of a large catalog of premium podcasts, who lead the rankings on the main listening platforms. Among them are La Contracrónica, where the journalist Fernando Díaz Villanueva comments on political news; Club 113, one of the most trending podcasts for the Generation Z audience; or Días Extraños, the popular mystery podcast by Santiago Camacho.
An equally intuitive and effective tool for creators and advertisers
For two years iVoox has been working together with VoiceUp to get campaigns and test this model with manual actions. Through sponsorships with major brands such as Netflix, HBO or TikTok, in this time they have generated nearly half a million euros for content creators.
iVoox now presents its evolution with a new brand: AdVoices. It is an independent platform with more automated management, and with which advertisers can create their advertising campaign in podcasts and videopodcasts, on all the platforms where the content is distributed, such as iVoox, Spotify or Apple Podcasts. The tool allows them to create a briefing in a few minutes, indicate the target audience they are looking for, and even specify specific podcasts to carry out the action, from which it obtains all the audience and coverage data. Once submitted, AdVoices uses the iVoox data to create a personalized proposal in less than 24 hours, with podcasts and related formats, and adapting the actions according to your budget and needs. Brands and creators will have a work space where they can be in contact during the content creation process.
AdVoices is just as easy for creators, who can also join for free. Any podcaster can start exploring monetization opportunities, submit pitches and communicate with brands, regardless of the platform they publish on or their number of listeners and downloads. Its interface allows them to have total control of their campaign proposal, with work areas for operations and access to real-time monitoring of the course of action. They also have their own creator page that they can customize to show brands their most relevant data and metrics, allowing them to get direct advertising actions for their podcast. In any campaign the creator will be able to choose which sponsors to work with; propose creative sponsorship formats, and set their own prices and schedules.
About iVoox
iVoox is the leading podcast and radio platform in Spanish. Founded in 2010, it has been helping to develop the podcasting ecosystem in Spain and Latin America for more than 10 years. In addition, it is a pioneer in promoting monetization in the world of Spanish-speaking podcasts, being the only platform that allows podcasters to generate income and grow in audience at the same time. It has more than 5 million unique users per month, more than 70 million episodes available and more than 75 million listeners per month, with a rating of 4.7 in the main app stores. iVoox has the largest catalog in Spanish, with more than 1 million podcasts available in 50 different languages, of which more than 380,000 are in Spanish.
iVoox has a wide range of content that in turn allows monetization for the podcaster. iVoox Originals is the largest catalog of exclusive and free podcasts in Spanish, with nearly 200 shows. In addition, it has iVoox Plus, a subscription service with more than 60,000 exclusive paid episodes. As a platform that has always allowed content to be hosted, it has some unique historical gems such as passages from the history of the great Juan Antonio Cebrián or the radio dramas of master Juan José Plans. Also with renowned programs such as Cuarto Milenio by Iker Jiménez or Días Extraños, the podcast by mystery journalist Santiago Camacho.
This is a press release which we link to from Podnews, our daily newsletter about podcasting and on-demand. This is reprinted verbatim; we may rewrite headlines and descriptions.